This Vibrator Is the Adult Version of Your High School Electric Toothbrush
And it doesn't vibrate, it rubs.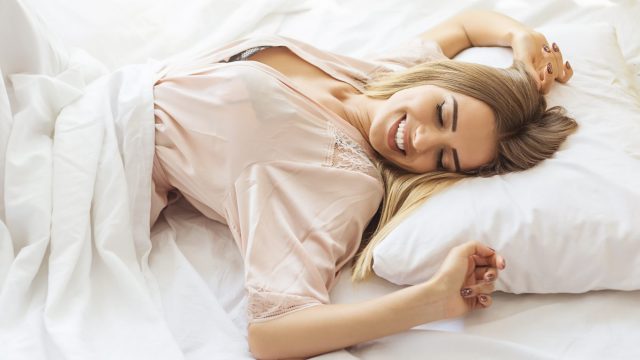 In middle school, I would often use the end side of my electric razor as a vibrator to masturbate (don't worry—no blade was attached). And, in high school, I used my electric toothbrush, Beanie Feldstein style (that's a Booksmart reference, by the way), which was way more orgasmic. 
Now, it's been over a decade since I'd retired my hygiene products for real sex toys. But when a sex toy arrived at my door, looking like the lovechild of those two aforementioned products, I had to try it. And let me tell you, I felt more than just nostalgia when getting off with the Zumio S. 
Intrigued? Indulge me as I wax poetic about the Zumio S below.
What is the Zumio?
First, some background. The Zumio currently has three different products: the Zumio S, Zumio X, and Zumio E. At seven inches tall, one inch in diameter, and with a thin ABS plastic SpiroTip jutting out the end, all three products look basically the same—the only real difference is the color. 
Plus, all three use something called circular rotation to provide external (note: only external!) stimulation. To visualize, think about the way your finger would move, rubbing an anti-itch cream into a bug bite…but, like, way faster. "It's not vibration, it's rotation," intimacy expert Dr. Emily Morse, Ph.D., tells HelloGiggles. Zumio toys were designed to replicate the movement pattern many folks make while masturbating with their hands, she explains. And hands don't vibrate, fam.
What separates the three toys from each other, however, is two main things: first, how soft the tip of the toy is and, second, how quickly that tip moves. The Zumio S's tip is coated in silicone and moves in larger, soft circles, while the Zumio X is pure ABS plastic and moves insistently. 
And then there's the Zumio E ,which has a rigid metal-covered tip that moves at a speed that can only be called, in all caps, INTENSE.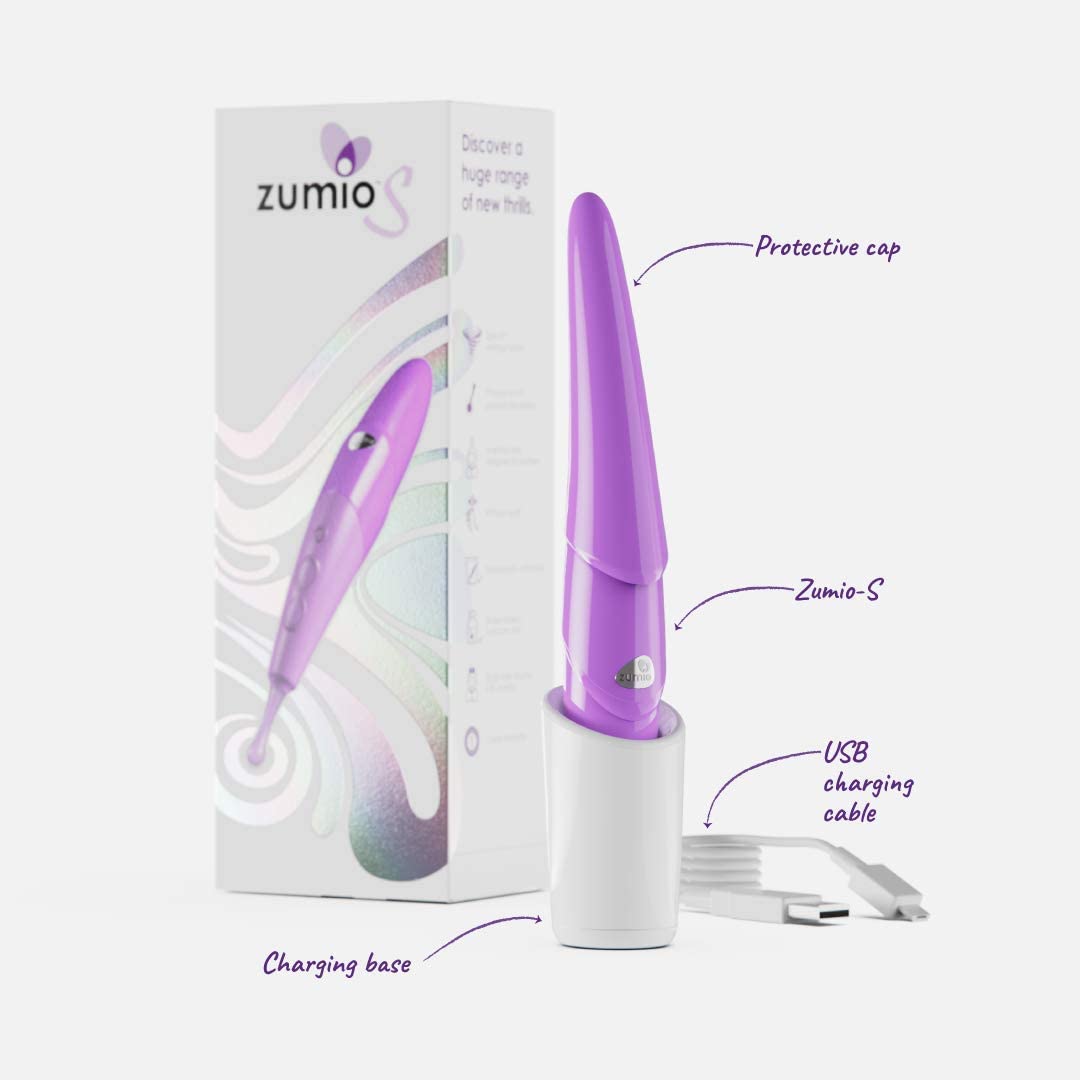 How can I find the right Zumio?
Noodle on what sensations you currently enjoy to figure out which of the three products are best for you, suggests Dr. Morse. "The more intense you like the stimulation, the faster and more rigid the tip you should go for," she says. Listed from least intense to most intense, it goes: Zumio S, Zumio X, and Zumio E. 
Personally, my bits are super sensitive. For as long as I've been masturbating, I've used either a washcloth or my own undies to buffer my clit from the buzz of my razor-cum-vibrator or vibrator. So, while I tried all three for the sake of this article, it came as no real surprise when my favorite ended up being the lowest-intensity option: Zumio S. 
However, if you like things to be a little more intense, you'll want to opt for the Zumio X or Zumio E instead. 
About the Zumio E, one reviewer says, "I am poly, have three partners, and this is everyone's new favorite toy." But they note: "It is pretty intense though, more so than an Eroscilator or Satisfyer or wands if you use it right." Having compared the Zumio E to both the Hitachi and Le Wand, which are wand-style vibrators known for the intensity, I concur. So keep that in mind when narrowing down your options. 
How can I use the Zumio S?
While my best (read: scream-inducing) experiences have been with the Zumio S, how you use the Zumio really doesn't change model to model. 
Like most sex toys, the Zumio feels best when used with lube. Because the Zumio S has a silicone-coated tip and silicone-based lubes can distort silicone toys, I usually pair it with the water-based Sliquid Sassy or Cake Toy Joy. If you're getting the X or E, however, a silicone-based lube like Uberlube is fair game. 
As you now know, I tend to use my sex toys over my underwear. So the first time I used the Zumio S, I did my go-to move and coated my vulva with a few squirts of lube under my underwear before pulling up my skivvies and getting busy. I was writhing against the sheets in record time. Certainly faster than I ever had with my hygiene products in high school.
The second time I used it, I brought it into the shower. (Yes, it's waterproof.) And while it felt good, I got out wishing I'd brought a dildo or metal wand in with me for some penetration. So the third time I used it was during vaginal intercourse with my boo. As that viral tweet put it: "That vibrator + dick combo is undefeated." (Obviously, that applies to attached and hand-held dicks alike.) In other words, 10/10 would recommend. 
At Dr. Morse's recommendation, I've also tried the Zumio on my nipples, booty cheeks, and as part of sensation play. "I can't think of a body part it doesn't feel good on," she says. Personally, I found the stimulation above the belt a little too pinpointed for my liking. 
But for folks who enjoy sharp-tongued licks and toothy nibble bites, I recommend giving it a try. As she puts it, "The toy allows the user to pinpoint a specific external area of their body better than any other toy I've seen," she says.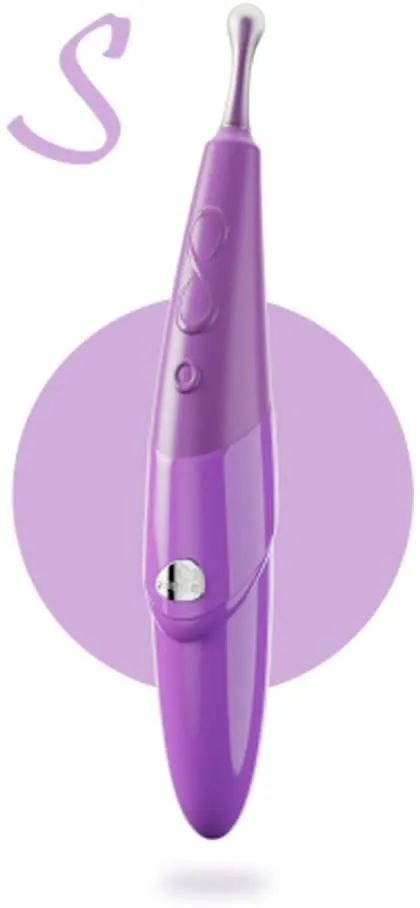 The bottom line: buy it 
It'd be bananas to suggest that any sex toy is one size fits all. But if you've ever gotten down with your toothbrush, are Team Clitoral Stimulation, and/or enjoy pinpointed penile or nipple play, I can't recommend the Zumio enough. 
As Dr. Morse puts it, "The Zumio is way better and way safer than any electric toothbrush, and it delivers that super pinpointed stimulation many folks are after." 
Oh, and at only $98.00, it's honestly cheaper than most electric toothbrushes…just sayin.