Stop everything: Zooey Deschanel's She & Him just released a brand new holiday music video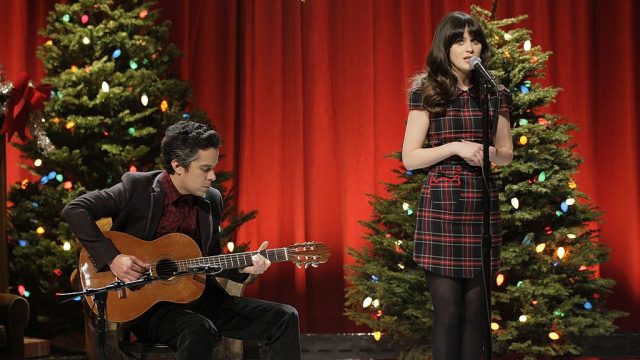 With the holidays JUST around the corner, we're getting into the holiday spirit in the best ways possible: eating cookies, decorating trees, and listening to our favorite holiday music. Specifically, Zooey Deschanel and M. Ward's duo, She & Him, recently released their dreamy new holiday album, Christmas Party, and it's already one of our new favorite albums to get that holiday spirit flowing. 
Now, they've released their music video for "Winter Wonderland" and it's the cutest thing you'll see all day. Featuring Jenny Lewis on vocals with Deschanel, the video stars the MOST adorable pugs on the planet.
Check out the magical video below:
https://www.youtube.com/watch?v=qHI3H7mYqgc?feature=oembed
If there's one thing we love more than holiday music, it's listening to these nostalgic tunes while watching pugs in coats frolic through the snow. The video dresses pugs up in a series of costumes that seem to highlight all the wonderfulness the holidays have to offer.
First we see the pugs in little red coats in the snow and then they're dressed in old-fashioned caroler outfits, which, of course, wouldn't be complete without a TOP HAT.
The video seems to move through history, as the various costume changes explore holiday fashion throughout the years. From cozy capes to bomber hats, we get to explore iconic holiday styles while listening to the beautiful voices of Zooey Deschanel and Jenny Lewis.
If this magical video is the first from the new album, we CANNOT wait to see what they have in store for us next. We're going to go back and watch this for the millionth time and then maybe go buy a top hat or bow tie for our pets.