Zooey Deschanel did her best Oscar the Grouch impression on the set of Sesame Street, and she was made for this show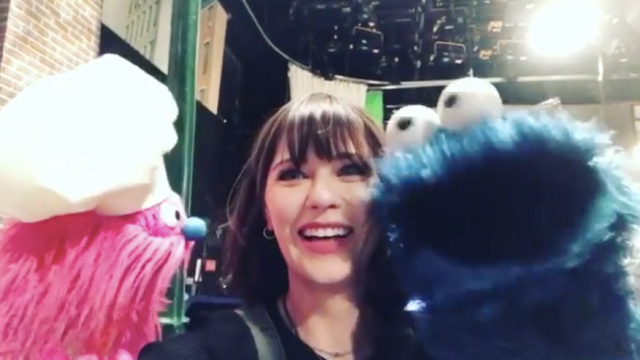 We can't believe it took until 2018 for Zooey Deschanel to stop by the set of Sesame Street, but it finally happened. Celebrities love a Sesame Street appearance, and considering Deschanel's sweet, open, and hilarious disposition, she's a perfect match for the legendary children's program. Not much is know about Deschanel's cameo yet, but she did share a couple Instagrams from the set. It looks like they made adorable monster-themed snacks.
In a Boomerang, Deschanel pops out of Oscar the Grouch's iconic trash can. In another video, she buddies up with Cookie Monster and Gonger. Millennials might not be familiar with Gonger, but he's a chef character who was added to the show in 2017 and co-stars in the cooking segment "Cookie Monster's Foodie Truck." Love that Sesame Street has their own food truck now. Deschanel called the whole thing "an amazing day."
Zooey was there to support The Farm Project, who shared her video and added: "We *LOVE* Sesame Street! So excited to see Zooey Deschanel cooking something up with Gonger and Cookie Monster."
The Farm Project was created by Deschanel and her husband Jacob Pechenik.
It aims to "close the gap between us and how our food is grown." With this ethos, it makes perfect sense to do a cooking demonstration on Sesame Steet.
https://www.instagram.com/p/BhzvcD-njlB
Literally could watch this Boomerang on repeat all day. It's oddly calming, yet uplifting.
Look how cute these monster snacks are!
In related news, our other fave — Jenny Slate — also stopped by the show's "Foodie Truck" segment as well!
Considering that we are all millennials sliding into advanced age, do we need to be watching more Sesame Street?