Zooey Deschanel accidentally joined a beauty pageant once, as one does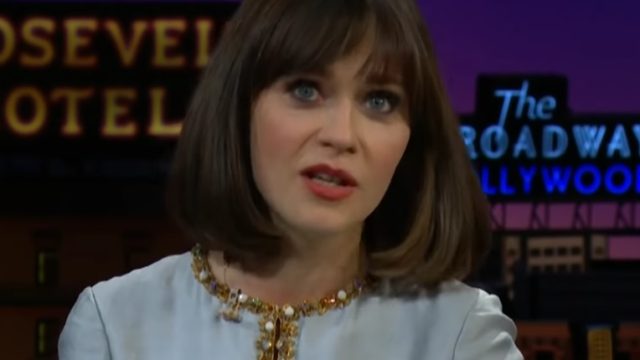 While she's beautiful inside and out, Zooey Deschanel wasn't necessarily planning on joining a beauty pageant as a kid. But she still entered one at the age of 14. By accident. Seriously. Deschanel revealed the hilarious story on The Late Late Show With James Corden (and even better, John Mulaney was sitting right next to her to offer even more hilarious insight).
As you may already know, Deschanel will be playing Belle in Beauty and the Beast on May 25th and 26th live at the Hollywood Bowl. Corden brought up the fact that she's already familiar with the song "Be Our Guest" because she once sang it in a pageant. The actress explained that at the time, she thought she was entering a talent show and only later realized it was a "youth pageant" run by a former beauty queen.
"It was a youth pageant, so that means there were boys and girls [...]" she said. "It was creepy, it was weird and I was very much not into it," Deschanel admitted. But she stuck with it because she's a pro (and had also already paid the $50 entrance fee).
"I love a talent show, I want to shine and I like to sing," she said. "I get there and it's like, run by this beauty queen woman."[/quote]
https://www.youtube.com/watch?v=20d1g6O6Fog?feature=oembed
LOL. Our only question: Is there video footage? Because we'd really like to see that.
We're sure Zooey crushed the competition, and we absolutely can't wait to see her later this month at the Hollywood Bowl.