Sacré bleu! Zooey Deschanel looked just like a Disney Princess in her starring role as Belle at the Hollywood Bowl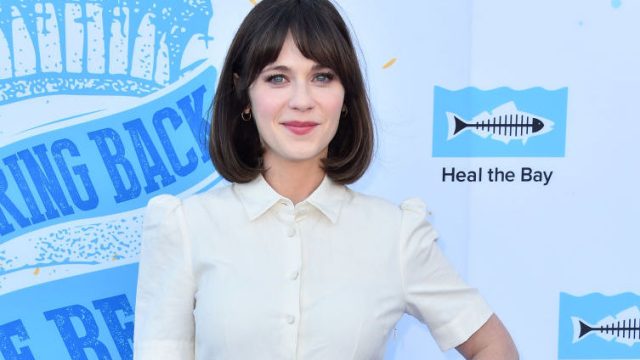 Beauty and the Beast fans have been waiting for this moment: Zooey Deschanel as Belle in Beauty and the Beast is finally here. If you missed the news, Deschanel is playing Belle at the Hollywood Bowl in Los Angeles for two nights and two nights only. And her first performance was last night, Friday, May 25th.
When the news was announced this past spring, we collectively lost our minds. The Hollywood Bowl is known for putting on incredible (and star-packed) performances. In 2016, they put on The Little Mermaid Live starring Sara Bareilles, Rebel Wilson, and John Stamos. (A dream.) The stars were generous in sharing all of their amazing pics on Instagram. Now, we finally get to see some pictures of Deschanel and the whole Beauty and the Beast cast.
Naturally, Zooey looked absolutely radiant and perfectly princess-y. (We think she makes a perfect Belle.) The rest of the cast is dynamite as well: Kelsey Grammer is playing Lumiére, the insanely talented Jane Krakowski is playing Mrs. Potts, and Anthony Evans is playing the Beast himself. Taye Diggs is playing Gaston alongside Rebel Wilson's LeFou. Somehow, everything is just so perfect.
Deschanel gave us our first look at her outfit on Instagram.
Evans shared an adorable pre-show gift he received from Wilson, his on-stage sidekick.
The letter reads, "Looking forward to crushing these performances with you." Awww.
Wilson shared a video of how her LeFou hair all comes together. And it's just so wow.
There were some great pictures from audience members as well. One Instagram user captured a bit of Jane Krakowski's absolutely stunning singing voice. Yes, there are tears in our eyes. Wait, no, you're crying.
https://www.instagram.com/p/BjPaUnHgV04
Diggs and Wilson crush as Gaston and LeFou.
That's our Belle.
What a cast! What a show! Congrats to everyone involved on a spectacular production.