Say bonjour to our new Belle — Zooey Deschanel is playing the beloved Disney Princess at the Hollywood Bowl
Honestly, there's no such thing as *too* much Beauty and the Beast in our lives — it is a tale as old as time, after all. Last year, we were treated to Disney's live-action version of the animated classic, and you've more than likely watched it 500+ times since then. If that's still not enough for you, get ready for what might be the BEST way to watch the new classic: At the Hollywood Bowl in Los Angeles, California.
Continuing on their stellar tradition of putting on live-to-film shows, the Bowl is getting ready to stage 2017's Beauty and the Beast, with the actual movie, a live orchestra and – sacré bleu! – Zooey Deschanel playing Belle.
"Performing Beauty and the Beast, one of my favorite movies growing up, in a special concert at the legendary Hollywood Bowl is a dream come true," Zooey explained in a press release.  "I am looking forward to what I'm sure will be a magical event." She's looking forward to it?? We're already trying to buy tickets, because that's how excited we are to see her step into Belle's iconic blue and yellow dresses. Don't you for a second forget that not only is Zooey the star of Fox's New Girl, but she's also got a long career as one half of the musical duo, She & Him.
And you can't have a production of Beauty and the Beast without an enchanted castle full of inanimate objects. Kelsey Grammer will sing Lumiére's part, Jane Krakowski will belt it out as Mrs. Potts, and Anthony Evans will sing Beast's brand new song from the movie, "Evermore."
As for Gaston? Taye Diggs is now the man with biceps to spare, and his trusty sidekick LeFou will be played by — wait for it — Rebel Wilson. Talking about the role, Wilson explained, "I'm hugely looking forward to meeting Taye and the rest of the cast and to meeting all you lucky folks who get to come to this special live event!!! Anywhere where you can bring a picnic AND be incredibly entertained is a superb night out.  Until then I will be mentally preparing for the role in France by eating croissants."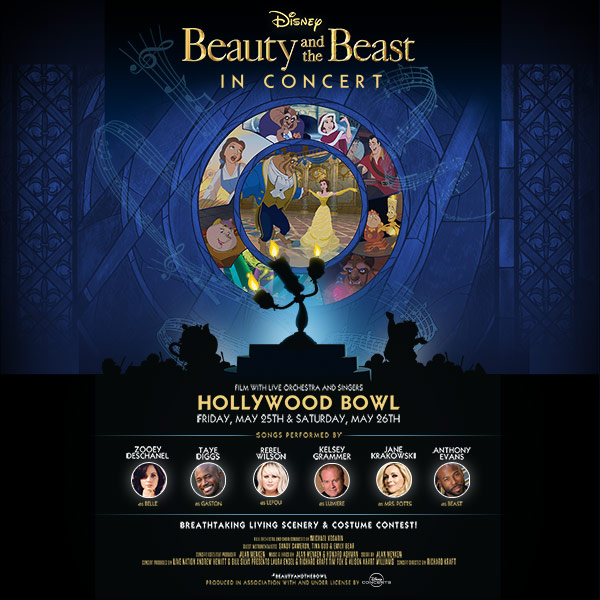 The live-to-film Beauty and the Beast concert will run for two nights, May 25 and 26th at The Hollywood Bowl. Mark your calendars now, and tickets go on sale March 16th at 10am PST at ticketmaster.com.