Zoe Saldana rapping with her twin babies is the fiercest thing ever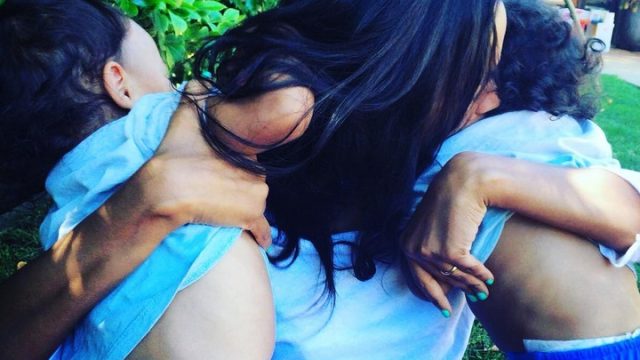 It doesn't get much better than Zoe Saldana in general. The Star Trek star is known for kicking butt all over our imaginations and the universe with her various roles in blockbuster sci-fis. So it is only fitting that she would be just as awesome in her personal life as well.
In this adorable Twitter video Saldana posted earlier in the week, she is seen lip-sync rapping to the Beastie Boys hit "WatchaWant", with husband, artist Marco Perego, and their twin babies, Bowie Ezio and Cy Aridio Perego-Saldana. Babies make great back-up, it turns out!
Although Zoe Saldana is very accomplished, we do have to say that two-year-olds Bowie and Cy definitely steal the show. Regardless of cuteness level, everyone brings lots of enthusiasm and attitude to the short clip, which we are all about.
The caption reads:
Only cause @SimonPegg insisted I post this one. It got a laugh out of the crew. #StarTrek #startrekbeyond #friends
The fact that Saldana posted this at the insistence of Star Trek co-star Simon Pegg and the crew only adds more awesomeness to the mix. Now we're totally fantasizing about what an awesome friendship Saldana and Pegg must have where they just send each other funny Twitter videos all day. We're definitely jealous, and seriously hope this is a full-fledged thing they have going on so we can keep watching these perfect videos!
Luckily for us we can still catch Saladna and Pegg's antics in Star Trek Beyond which is playing in theaters near you!