Zoe Saldana looked like a cool witch at Victoria Beckham's party
Actress, model, and dancer Zoe Saldana pulled out another fearless fashion choice recently, and gave off some cool witchy vibes. The mom and wife came out to support Victoria Beckham's Target launch, and sported a classic, all black 'fit.
We seriously can't get enough of the Hollywood beauty. She's always super vocal about her life, and doesn't seem to bite her tongue for anything or anyone. Especially when it comes to her parenting style, and sexism and racism in the industry. In addition to fighting the good fight, Zoe consistently gives us extreme glam goals. The woman uses the most unconventional, yet simple, methods to keep her hair and skin on ten. She's a badass beauty, and inspires us by just being herself.
If you know anything about the Avatar star, you know that she places comfortability over fashion any day.
Zoe opted for a cool and casual black look, and we're so obsessed!
Her peplum jacket top is to die for, and the gaucho bottoms were the perfect tough. It's so loose and yet super complementary of her shape. Zoe gave us a little bit of sexy vibes with the keyhole accent on top, and we're loving everything about it!
Zoe wore a classic red lip, but gave her look a trendy edge with the red trim in her tiny clutch.
And, OMG, she looks so chic!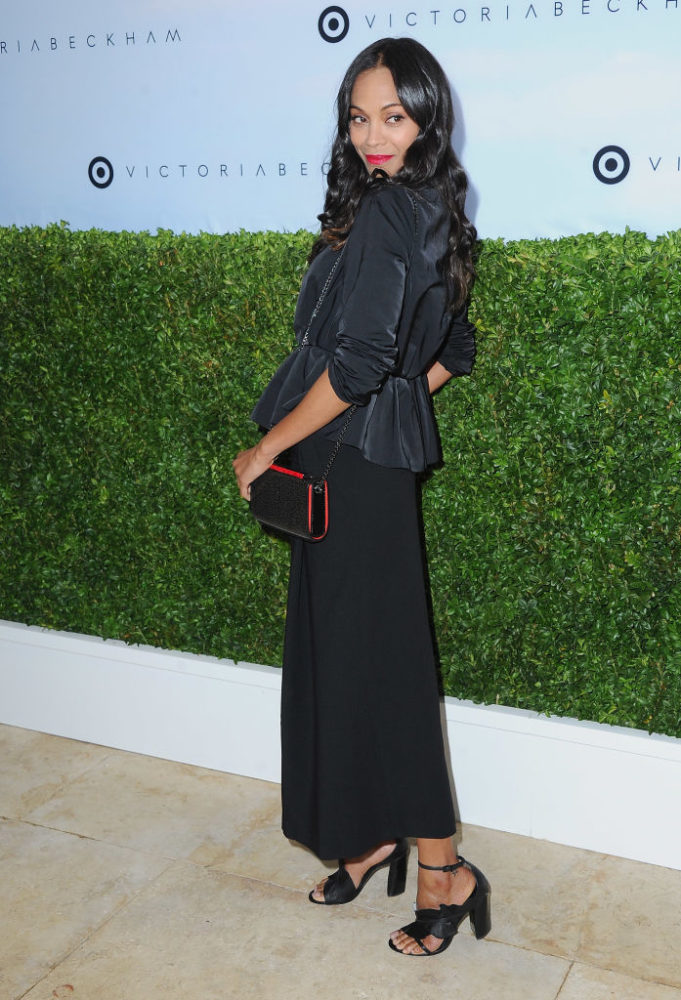 Zoe's shoes were also almost too perfect! We're digging the chunky heel and leather, floral accent. They're so minimal, yet delivered such a dramatic edge at the same time.
We'll go ahead and say it – Zoe Saldana's fashion is perfect. She's at the top of our best dressed list, and we don't think the stunning actress could ever do anything wrong on the fashion scene. Her confident mood is obvi reflected in her awesome style.