Zoe Saldana just made burnt orange our new favorite hue for spring
There's a reason many of us stick to black. It's easy, we don't have to think about it, and it goes with literally everything. But as the weather continues to get warmer and warmer, many of us are left scrambling to put some pep in our step (and our wardrobes).
But now, we have some major color inspiration thanks to Zoe Saldana, who made burnt orange the coolest color at The Guardians Of The Galaxy Vol. 2 premiere. The actress looked both futuristic and classic, thanks to her vibrant gown featuring ample amounts of sequins and sparkle.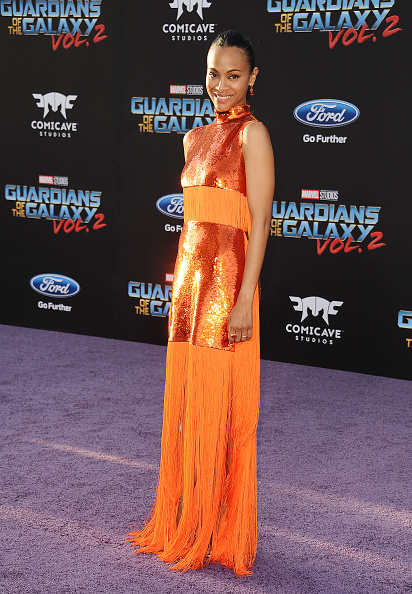 As if the color-blocked, sequin gown wasn't stunning enough, the lower half is covered in fringe. Yes, as if this couldn't be any more extravagant, it's also playful and fun and features one of our favorite textures.
Zoe keeps the rest of her look simple, opting for natural makeup with a pink pout and a twist braid. She literally glows, looking like a beauty in burnt orange.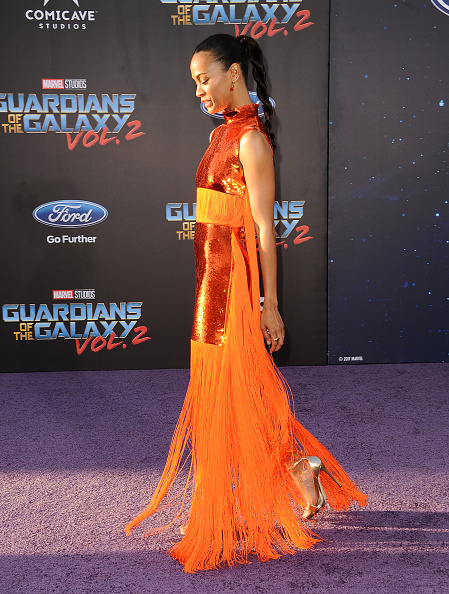 We love that there's so much movement with this dress, and that Zoe seems to love that, too. By finishing off the ensemble with some sleek chrome stilettos, Zoe really does look like a cosmic goddess who could guard our galaxy.
If you've also been craving some color for spring, may we suggest a burnt orange hue? You don't have to go so futuristic to enjoy the benefits, but that's always an option as well.