Zoë Kravitz looks like a Disney princess in the first official photos from her wedding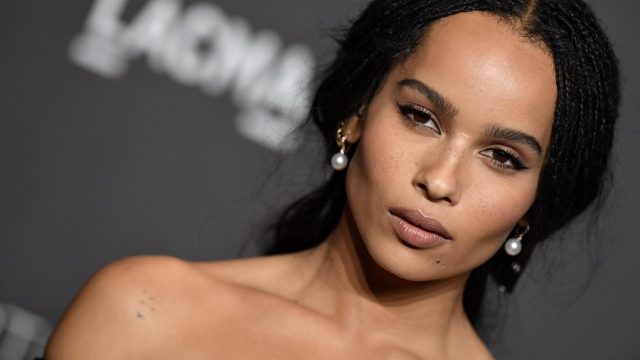 Before the clock struck midnight and we rang in the new year and new decade, Zoë Kravitz blessed us all with an inside peek into her June wedding to husband Karl Glusman. We may have had to wait months, but these wedding pics are totally worth it. The ball gown? The bow headband? Kravitz looks like a real-life Disney princess. Though, honestly, we'd expect nothing less from the fashion icon.
Kravitz low-key announced her engagement in 2018, letting it slip in a cover interview with Rolling Stone after the reporter noticed the rock on her finger.
"'Oh yeah, I'm engaged,' she says, so casually I assume she's joking. 'No, I'm engaged!' she repeats. 'I haven't told anyone yet—I mean, I haven't told the world. I wanted to keep it private,'" the 2018 article said.
She also kept her June 29th, 2019, nuptials to actor Glusman hush-hush, with neither party confirming when multiple outlets reporting the event. Now, of course, Kravitz is equally as cool, dropping the official wedding photos while we're putting on our comically oversized 2020 glasses, grabbing the champagne, and heading out to watch the ball drop on the new year.
But these photos of Kravitz's princess wedding dress and our favorite stars in attendance are in no way low-key. And, yes, they are completely worth the six-month wait.
In the first photo series Kravitz posted to Instagram, she confirmed her wedding date, and you can see the drop-waist gown in all its glory.
https://www.instagram.com/p/B6wZa8DpsN_
Mother Lisa Bonet, father Lenny Kravitz, and Bonet's parter Jason Momoa seem to all be partaking in the ceremony, which is honestly making us tear up just a little bit. And scrolling through, it looks like all of the guests are in awe of Kravitz's whole wedding vibe as we are.
That first kiss shot? Too much.
Kravitz posted another wedding photo series, and it's just as beautiful as the last. There's a glamour shot of the bride up against a window that is a wedding Pinterest board must-add. And in this set of photos, we get a good look at the A-listers in attendance.
It's not a party without a Big Little Lies Monterey 5 reunion, amiright?
https://www.instagram.com/p/B6waUd_Jj-r
Costars and on-screen partners in crime Reese Witherspoon, Nicole Kidman, Shailene Woodley, and Laura Dern gathered the bride in a hug that we're only a little jealous we weren't a part of.
We're getting over our FOMO moment and sending so many happy thoughts to the bride and groom as they enter the new year as a married couple. And yes, we might make Kravitz's wedding dress our screensaver, no big deal.