Zoë Kravitz had the most relatable response to a troll who criticized her lips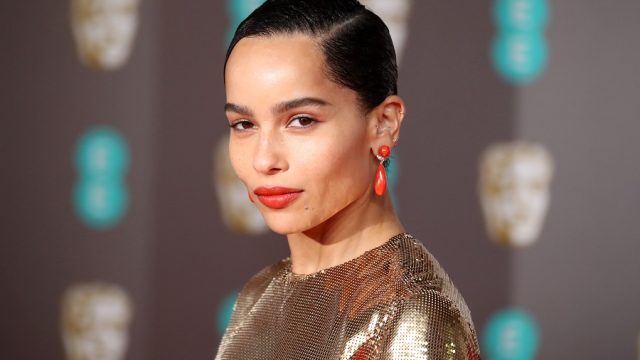 Because her parents, Lisa Bonet and Lenny Kravitz, are two of the most beautiful people on the face of the planet, Zoë Kravitz was set up for success in the natural beauty department. However, someone clearly didn't get that memo. When Kravitz was confronted by a troll who accused her getting plastic surgery on her lips, the High Fidelity star had no choice but to clap back.
Kravitz posted a selfie of herself getting ready for the Yves Saint Laurent Paris Fashion Show, which she attended with dad Lenny, at the end of February. She looked stunning (per usual) with cropped hair, a sparkly top, and light makeup.
"pre @ysl show vibes," Kravtiz captioned the pic. "@yslbeauty Rouge Pur Couture Slim Sheer Matte 102 + Natural Pink and Volupte Liquid Balm 1." Keep in mind that Kravitz listed the products used to get her beauty look.
https://www.instagram.com/p/B9CGbHoJsyB
Again, someone didn't get the memo. "Babe, what have u done to your beautiful natural lips?? ????," one follower commented on Kravitz's post, implying that she had injected lip fillers or had some sort of augmentation.
"um. put some lipgloss on them…" Kravitz wrote back.
As she mentioned, she specifically used the lipgloss Volupte Liquid Balm 1, if the person had been paying any attention before trolling. Of course, if Kravitz did choose to use lip fillers (or choose to do anything to her body), it's nobody's business anyway.
https://www.instagram.com/p/B9C2n29pMpL
And when others continued to question the reality of her lips, Kravitz had to add, "these are my lips. all pure. the equivalent as they always been."
Asking anyone why they would "do something" to their face or body is never a good look, people. However, if there is a silver lining to this story, it's this: the YSL lipgloss will make your lips look so good that people will come after you. And if the product can get us to anywhere near Zoë Kravitz level, we're down to give it a go.