Here's how Reese Witherspoon, Jenna Dewan, Nicole Kidman, and others celebrated their Mother's Day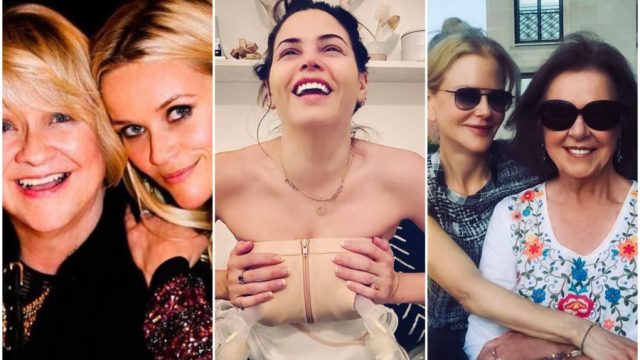 This year, Mother's Day felt a bit different. Because of coronavirus-caused social distancing guidelines and recommended self-quarantining measures, many of us were unable to visit with our mothers on Sunday, May 10th, and had to celebrate virtually. Many celebrities like Reese Witherspoon, Nicole Kidman, and Kerry Washington, celebrated their respective moms (and themselves!) via social media, and urged others who are able to to hug their mothers and tell them that you love them.
For those of you who weren't able to visit your mother in person this year, we hope Mother's Day was still enjoyable from afar. Some people opted to do "drive by" celebrations in their cars. Others settled for a FaceTime or phone call. And these celebs decided to broadcast their love for their mothers and children for the world to see. And we're glad we could be a part of their Mom's Day activities.
Check out how your faves celebrated their day, and maybe send your mom a few heart emojis to let her know you're thinking of her.
Reese Witherspoon
Witherspoon posted a heartfelt tribute to her mom and her "wisdom, her smile, her gracious laughing at my dumb jokes." The actor wrote in the caption of her Instagram, "Everyday is better when I see her face. I can't wait to hug her again! It's one thing I miss the most. For those of you who can, hug your Mom today!"
https://www.instagram.com/p/CAA1z6AAYk3
She also posted a pic of her look-alike "crew."
https://www.instagram.com/p/CABhWz-gfzq
We think Halle Berry put it best when she commented, "This PHOTO."
Jenna Dewan
Steve Kazee, Jenna Dewan's fiancé, posted this hilarious photo of Dewan on her first Mother's Day after giving birth to her second child, Callum. "Here you are at 9pm after a long day of feeding one child and wrangling another," Kazee wrote in the caption of his post. "Here you are pumping even more milk. Here you are after two months of doing that same thing every single day. Here you are exhausted and delirious…And…here you are…smiling. Like you always do."
https://www.instagram.com/p/CABsdPcjYG7
"Our children are lucky to have you," Kazee wrote. "No matter what this world brings you are always ready for it. Always with grace. Always with a smile. I love you."
Halle Berry
"#HappyMothersDay to all the mothers!" Berry captioned a GIF of her two kids Nahla and Maceo. "I believe that eventually, we will all come to understand that love heals everything, and love is ALL there is."
https://www.instagram.com/p/CABHDaGDTcs
She continued, "These two are everything to me!"
Kim Kardashian
Kardashian shared an old photo of momager Kris Jenner shortly after she gave birth to brother Rob Kardashian. Kim then explained in a video that she gifted her mom an album of lost wedding photos from Jenner's 1978 wedding to the late Robert Kardashian (including the camera the wedding photographer used).
https://www.instagram.com/p/B_8VcfSA2yp
"The best mom in the entire world!…She never had those photos so to see them brought out so many happy tears!" Kim wrote in the caption of her post.
Zoë Kravitz
Kravitz posted a #TBT of her mother Lisa Bonet—flower crown, nose piercing, and all. "Mama. my everything," the actor captioned the pic.
https://www.instagram.com/p/CAAovvQJAtF
This mother-daughter duo will forever be the coolest in the world.
Demi Moore
Moore posted a pair of photos that look like they could easily be album covers for some 1970s-esque hippie cover band. She celebrated Mother's Day with her daughters, Tallulah, Rumor, Scout, and their significant others.
https://www.instagram.com/p/CABpHg7HrpT
Rumor Willis posted a tribute to her mother on her own Instagram, writing, "Momma you are without a doubt one of the most radiant humans I have ever met…I love that you love odd sized things and look at stuffed animals faces to pick the best one…I am grateful everyday I chose to do this crazy life with you."
https://www.instagram.com/p/CABvIB4FUNW
Guys, drop the album all ready. We need it.
Nicole Kidman
"I know so many of us are not getting the chance to kiss and hug our Mums today, but to all the Mothers of the world—we are always with you and celebrating you," Kidman captioned a pair of photos featuring herself, her mother, and her two daughters.
https://www.instagram.com/p/CAA2TmspCxP
Sunday and Faith Urban have grown up so much.
Kerry Washington
Kerry Washington posted a heartfelt picture and caption in tribute to her mother, Valerie. She wrote, "Years before Scandal, there was another lady who taught me how to wear all white. She's the epitome of grace. And generosity. And I am grateful to God for sending me to her. Today I honor my beautiful mother. And all the other wives and aunties and friends and mentors that I've been blessed to have in my mothering tribe."
https://www.instagram.com/p/CAAvh8ZHwc1
She continued, "Today, whether you are a mom, have a mom, will be a mom, or are walking the necessary path we all tread of learning to mother ourselves… I'm sending you all my love."
January Jones
If you've been following along with January Jones' quarantine journal on Instagram, you know she's really killing this whole social distancing thing. The actress posted the below photo for Mother's Day with the caption, "Yes I'm living my best life this morning. I deserve it! As do all the other Moms out there!! And to MY mother, I love you! Treat yourself right today."
https://www.instagram.com/p/CAAy611Fk_Y
We just love everything Jones is about.
Happy Mother's Day to all the mothers out there. We hope your day was relaxing, joyful, and filled with love.