Zoë Kravitz admits that the set of "Mad Max" had some ~bad vibes~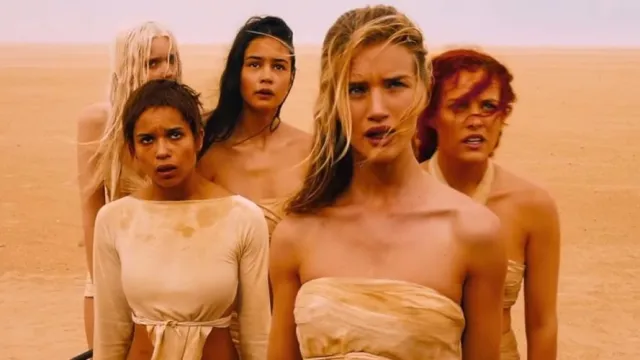 Although we've heard rumors, Zoë Kravitz confirmed that Tom Hardy and Charlize Theron were not as tight as their characters were on the set of Mad Max: Fury Road. The movie was a somewhat unexpected summer blockbuster and instant classic for anybody who loves car chases, post-apocalyptic movies, sci-fi, or destroying toxic white masculinity. Y'know, the usual interests. And although in the film, Charlize Theron's Furiosa and Tom Hardy's Mad Max ended up unwitting allies in a race to outwit and outlast the patriarchy, turns out in real life, they weren't exactly best friends.
Zoë Kravitz, who played Toast the Knowing, one of the wives, said in an interview on Watch What Happens Live:
"They didn't get along. We were also in the desert for so long. I think everyone was tired and confused and homesick and we saw nothing but sand for six months. It's just, you go crazy, you do.
Luckily, her willingness to open up about the topic seems to be more due to the fact that it wasn't necessarily, like, a blood feud. The two actors just had their differences, which is bound to happen when you throw a bunch of strangers together in the desert. Zoë's follow-up response about the issue made their disagreements sound pretty low key and normal.
"I actually don't know if there was one issue. I just think they weren't vibing. It's like summer camp. At some point, everyone has like some kind of issue with somebody 'cause it's just the way people are.
Check out the full interview below!
https://www.youtube.com/watch?v=vd0AZJ8k6-E?feature=oembed
One positive we can take away from all this? The ladies were the important part of that film, anyway, and they seem to have gotten along fine.