The Beauty and Style Evolution of Zoë Kravitz, From Fresh-Faced Teen to Goth-Glam Queen
In celebration of Zoe Kravtiz's birthday on December 1st, we gathered some of our favorite looks she's rocked over the years.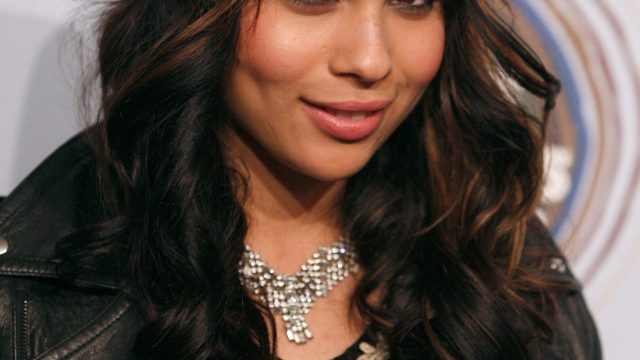 It was pretty much written in the stars that Zoë Kravitz would be a style icon. With actress and bombshell Lisa Bonet for a mother, and musician Lenny Kravitz as her dad, it would've been a radical move for her to not play around with her style. Luckily for all of us taking notes at home, she has consistently pushed the envelope when it comes to her fashion and makeup choices. What we love the most is how Zoë's artful style choices always manage to feel fully her. Zoë's fashion phases don't feel like a game of dress-up, but more like an extension of herself.
Since Zoë's birthday is on December 1st, we figured it would be the perfect time to celebrate her life by doing a deep dive on her beauty evolution throughout the years. Whether she's wearing ornate jewels in her septum piercing or trading in her long mane for a pixie cut, Zoë is not shy about branching out her looks. We have full faith she'll keep up her streak of creativity throughout her 30s, but as of now, there are already so many fun looks to explore.
November 2008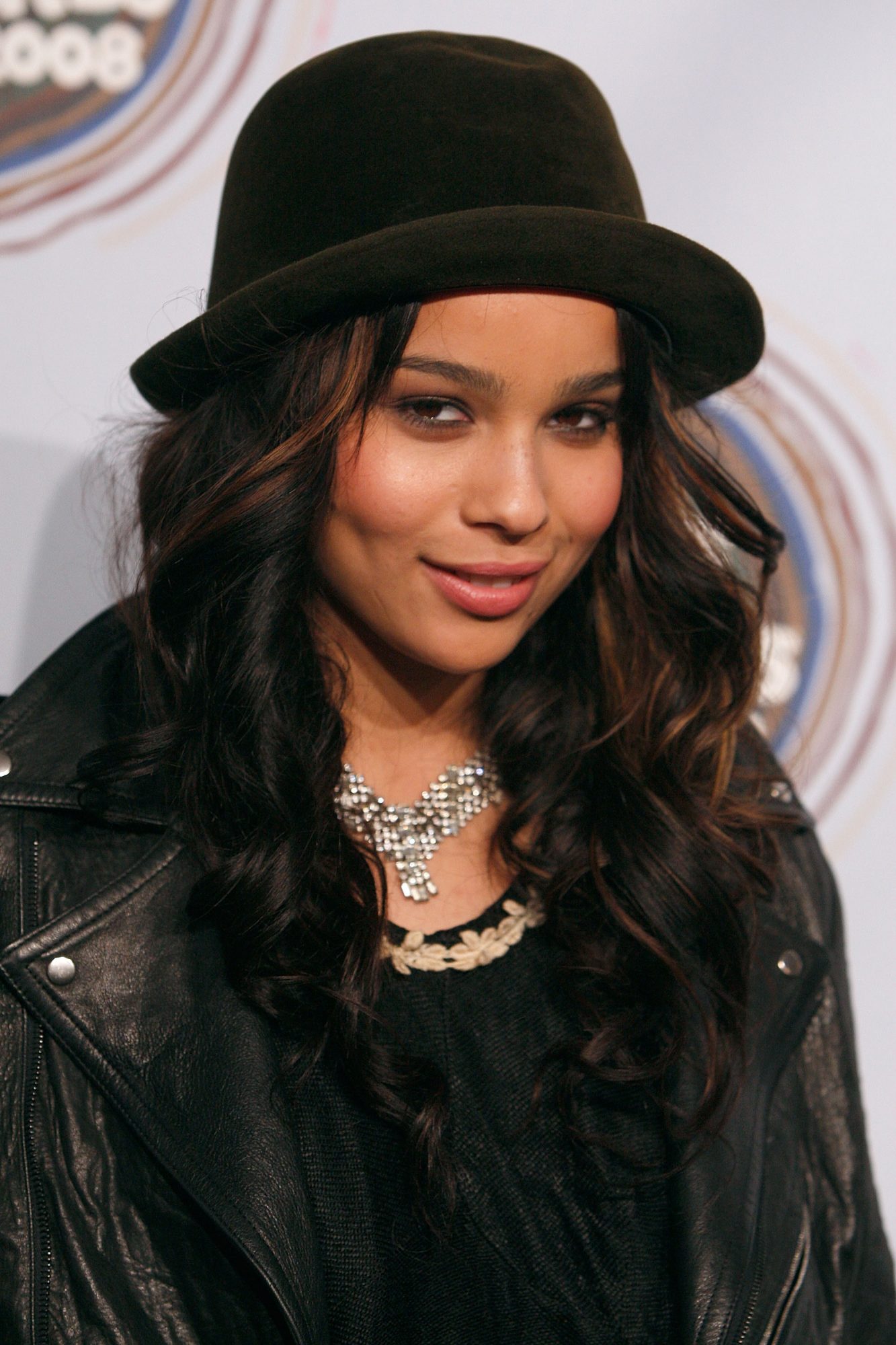 She is such a baby here! Teenage Kravitz was fully channeling a business-punk vibe: We've got the nylons, leather jacket, decked-out jewelry, and a velvet hat that tied it all together. Her hair and makeup look were fresh and soft, with long loose waves and minimal makeup.
November 2009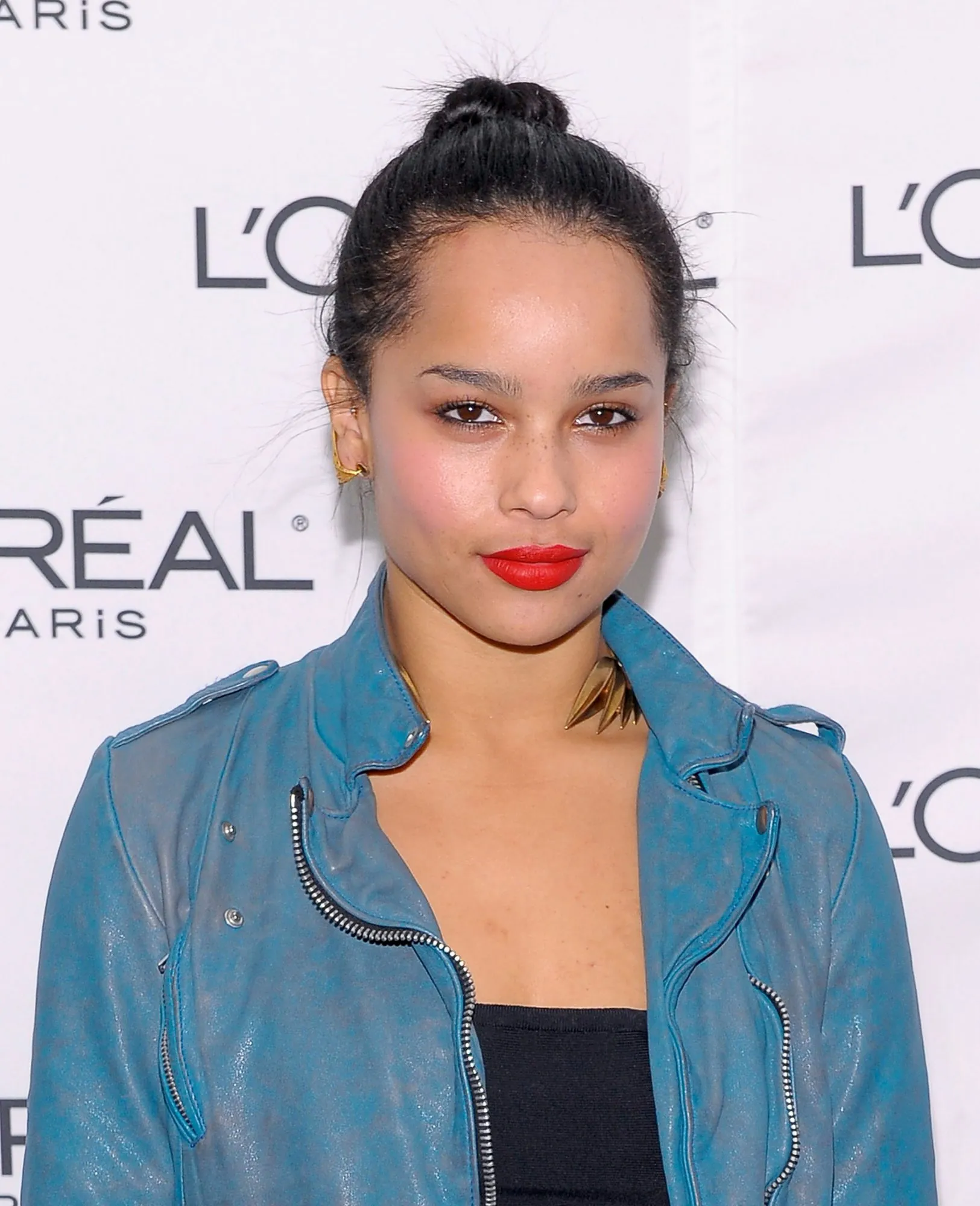 She fully embraced the bold lip as an accent here, and it really popped with her sleek bun. The outfit itself was very pared down and looks more clean-cut than the more laidback style we've come to know her for.
December 2011
Zoë fully worked the caramel-colored fringe here. Even though she was decked out with red nails and statement rings, her makeup was still minimal—with a neutral lip and just a bit of highlighter.
February 2012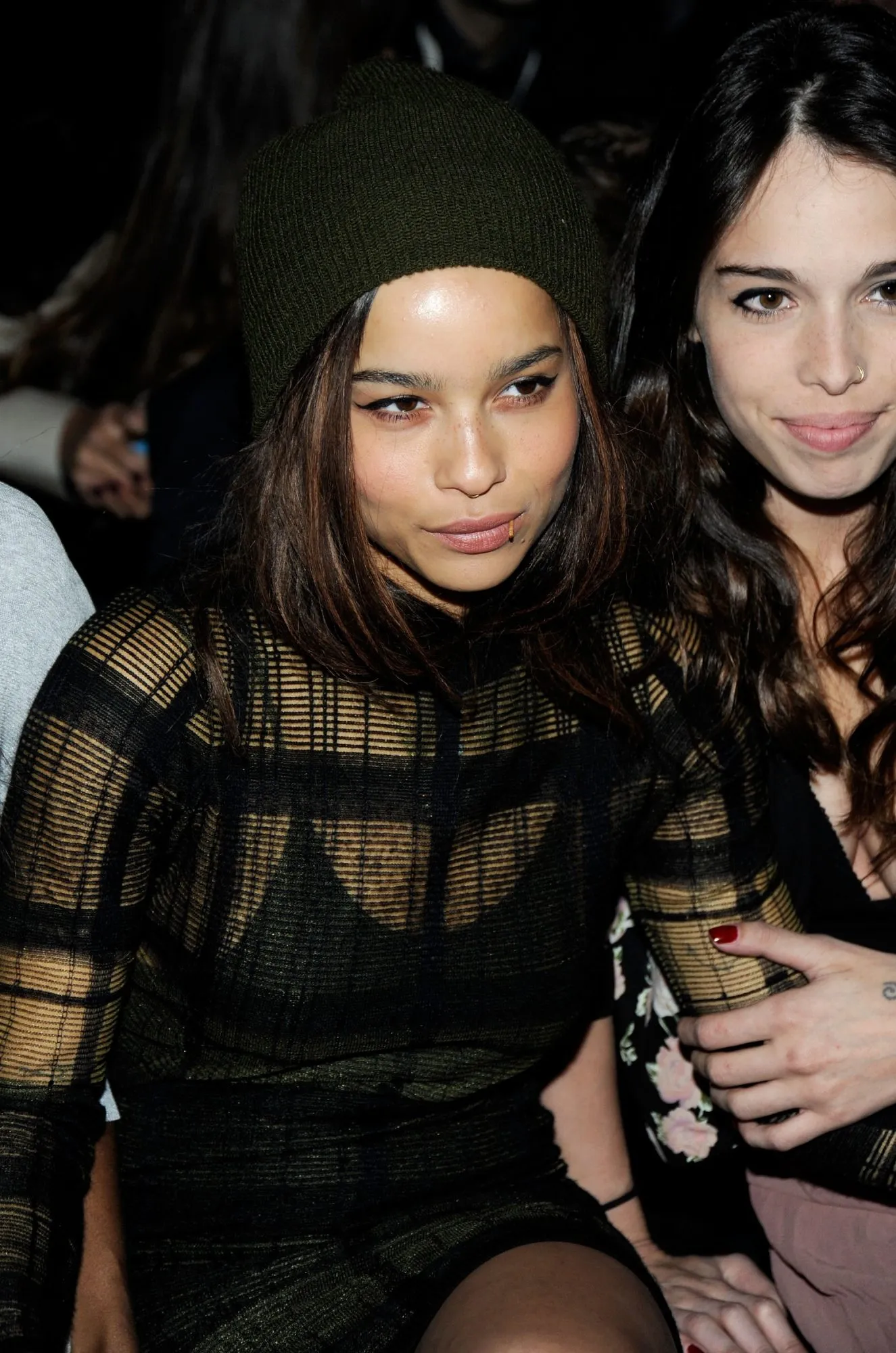 Zoë flexed her ability to look fashion-forward in a beanie at this fashion show. This black, mesh, monochrome outfit, and the classic winged eyeliner gave her the ultimate cool-girl look that's totally worthy of a front-row appearance.
December 2012
Zoë served us some serious face in this look. She rocked a lovely pixie cut and minimal makeup, except for her red lip. The oversized blazer paired with her deep blue evening gown gave her outfit a more playful feel.
December 2013
Zoë has always known how to accessorize a blazer. This sheer black bra paired with the creamy white blazer feels both bold and minimal at once—a rare combination. Her hair was long and braided to the side, and she opted for a bit more of a dramatic makeup look with her smoky eye.
December 2013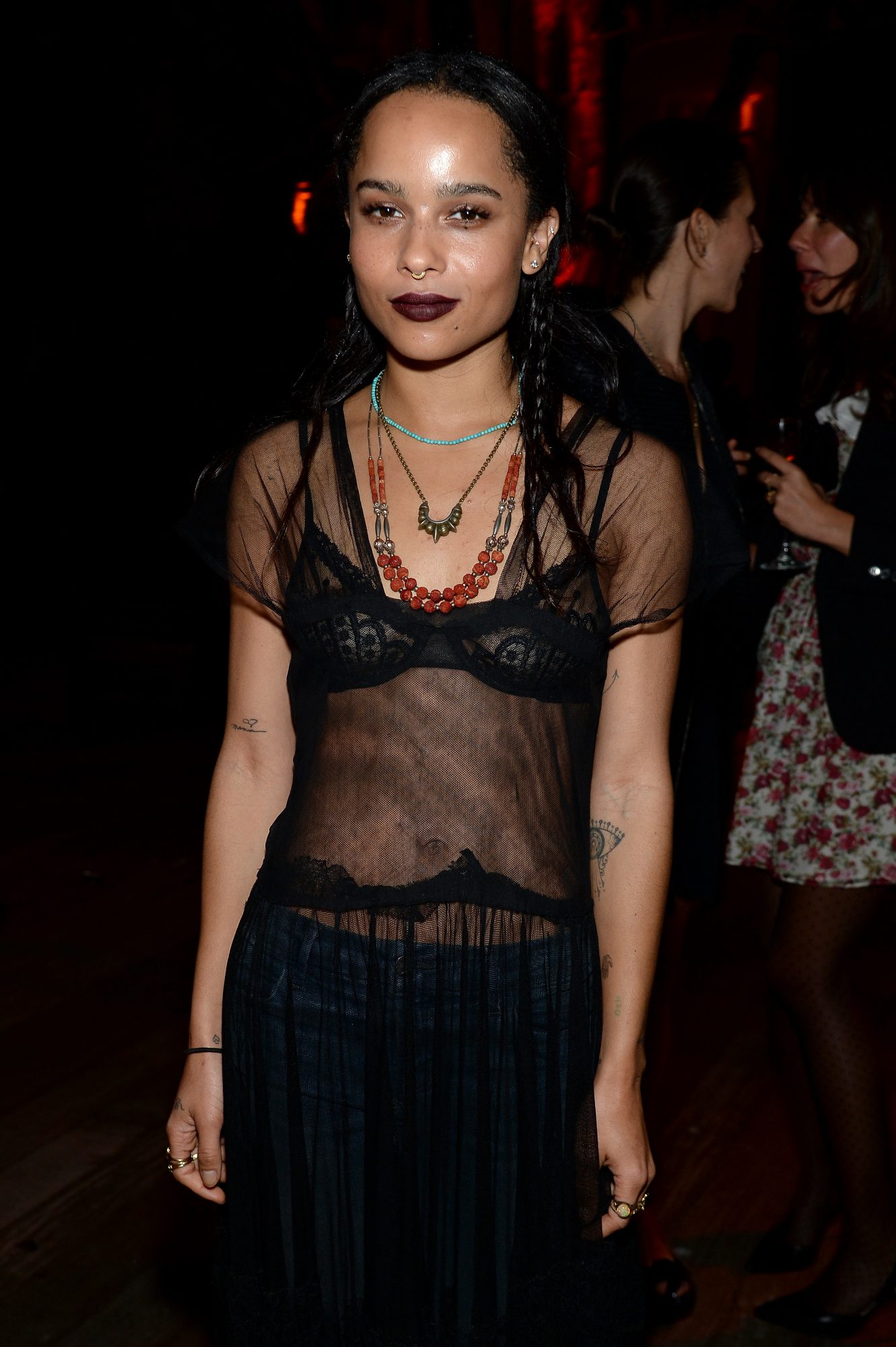 Goth Zoë is truly breathtaking; she fully went in with this outfit. The mesh top, floor-length skirt, and statement jewelry pieces complemented her bold lip and dewy skin. #Goals.
May 2014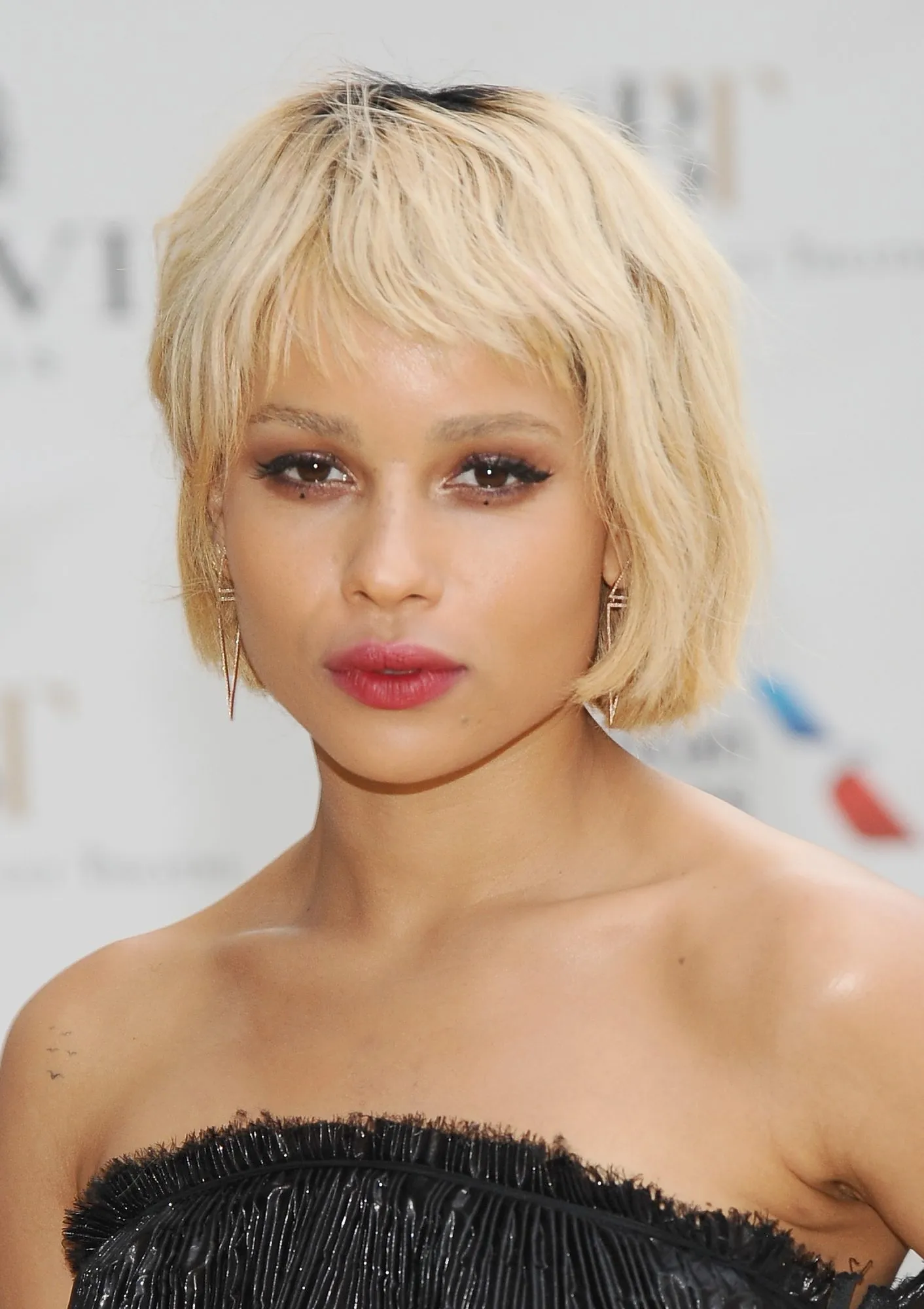 She made a drastic hair change with this full platinum blonde shade. Even more? She got bangs and chopped her hair into a bob. The bold lip really gave this beauty look an old-Hollywood vibe.
May 2014
Zoë continued to channel the blonde bombshell vibes in this low-cut red gown. Her fiery smokey eye and glowy skin brought the look to complete perfection.
October 2015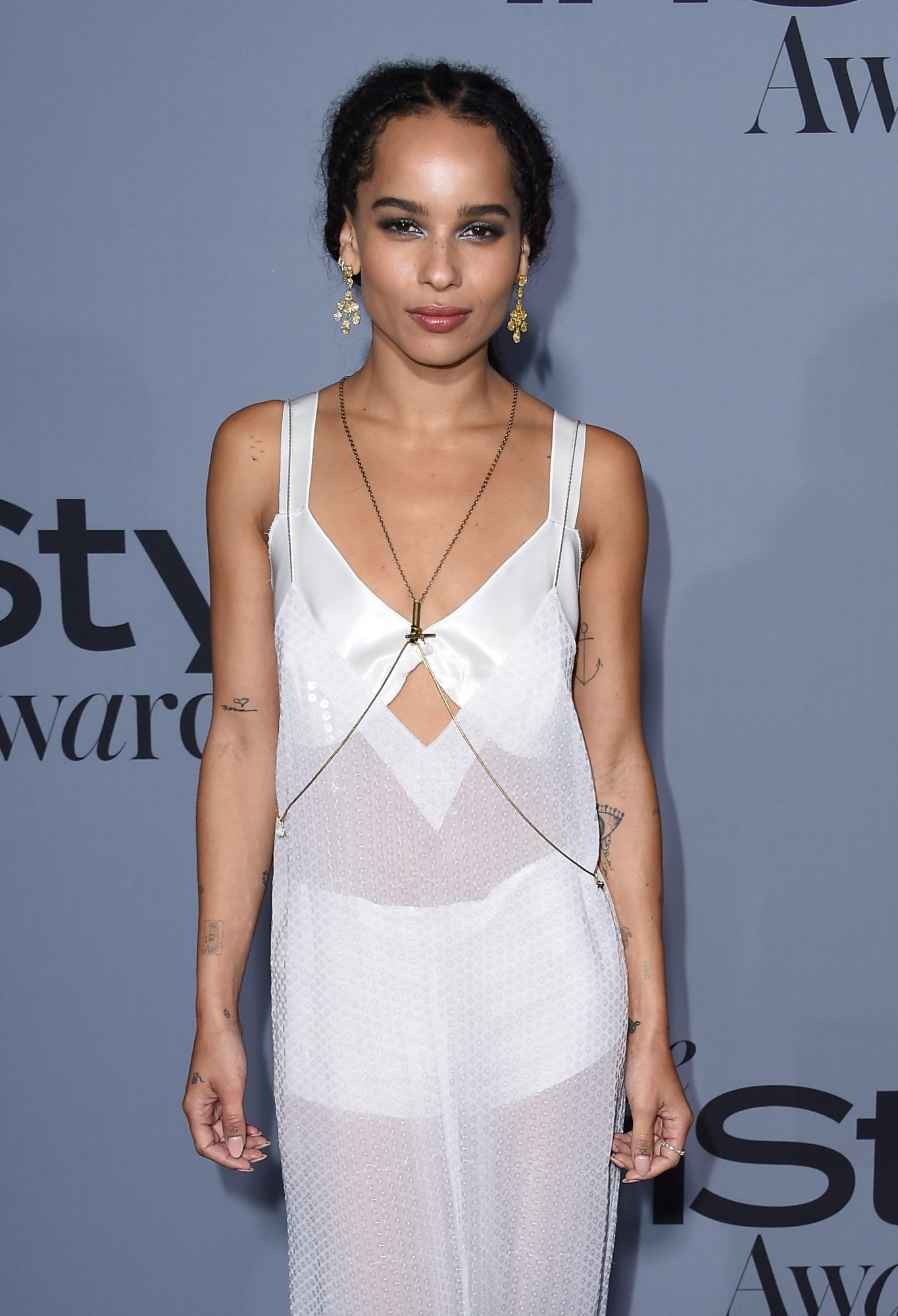 Zoë is a vision here in this all-white ensemble. The look was both elegant and natural, with the golden earrings serving as an accent. She elevated this outfit with shimmery eyes, dewy skin, and nude lipstick.
December 2016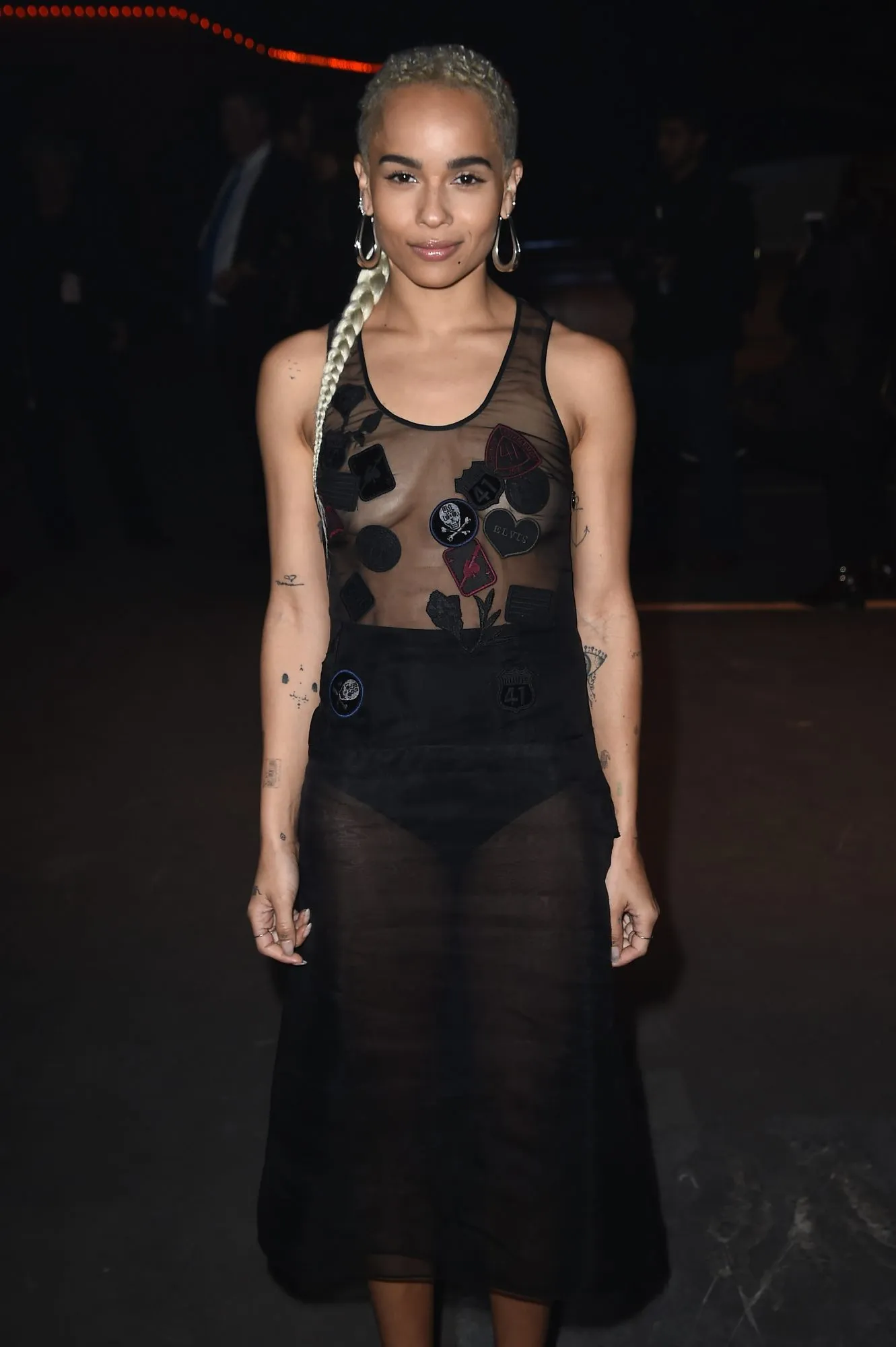 Zoë returned to blonde and stunned in braids. As for her makeup, she kept it fresh-faced with a hint of gloss and highlight.
December 2016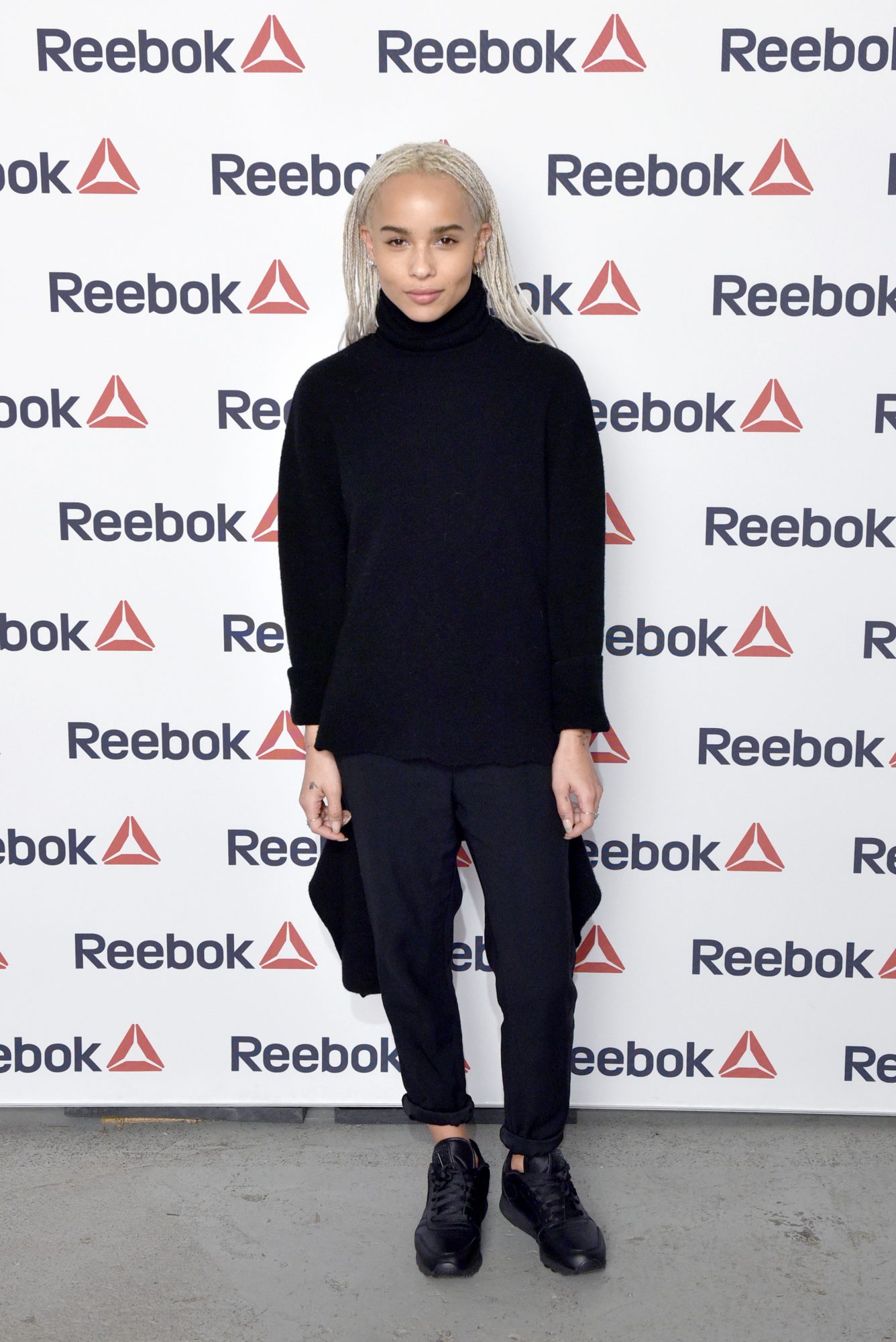 She kept it classic with this monochrome look. We love the contrast of the all-black with her platinum braids. Her natural makeup gave the outfit a sophisticated, yet effortless feel.
February 2017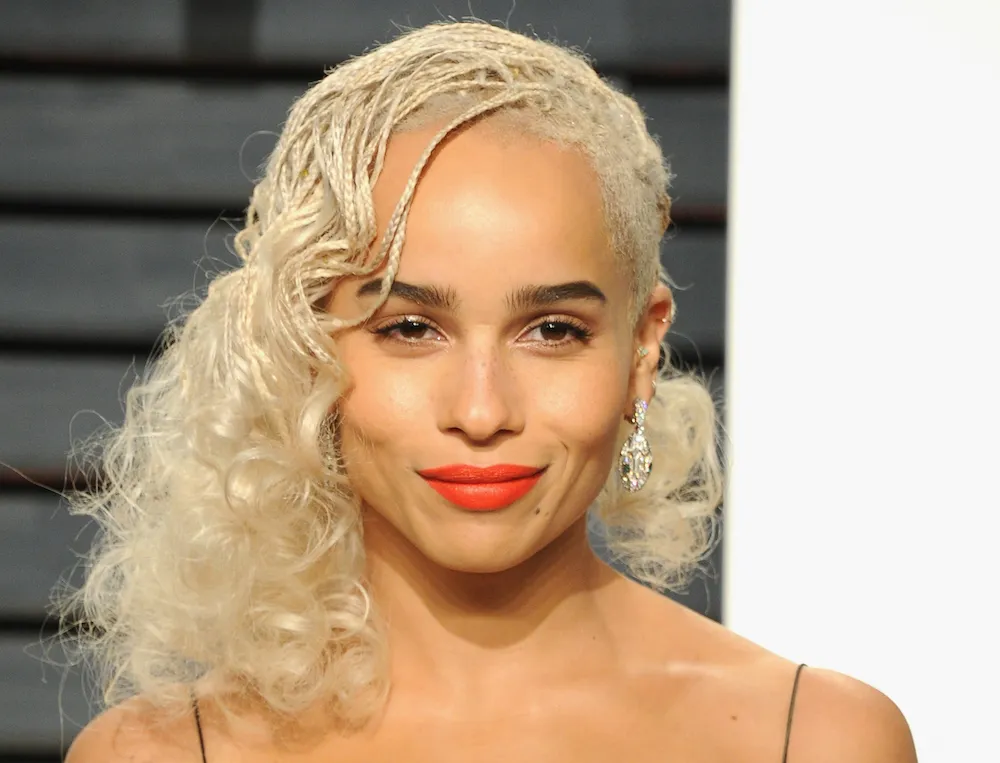 This hairdo is everything. As you can see, her hair wa blonde and shoulder-length—she added braids to her roots and left the ends in old-Hollywood curls. Zoë's classic red lip gave this look it that extra bit of glamour for the red carpet, and we love it.
March 2018
The actress served us high-fashion realness with this black tulle number. Her messy pixie and bold red lip took the outfit to the next level, and we love the jewelry.
November 2018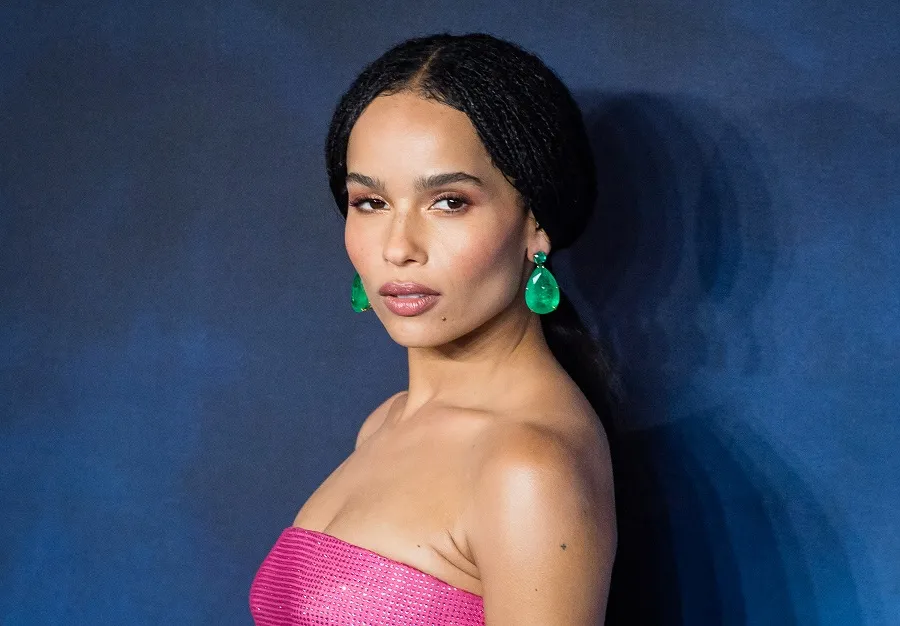 Zoë looked like a real-life princess at the Fantastic Beasts red carpet. She added a touch of pink to her lips, eyes, and cheeks, which perfectly complemented her pink gown.
May 2019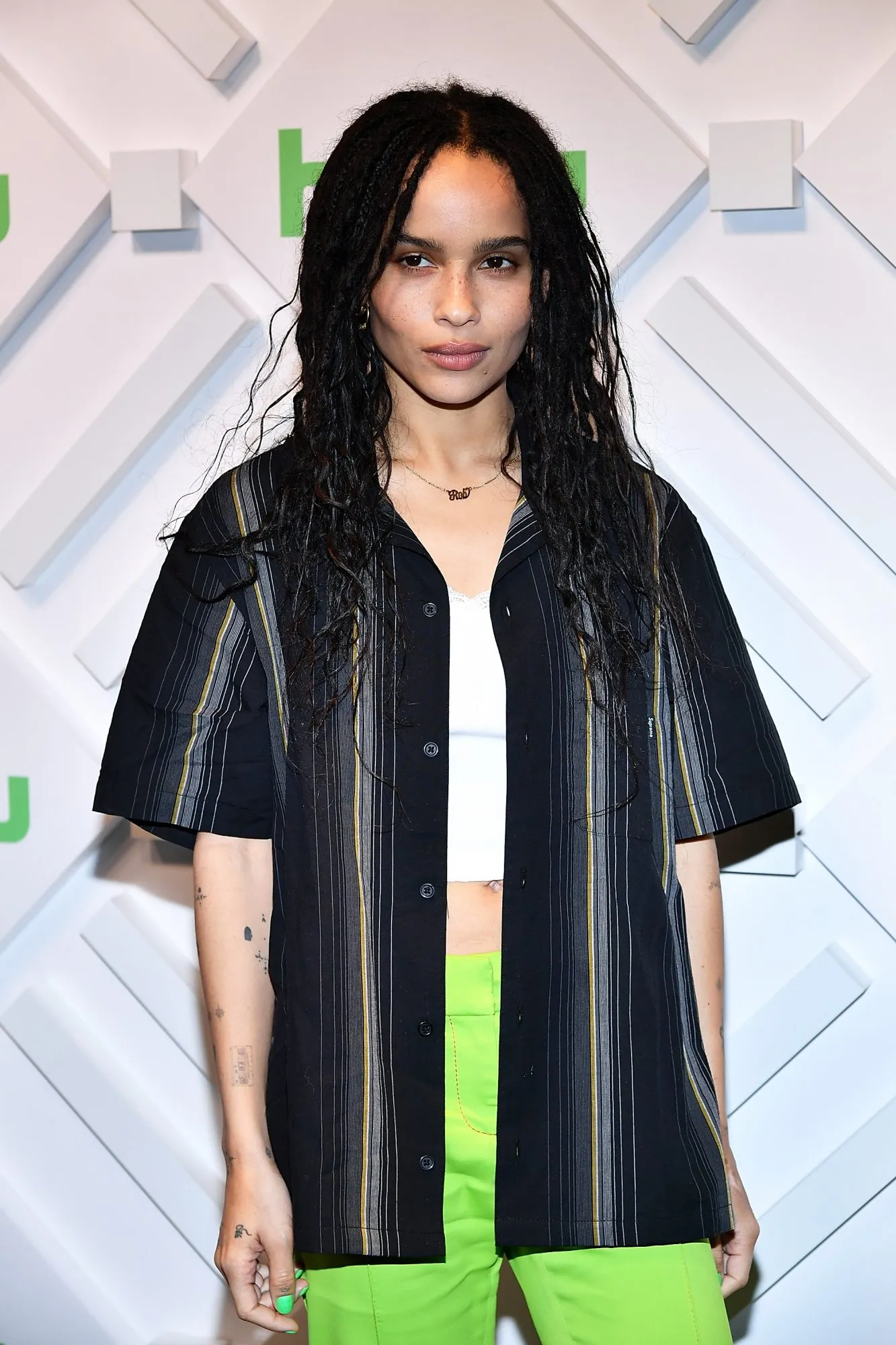 Kravitz came dressed in the style of her High Fidelity character, Robyn, (who was basically just an extension of her own casual-cool self) for the 2019 Hulu Upfront. She rocked dreadlocks, an oversized button-up shirt over a tank top, and some neon green pants that matched with her manicure.
May 2019
Kravitz wore tight braids, a minimal makeup look, and a sparkly black gown with a plunging, Queen of Hearts-inspired neckline to the 2019 Met Gala. What a knockout.
January 2020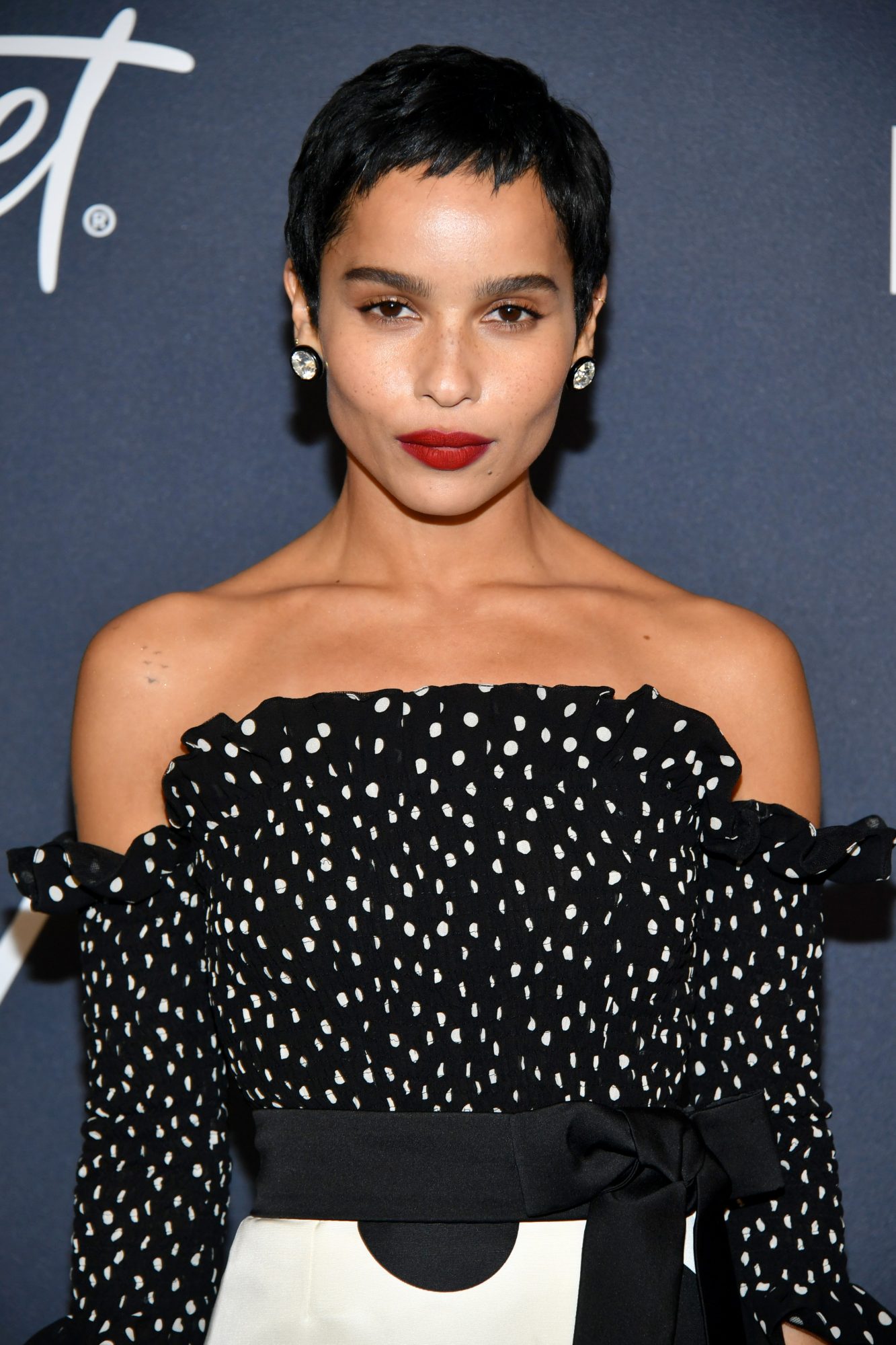 Leave it to Zoë to make polka dots look like the next big thing in fashion. She made the retro style look both classic and brand new at the same time by pairing her printed gown with big diamond studs, a red lip, and a minimal winged eyeliner look.
October 2020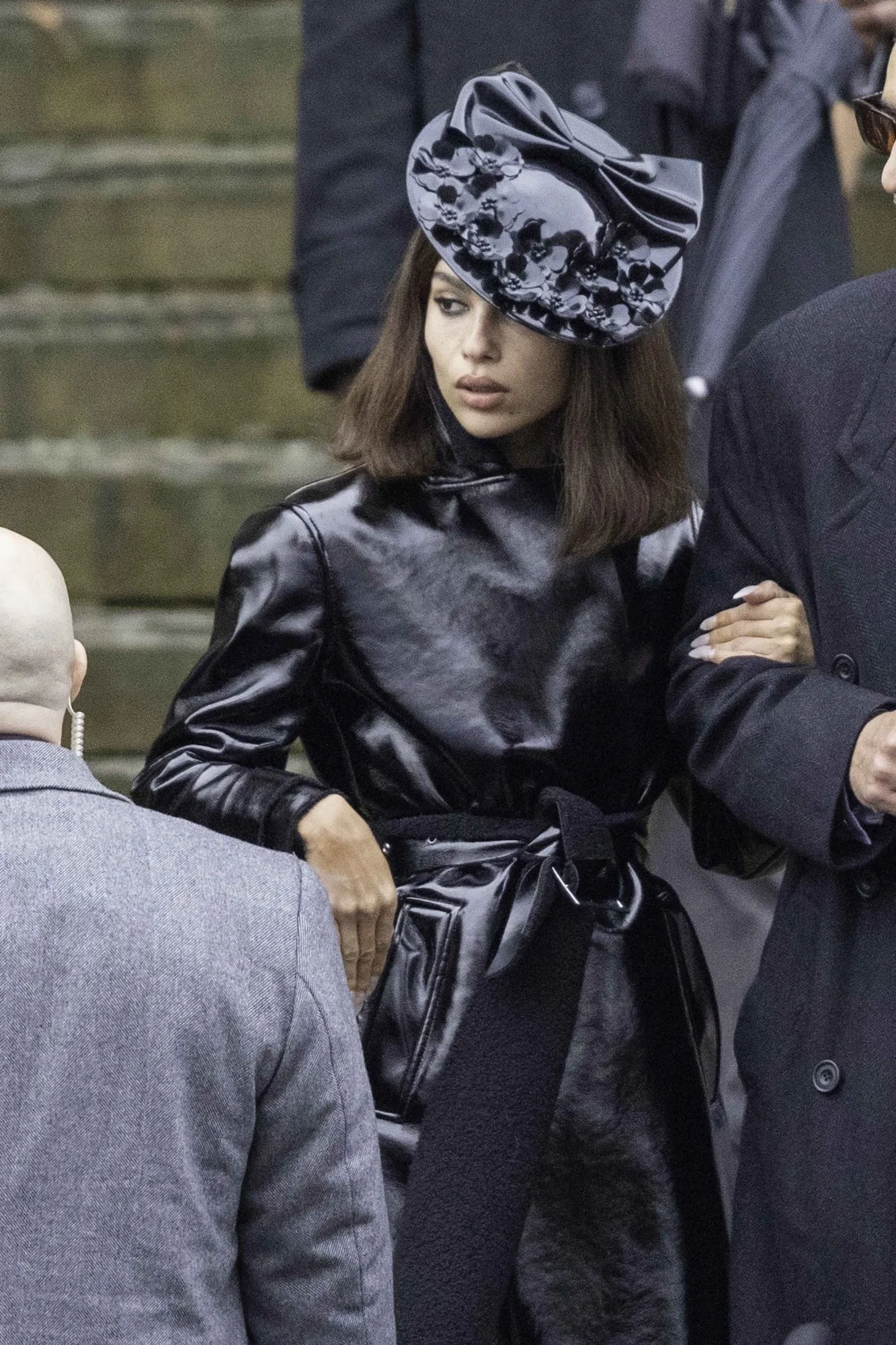 To be fair, this is a Catwoman look, not a Zoë Kravitz look, but we're so excited to see her in the upcoming The Batman movie that we had to add this sneak peak of her on set. Everything about this look, the brunette lob, the suspenseful glance, even that big leather bow, assures us that Kravitz is about to be the most stylish Catwoman yet.