Zoë Kravitz and Shailene Woodley are standing with Standing Rock for *such* an important reason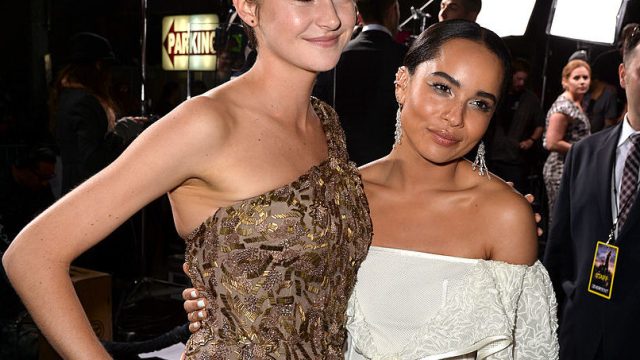 In light of everything going down surrounding the Dakota Access Pipeline, many have taken a stance at Standing Rock. Some celebs have even used their platforms to raise awareness of this super important issue — Zoë Kravitz and Shailene Woodley are two such celebs. Through her organization Up to Us, Woodley is making her voice heard, and encouraging us to use our own. It's truly so, so amazing.
In case you haven't been keeping up with what's happening at Standing Rock, the site explains,
"Shailene Woodley has joined forces with Standing Rock to protest the building of the Dakota Access Pipeline. Construction of this pipeline through the Missouri and Cannon Ball Rivers poses a serious threat to the water supply of the Native American tribes—and all 18 million residents—that live along its course."
https://www.instagram.com/p/BK3276wjoU9
It continues, saying,
"In Lakota, they say "Mni Wiconi, which means "Water is Life. When you buy this shirt, not only are you showing the world that you demand change to protect our waters, but you're also helping fund Up to Us. They're dedicated to organizing, educating and activating communities on how to become leaders who are willing to stand up in the face of adversity and demand dynamic change to create a world that works for all of us."
Like, come on. What a rockstar! We love how she speaks up for what she believes in, now and always. The always ah-mazing Zoë Kravitz posted a photo of her own in solidarity.
https://www.instagram.com/p/BLJnhdZBOeR
Kravitz captioned the photo,
"Standing with @shailenewoodley and Standing Rock in opposing the #DAPL - help us raise money and get your shirt on omaze.com/standingrock • #weareallone • #waterislife💧"
This Divergent duo is seriously *so* fantastic! Like, hello, #SquadGoals. You can show your support and buy a tee of your own here!