This is what you should wear on a first date based on your zodiac sign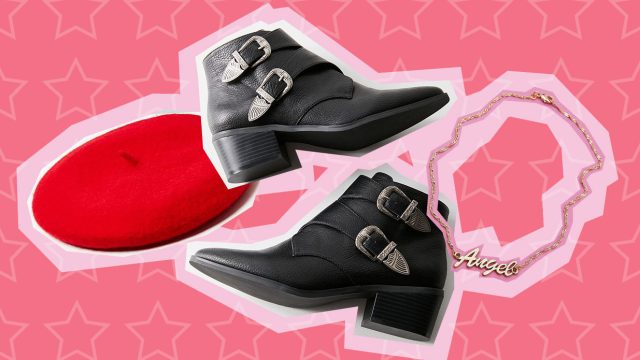 Let's face it — first dates can be weird. As in, awkward and uncomfortable (to say the least). Sometimes you have to go out on a limb and say yes to a date that falls flat, and sometimes the reverse is true. Either way, wearing the right outfit can help you be extra confident, especially when your first date outfit is inspired by your zodiac sign. Our sun sign in our birth chart rules over how we move through the world; it's our identity. So it makes sense that we can turn to this to help inspire our first date style.
We all know the power of a killer outfit. It helps us feel like our best self and if there's ever a time that confidence is key, it's on a first date. So whether you're a chill and laid-back Taurus who won't go anywhere without her white sneakers or a fiery Leo who feels saucy as hell in leather pants, we have your perfect first date outfit, all inspired by the cosmos. Next time you find yourself in the "What the hell am I supposed to wear to this date??" dance, just remember that we got your back.
PS: Check out where Venus is in your chart (the planet that rules over glamour, love, and beauty) and see if that zodiac sign's outfit resonates with you for some extra loved-up vibes.
1Capricorn (December 22nd to January 19th)
Understated Sophistication Knit Dress, Modcloth, $59 / Angel Nameplate Necklace, Frasier Sterling, $29
A vintage (inspired) dress and nameplate necklace
You do so well in vintage and vintage-inspired silhouettes, Capricorn, so why not stick to your tried and true favorite? You can still add your own flair, though, so don't fret! Pick a personalized nameplate necklace in yellow gold, and your favorite heels or loafers, for that old school-meets-millennial vintage vibe.
2Aquarius (January 20th to February 18th)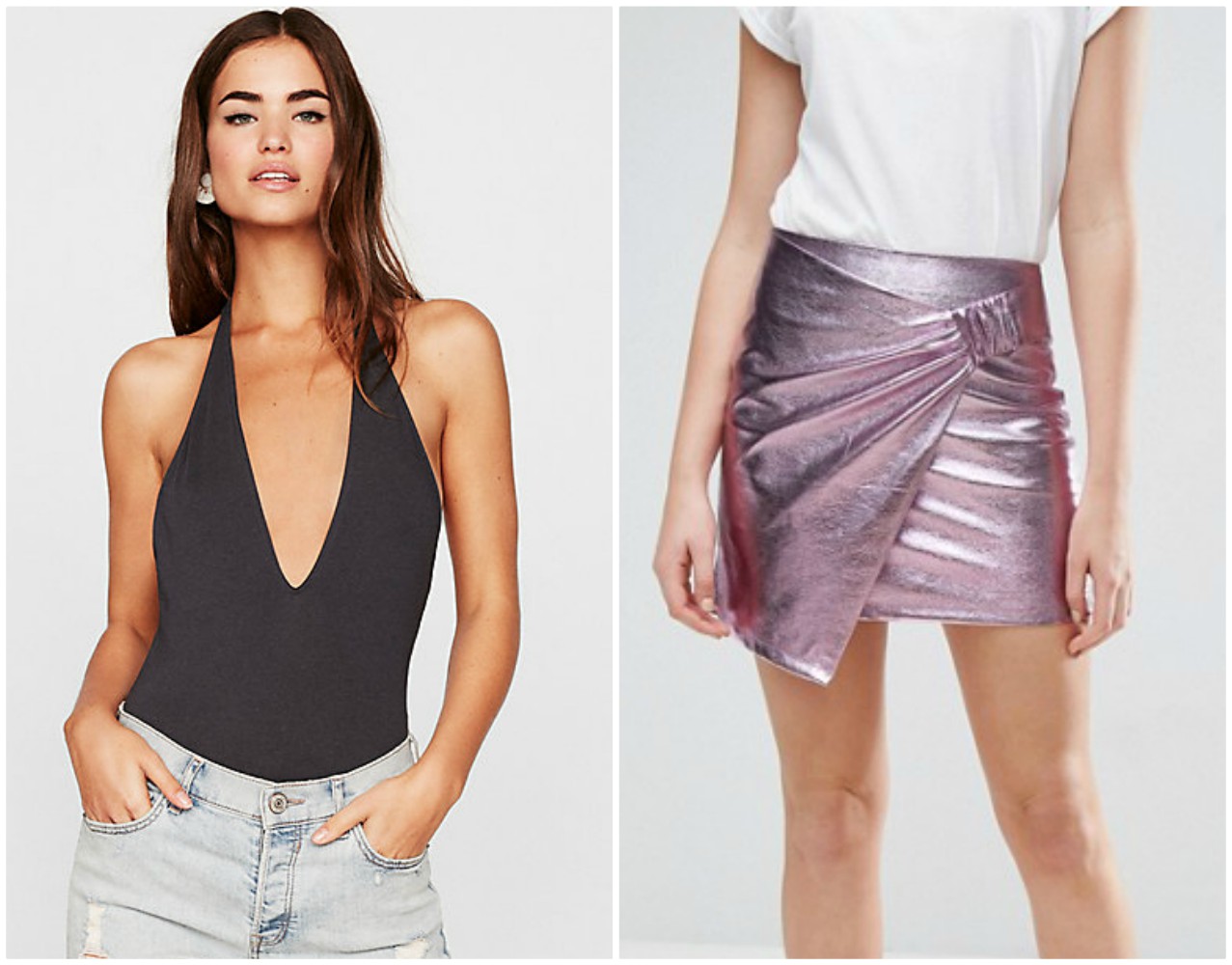 One Eleven Deep V-Neck Halter Thong Bodysuit, Express, $19.90 / Metallic Mini Skirt with Twist Detail, ASOS, $16.50
A deep-V bodysuit and metallic skirt
You're the alien queen of the zodiac, Aquarius, so why not wear something totally *you* on a first date? You don't have to go overboard, but picking a metallic skirt and bodysuit will leave you feeling like your best self. Add in some bright lipstick or alien buns to really seal the deal.
3Pisces (February 19th to March 20th)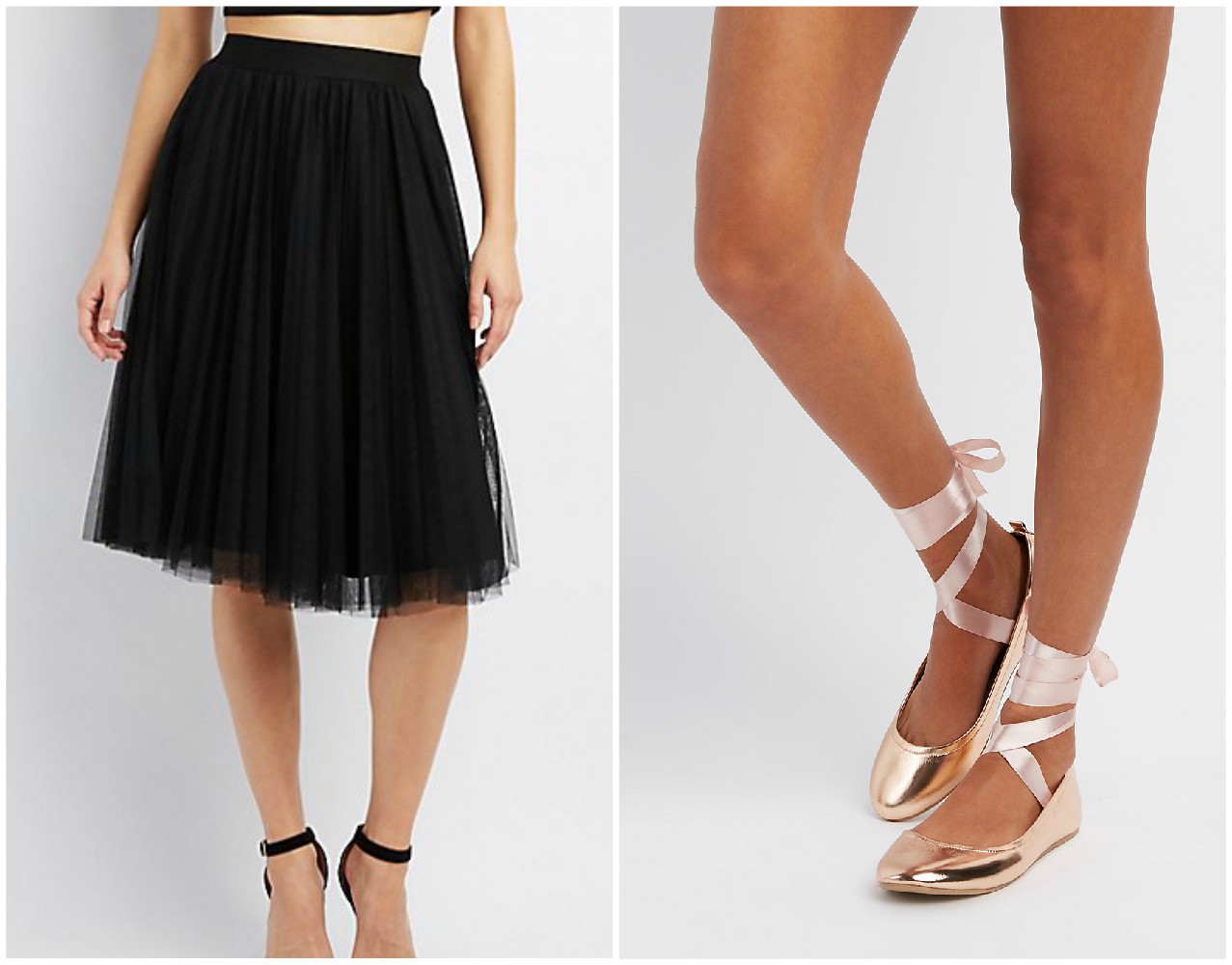 Satin Lace Up Ballet Flats, Charlotte Russe, $17.99 / Tulle Full Midi Skirt, $15, Charlotte Russe
A tulle skirt and ballet flats
As the most intuitive sign of the zodiac, you feel best in outfits that are as dreamy as you are. Texture is key, which is why you do so well in tulle. Grab a tulle skirt and some ballet flats (extra points if they lace up) to really own your style, no matter where your first date takes you.
4Aries (March 21st to April 19th)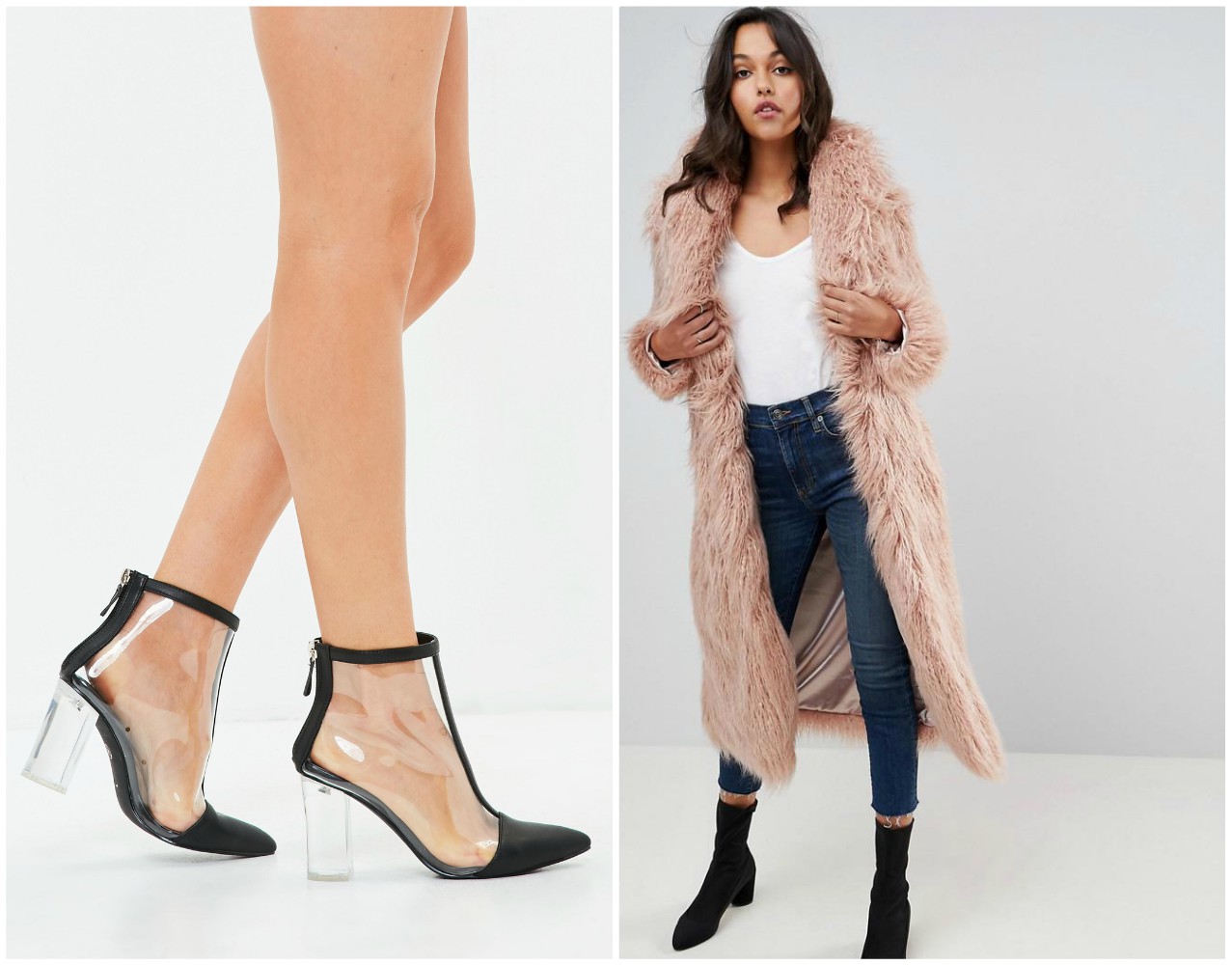 Black Perspex Toe Cap Ankle Boot, Missguided, $68 / Boohoo Faux Fur Coat, $140, ASOS
Perspex boots and a textured jacket or coat
You're a fiery one, Aries, and you need a statement piece or two to really flaunt what you've got. Why not try a perspex boot and textured coat to really stand out? Pair these with some fierce red lipstick and you'll be killing it all night (or day) long.
5Taurus (April 20th to May 20th)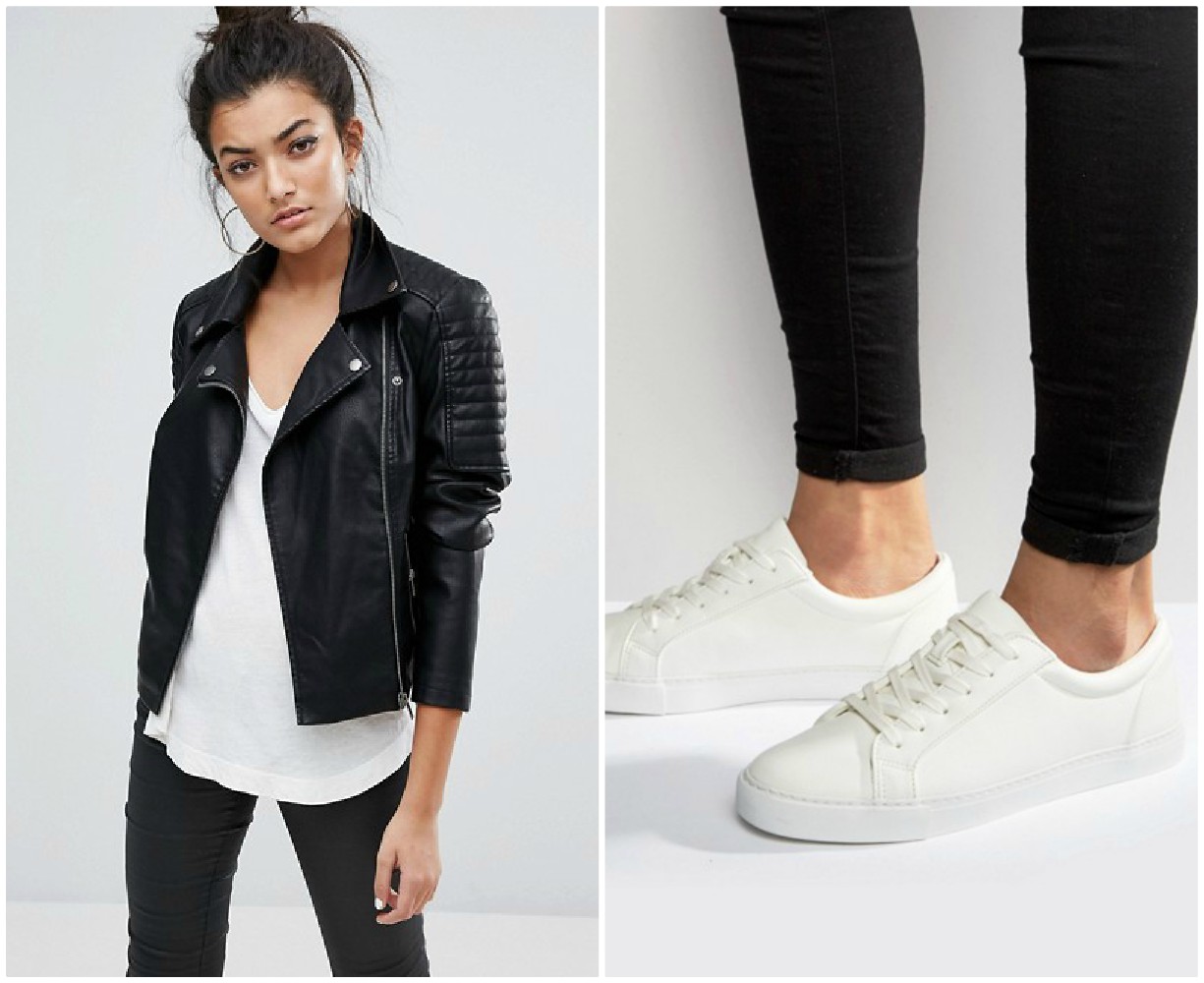 Noisy May Leather Look Jacket, ASOS, $60 / ASOS DESIGN Vegan Sneakers In White, ASOS, $32
A leather jacket and white sneakers
You like what you like, Taurus, and there's nothing wrong with that! The key for you is to feel totally comfortable in an outfit you love. Wear a black leather jacket to tap into your inner chill zone and pair it with white sneakers so you can look cool as hell —without the fuss.
6Gemini (May 21st to June 20th)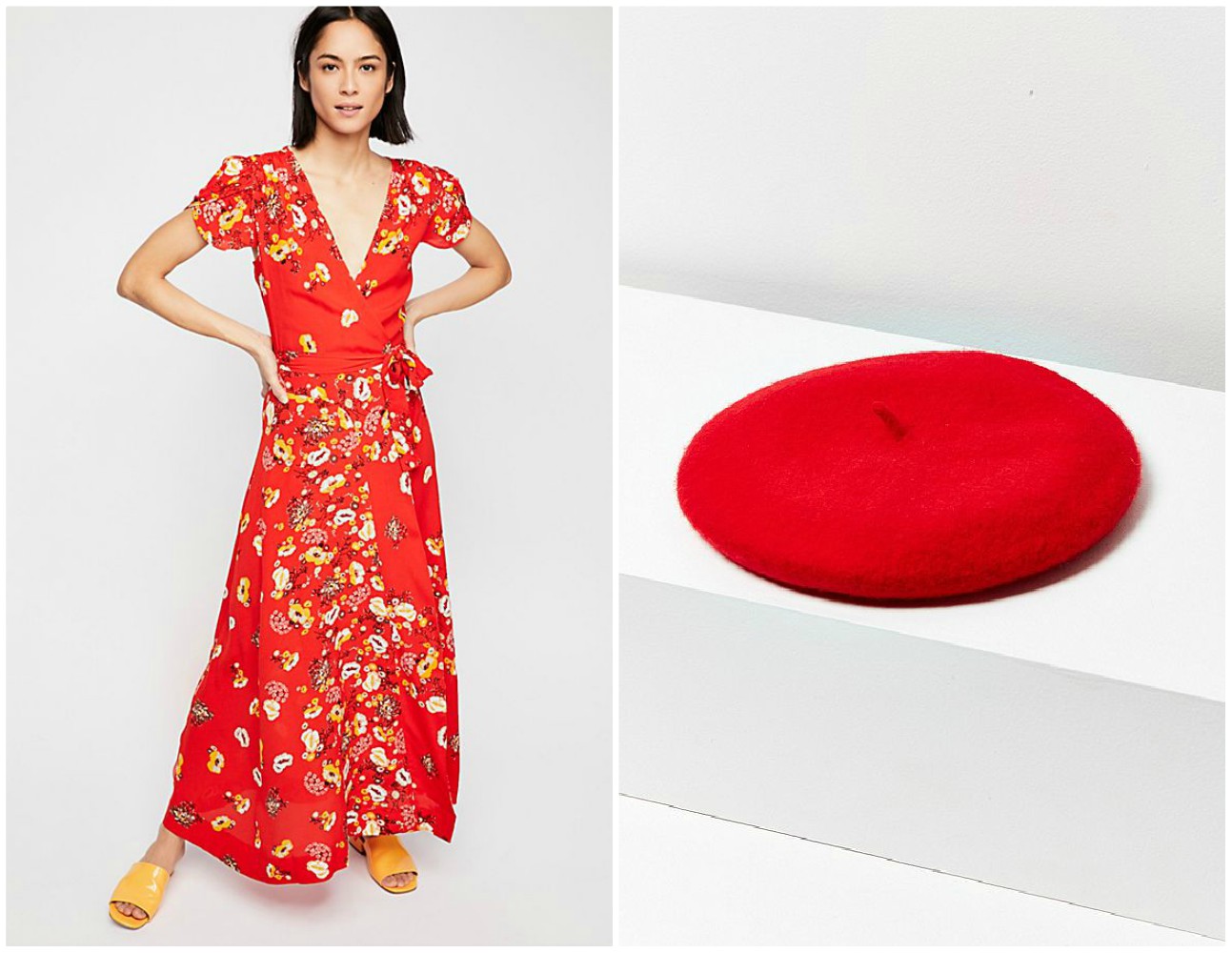 Gorgeous Jess Wrap Dress, Free People, $148 / Felt Beret, Urban Outfitters, $29
A printed dress and a beret
Although you're an air sign, you are the communicator of the zodiac, Gemini, and need something as loud as your spirit. Try a printed dress and a beret, in whatever shade your heart desires, to channel your inner goddess. Add some matching eyeshadow or lipstick to finish off the look.
7Cancer (June 21st to July 22nd)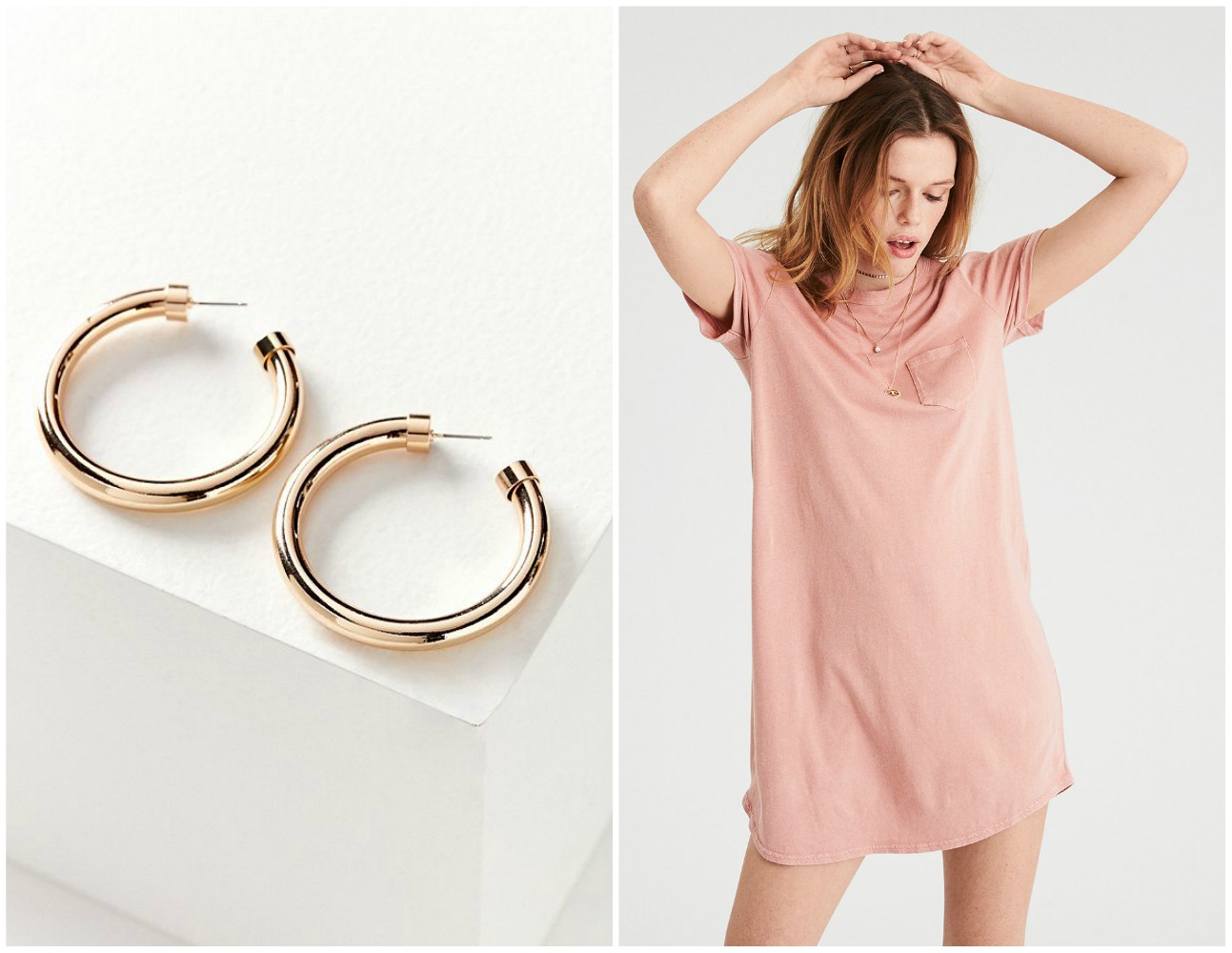 Chunky Hollow Hoop Earring, Urban Outfitters, $16 / AE Classic Knit T-Shirt Dress, American Eagle, $13.98
Gold earrings and T-shirt dress
A sensitive heart needs an outfit that honors it. An oversized T-shirt dress in the perfect shade of pink and some chunky gold earrings will leave you feeling glamorous and oh-so lovable. Finish off your look with a rose quartz necklace or some highlighter to really get the love flowing.
8Leo (July 23rd to Aug 22nd)
Faux Leather Leggings, Express, $49.90 / Bershka Vinyl Pearl Heel Court Shoe, ASOS, $48
Leather pants and pumps
You're the boss, Leo, and you need a first date look that screams DRAMA. Pair some leather pants with a pump that features an interesting detail to really show off what you've got. Add your favorite lipstick and a structured leather bag for the ultimate fire sign aesthetic.
9Virgo (August 23rd to September 22nd)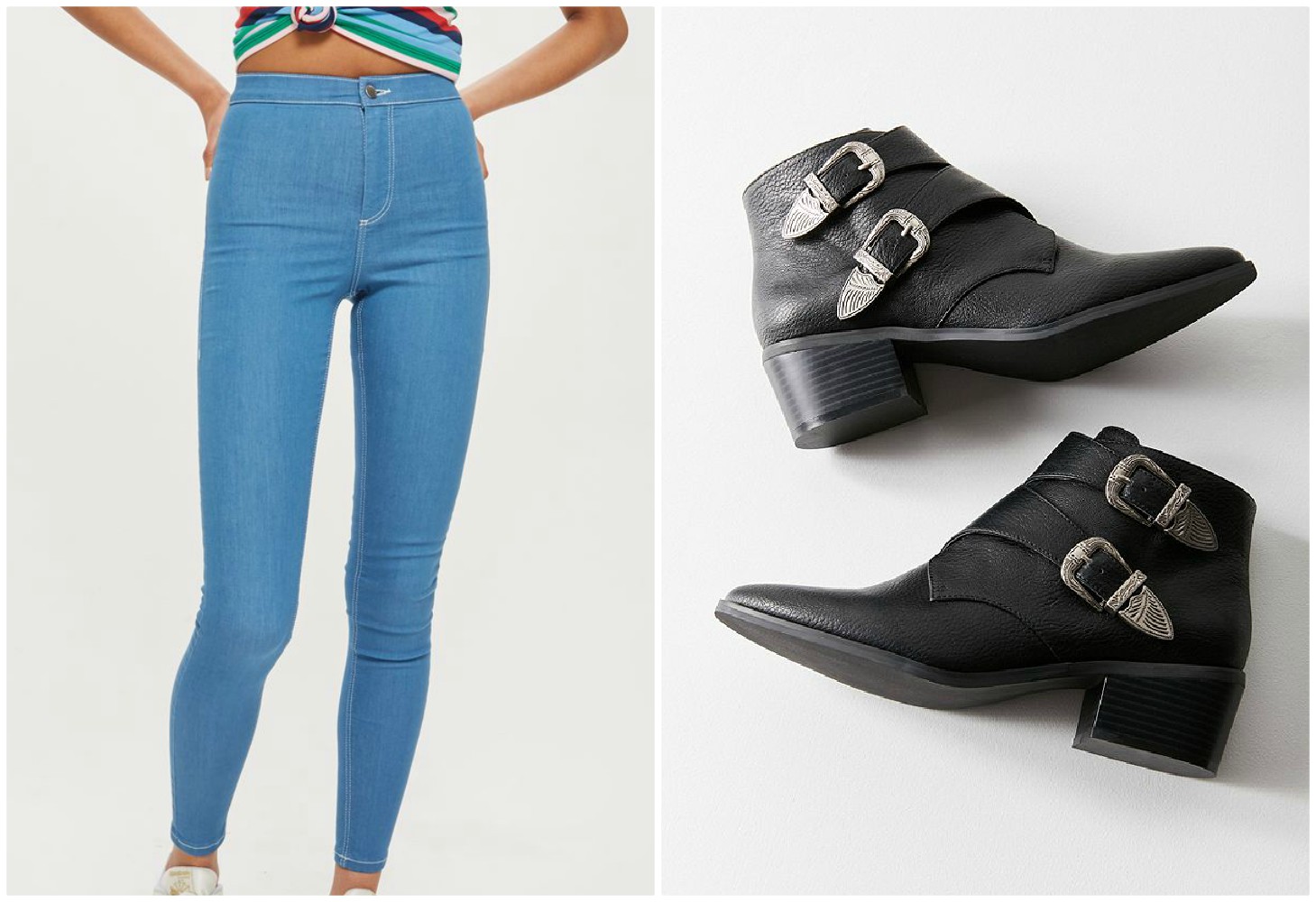 MOTO Bright Blue Joni Jeans, Topshop, $65 / Talia Buckle Ankle Boot, Urban Outfitters, $79
High-waisted jeans and boots
There's nothing wrong with wearing a tried and true classic on a first date! A high-waisted pair of jeans can be your best friend, Virgo, and you can still look chic as heck in 'em. Accessorize with some leather boots with silver buckle detailing to really own your earth sign edge.
10Libra (September 23rd to October 22nd)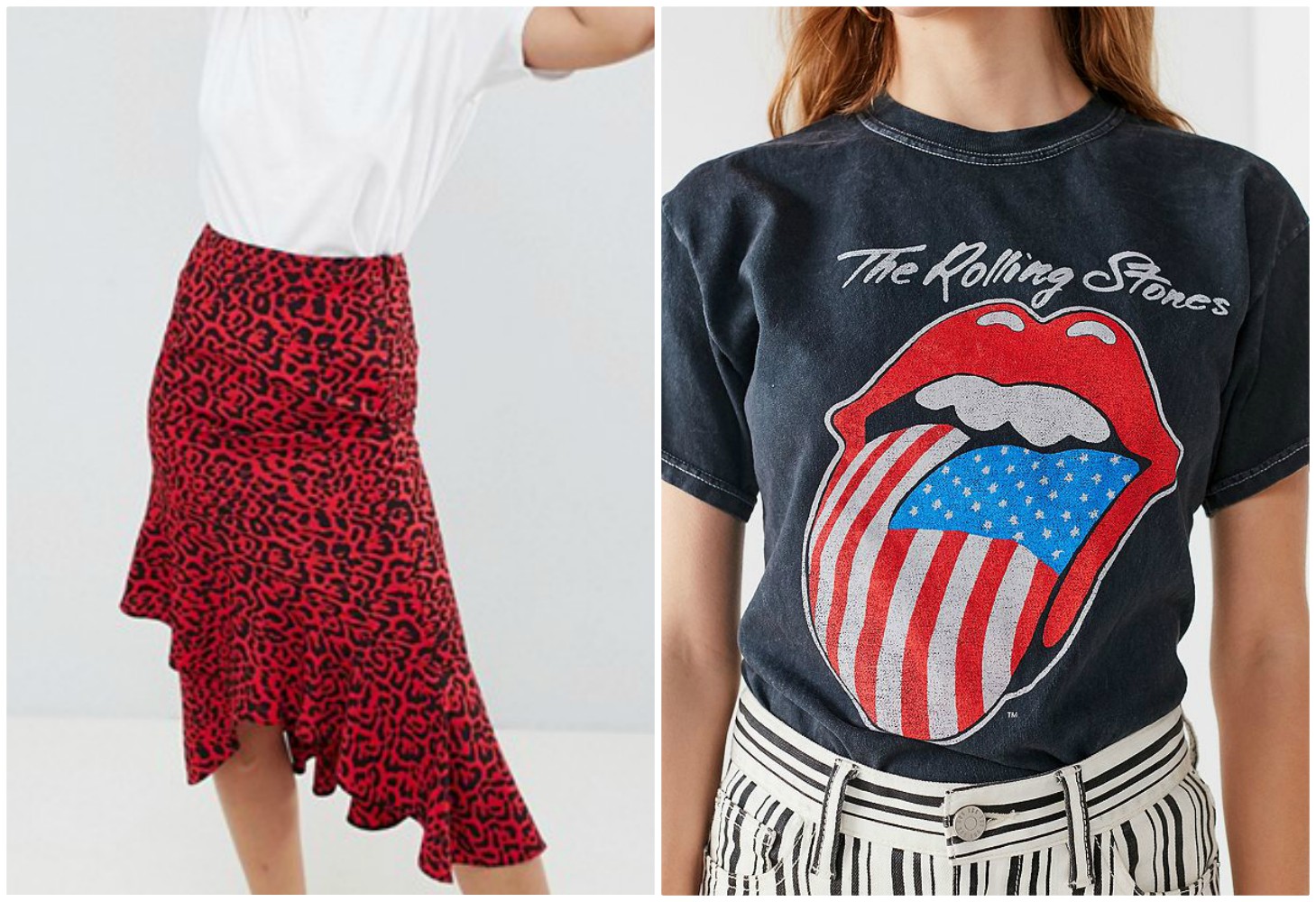 Midi skirt with ruffle detail, ASOS, $51 / The Rolling Stones American Flag Lips Tee, Urban Outfitters, $34
Midi skirt and a vintage tee
Although you're all about balance, dear Libra, sometimes it's just fun to let the scales tip. Why not wear something daring on a first date? A midi skirt in an eye-catching pattern and a vintage tee still feel like you, while helping you embrace your wild side just a bit.
11Scorpio (October 23rd to November 21st)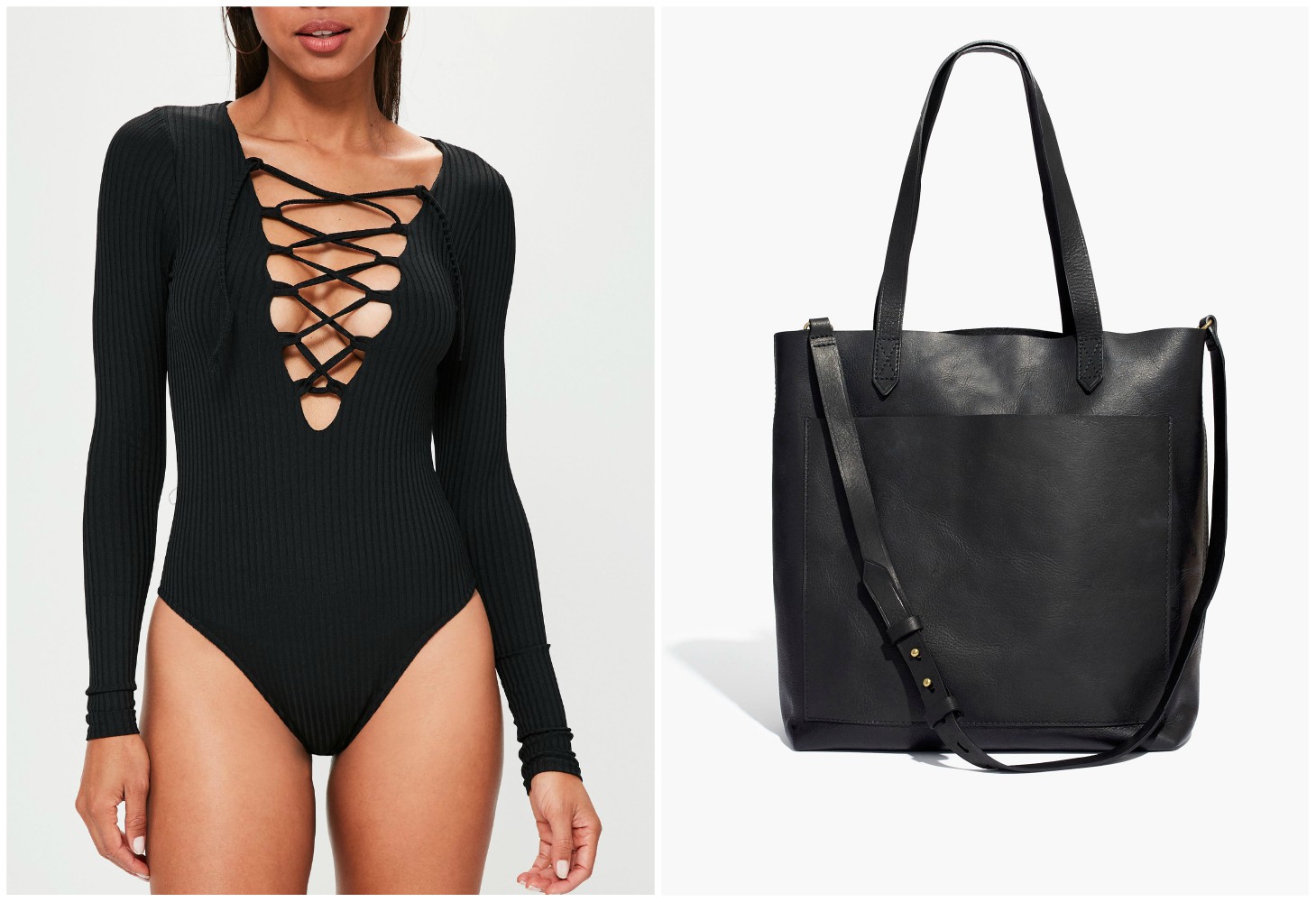 Lace Up Front Bodysuit, Missguided, $31 / The Medium Transport Tote, Madewell, $158
A lace-up bodysuit and leather bag
You're a spicy one, Scorpio, and you do best in outfits that scream sex appeal. A lace-up bodysuit isn't subtle, but neither are you. Why not be honest with who you are on a first date and pair a bodysuit with a structured leather bag to really show off the sultry vixen you are.
12Sagittarius (November 22nd to December 21st)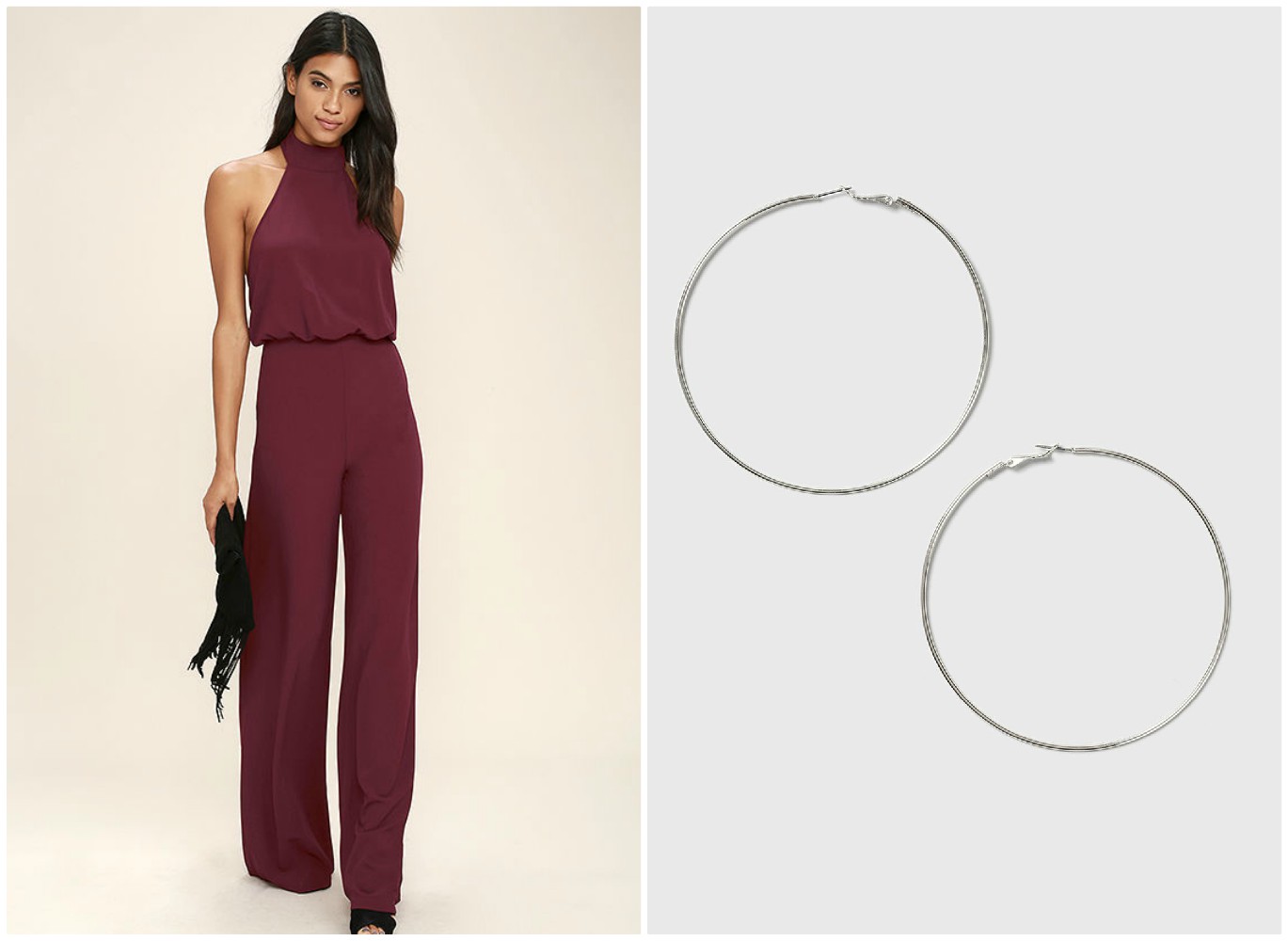 Moment For Life Wine Red Halter Jumpsuit, Lulus, $68 / Silver Large Hoop Earrings, Topshop, $11.20
A jumpsuit and hoops
You like having a uniform, Sagittarius, but you also hate being bored. The perfect middle ground? A jumpsuit! Pair a wine-hued look with silver hoops to really turn up the flames. You've got this (but you already know that).
No matter what you wear, you deserve to feel like your best self on every and any first date.