Here's how your zodiac sign should celebrate this weekend's supermoon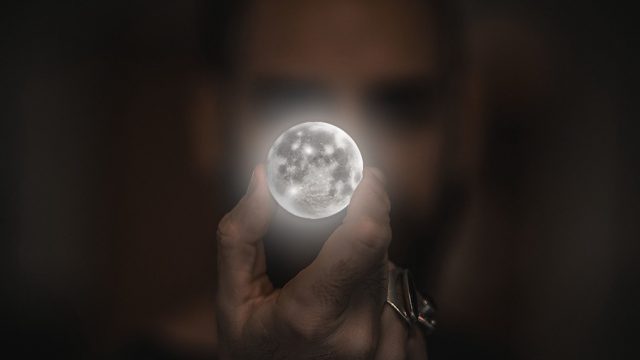 The last full moon of 2017 is here. A day when la luna's light shines on all we've manifested the past year, and all we have to manifest in the next month, not to mention the year ahead. December's full moon falls on Sunday, December 3rd in the air sign of Gemini, which is represented by the twins. And in true 2017 fashion, this year's full moon has a slight plot twist: it's the first and last true supermoon of the year. A supermoon happens when the moon is at perigee (aka when it's closest to the earth). Full moons are a time of energetic intensity — the climax of the month, so to speak. And with a supermoon? Well, that energy just gets intensified. Supermoons even look larger and brighter than a regular full moon, so 2017 is really going out with a bang.
Energetically, this is a full moon that's all about seeing your dreams and going for them. The sun is in fiery Sagittarius, the sign of the archer. Sagittarius energy is expansive and forward-thinking; they see what they want to accomplish, pull their bows back, and shoot for it. Gemini is the vision and dream behind this. Gemini energy is airy, it's communicative, it's dreamy, and it's asking you to speak these dreams into fruition. The full moon is a time when we can work any magick we desire; it's a time when we can manifest or banish. And honestly, this supermoon is the perfect time to do both!
Taking time to set your sights on the year ahead is vital, but only after you've looked back to recognize all you've accomplished. Take inventory. What worked? What didn't? Think about your perfect version of  2018, and write down what this would look like. You can meditate on this, hang it up somewhere you want to see it or burn it as an offering to the cosmos. Then, make space to let go of whatever habits or patterns held you back from shining as your truest self this past year, focusing on releasing this up until the new moon on December 17th. false
For more ways to shine this supermoon, read on to get a customized full moon ritual for your zodiac sign.
Fire Signs (Aries, Leo, Sagittarius)
Work with your sign's vibrant energy by working with your sign's strengths. The smokey mixture of airy Gemini (the moon) and fiery Sagittarius (the sun) are asking you to fan the flames of your passion. If you're looking to call in a partner or a new project or passion, now is the time to do so. Gemini may be represented by the twins, but this could also represent sacred partnership, either with a person or a new project. Use a piece of paper to write down what you want. You can say "I call in," or "I accept," and then follow that up with what you're manifesting. When you're done, you can say a prayer to the cosmos or the universe, asking for its blessing and thanking it for the support. Then burn the list, adding in herbs like rose petals for love or mint for good fortune. When you're done, scatter the ashes, thanking the earth and universe for her gifts, visualizing whatever you're manifesting coming to you effortlessly.
Aries: The full moon is activating your house of communication, and things can get a bit out of hand if you're not careful. Bite your tongue if you have to, or ask open-ended questions if you can.
Leo: Rely on your community. This full moon is lighting up your house of collaboration and technology, so use social media or Bumble Bizz to find new ways to make teamwork your dream-work.
Sagittarius: This full moon is illuminating your house of partnerships, which may have you feeling all the love. But don't rush into things. Instead, give yourself time to learn about someone new. Mercury Retrograde and Gemini's dualistic nature mean you want to make sure this person is really the right fit.
Earth Signs (Taurus, Virgo, Capricorn)
As earth signs, you have a tendency to know what you want. You're in control, feet pressed firmly in the ground, ready for whatever plot twists come your way the rest of the year. Just don't forget to give yourself some space for the unexpected as well. Take this full moon as a day to treat yourself, or do something unexpected. Go to the spa, take your favorite dance class, order that expensive coffee drink, or buy yourself some flowers. Go somewhere new, talk to a stranger, or do something that scares you. Take some time to write what you're thankful for, and take a look back on anything unexpected that made your life even better this year.
What's one thing you can do to make your life more steamy? The moon in air sign Gemini and fire sign Sagittarius are presenting you with a different outlook, one that's a little less rigid and structured than you're used to. Maybe it's time to channel this adventurous energy into 2018. If you can't commit to that, try it out for the last month of this year.
Taurus: This full moon ignites your house of finances, so be on the lookout for new opportunities to make some extra cash. This includes speaking up about your accomplishments and owning the fact that you're worthy of financial abundance!
Virgo: The full moon is illuminating your house of success. Important people are watching you, and the next two weeks are vital for you to show them you can get the job done, and done well. Socialize strategically, and show up as your best self to really pack a punch.
Capricorn: This full moon is lighting up your work and wellness sector, so it's time to clear and cleanse anything necessary so you can be at your most productive. Get a massage, clean your space, focus on self-care, and do whatever is necessary so you can show up as your fullest self.
Air Signs (Gemini, Libra, Aquarius)
With the moon in a fellow air sign, you really have the opportunity to channel your wacky, creative, communicative brain for the better. This full moon, create something that represents what you want to draw in the rest of the year and the year to come. This can be a poem, a spell, a song, a piece of art, or something entirely different. The unexpected is expected with this, so don't be afraid to let your freak flag fly. Use colors, words, objects, and things that represent what you're trying to manifest. You can use photos of money if you want more wealth, crystals like rose quartz and aventurine if you want love, feathers if you want to travel more, and photos of clothing if you want to channel a new style.
When you're done creating, take your work outside and show the Moon. Tell her what you're calling in, and hold it in your heart as truth. If you created something tangible, place it where you can see it (at least up until the new year).
Gemini: Your full moon is putting a spotlight on your passions, and you may have a big opportunity in the weeks coming up. Flaunt what you've got, and use your creative and communicative energy to show off what you have to offer.
Libra: The full moon is illuminating your house of travel, adventure, and cross-cultural connections. Get your bags packed and be ready for anything. Even a staycation could be in your future, so be prepared!
Aquarius: The full moon is illuminating your house of romance, creativity, and drama. This is the time to celebrate you and your success, so pop some champagne, dance under the full moon, and enjoy. The next two weeks are all about putting yourself in the spotlight.
Water Signs (Cancer, Scorpio, Pisces)
This is a steamy new moon for you, water signs! The combination of Sagittarius's flame, Gemini's air, and your watery depths means you have the opportunity to amp up your passions, desires, and wishes. This full moon, focus on these desires. Take a look back at this past year to see if yours have been met. Now think on what you desire most about this next month and year. Make this into a mantra, calling it in. You can start this by saying, "I call in" or "I accept," or even "I call in my desire of…" You can write this down and decorate it, hanging it up where you can see it. You can also use a pin or needle to write this on a white candle, from the bottom to the top, and then burn it on the full moon. Even going outside and stating your intention three times (a powerful number) to the moon will help. Say thank you to the universe and then accept this into your heart as truth.
Cancer: The full moon is illuminating your house of surrender, asking you to do less. Instead of doing everything, only do what's a priority and enjoy the day to relax and restore.
Scorpio: This full moon is igniting your house of eroticism and sex, so get real about what you're looking for. Verbalize this, be honest, and call in your desires without shame.
Pisces: This full moon is igniting your house of domesticity, so take time to make sure your space is exactly how you want it. Do an autumn cleaning (like spring cleaning, but you know, in autumn) and rearrange until everything feels just right.
No matter how you celebrate this full moon, we hope it's magical, full of promise, and the perfect end to your year.