These zodiac candles were created with your sign's personality in mind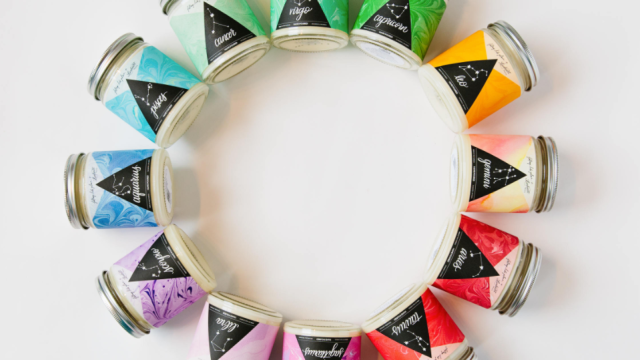 If there's one thing we love more than scented candles, it's telling everyone about our zodiac sign (ahem, pardon our Leo side). So when we caught wind that our two favorite things were morphed into one, we had to investigate. Enter Mary Claire White and her candle company, Falling Into Place. Together with Liz Cooke from Lionheart Prints on Etsy, White crafted a beautiful and fragrant line of zodiac candles that are, well, out of this world.
White explained how she and Cooke worked together to create the perfect zodiac candle: "[Cooke] created a line of astrology greeting cards using digitized images of paper that she custom marbled. We took the marbled images and made the candle labels."
And how does one create a unique scent to coincide with each zodiac sign? White told us, "Each fragrance was specially crafted based on the time of year for that sign."
Yeah, we want to smell all twelve zodiac candles, too.
Each 7.5 oz. jar candle from the Falling Into Place astrology line is 100% soy with a 55-hour burn time. They're crafted with skin-safe, phthalate-free fragrances and flaunt a paper core wick. Even better, each candle is hand-poured. But enough with the technical stuff. Let's dive into a few of the scents.
In honor of Taurus season, let's check out FIP's Taurus candle called "Cherry Smoothie."
As one would expect with a name like that, Taurus's candle smells of "sweet cherries blended with creamy vanilla almond milk." It's like springtime in a jar.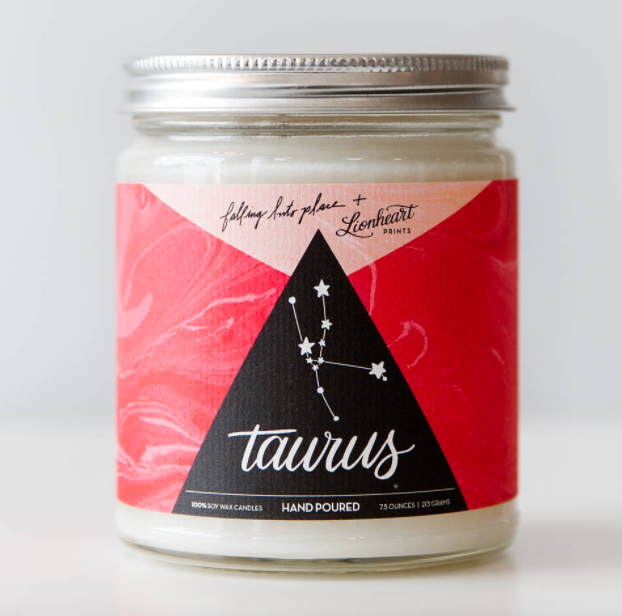 Virgo's FIP astrology candle is refreshing and unique.
It combines the fragrance of "green, watery cactus" with "fresh, ozonic sea salt." We can guarantee you won't find that scent profile anywhere else.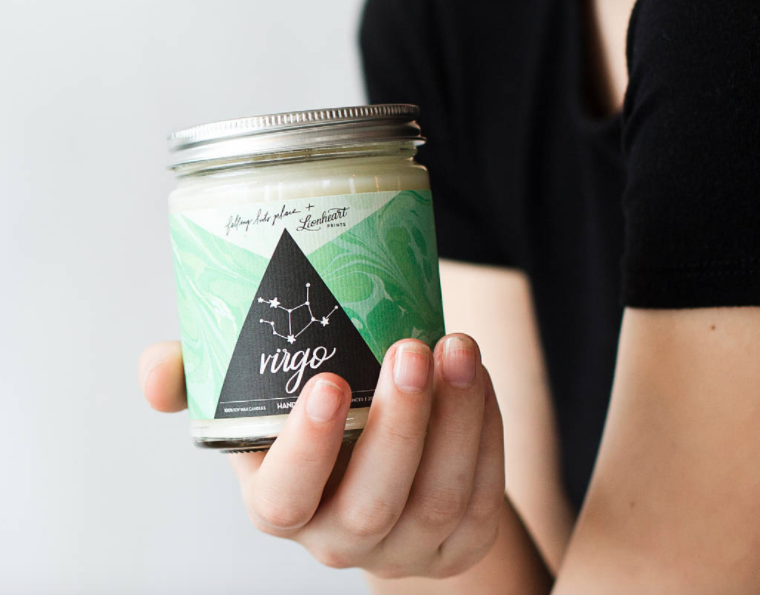 And finally, take a whiff of Scorpio, called "Edge of Autumn."
The Etsy page describes its scent as "brisk air and crisp leaves" mixed with "woody notes of rich mountain pine, cedar, and golden aspen." You'll also get notes of "forest berries, sage, and clove." Can we get a tea to go along with this candle?
Pick up one of Falling Into Place's astrology candles for a friend or for yourself for just $24. You can purchase via Etsy or at FallingIntoPlace.net. We also recommend you check out the coinciding astrology greeting cards by Lionheart Prints.
While you're at either shop, check out the other scented candles Mary Claire has crafted. They're so pretty you won't want to burn them (but then after smelling, you'll want to burn them for 55 hours straight). Happy candle shopping.