Zip-lining reminded me how much I've grown when it comes to facing fear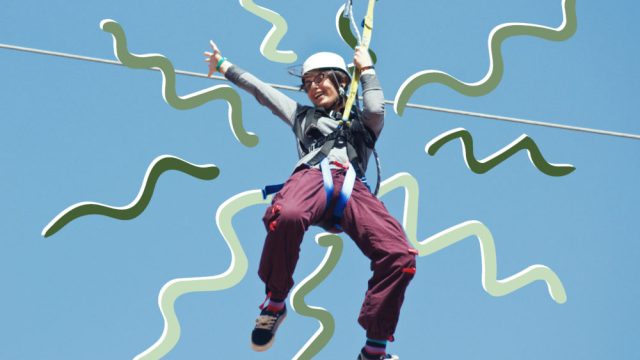 During my teen years, my favorite word was "no." Whenever I was asked to go anywhere or do anything, my thought processes were intercepted by my anxiety disorder. Fear flooded my body, while the idea of staying home with a book comforted me. My go-to response: no. And if anyone ever followed up and asked why, I would come up with an excuse. I was ashamed of my anxiety and didn't want anyone to know the truth.
It was during this time that I spent one night a week in therapy. Every week, my N.Y. therapist would encourage me to do something that scared me, no matter how small. This ranged from talking on the phone to going to a party by myself. Yet every time, I failed. I wasn't able to push past the barrier my fear built around me. Instead, it felt as though I was waiting for something or someone to push me, and that shove came in the form of a job offer in L.A.
It was an opportunity I couldn't pass up, one that pushed my anxiety to the side and pushed me past the edge of my fears. I packed up my entire life and left everyone I'd ever known back in New York as I made my way across the country. The moment I landed at LAX, that became my Year of Yes.
"Year of Yes" is a term coined by Shonda Rhimes, the creator and showrunner of TV hits such as Scandal, Grey's Anatomy, and How to Get Away with Murder. She wrote an entire book on the topic of the Year of Yes, in which she discusses what it was like saying "yes" to everything for one year. When I conquered multiple fears in one go as I moved to L.A., I thought, "Why not?" Why not take it a step further and make this my Year of Yes? If saying yes got me that far, I wanted to see where else it would take me.
Two years have passed since I moved to California. That first year was the best year of my life. I said yes to whatever came my way. I tried new foods, participated in new activities, actually left my house to go to events, and made new friends. I opened myself up to the world and the world opened itself up to me. Ever since that year, I've continued to incorporate the word "yes" into my lexicon and haven't regretted it one bit.
More often than not, though, I tend not to think about what I agree to until I'm there in the moment…which is exactly what happened when I agreed to go zip-lining this month.
Ziplines at Pacific Crest kindly invited me to try their Canopy Tour — which includes nine zip lines, two tree-rappelling experiences, two Indiana Jones-style sky bridges, and a set of sky stairs — and I brought along my boyfriend. Fortunately, both of us were of the same mind, in that we didn't think about what we were doing until we were about to jump off the side of a tree.
For 3.5 hours, we spent our time surrounded by nature while jumping, soaring, hiking, and hovering high above the earth. Our cell phones were left behind, so there were no distractions, and we were left with time to reflect. When I wasn't pushing my fear aside to jump off the edge, I was thinking about how far I'd come. I used to have trouble leaving the house, and there I was, standing in a tree, waiting to reach speeds up to 55 mph while 300 feet above the forest floor.
What was perhaps most difficult for me was learning to trust myself. It was up to us to brake ourselves while zip-lining, which meant we had to place a light, flat hand on the cord overhead to slow ourselves down as we reached the end of the line. This scared me more than the actual jumping part. On the first zip line, I messed up and pressed too hard, jerking my body backward. But once I reached the end, I realized that I'd done it — mistakes and all. So on the second zip line, as I got ready to brake, I took a deep breath and reminded myself that I could do it. And I did!
In addition to helping me personally, this zip-lining experience also helped my relationship by serving as bonding time for my partner and me. Away from our phones and the bustling energy of L.A., my boyfriend and I spent this time supporting one another, admiring the view, and simply enjoying each other's company. After we were finished, I felt closer to my partner because we not only made it through an anxiety-inducing experience — we made it through together.
Though it made me anxious, I'm grateful for this adventure. Looking back, it feels like something out of a dream, something I wouldn't have done in my past life. Would I go zip-lining again? Definitely. It helped me out of my comfort zone while giving me some much-needed time away from the world and its stresses. It felt like a once-in-a-lifetime opportunity and is a memory I'll cherish forever.
Next up: skydiving?