How to Adopt a Zero-Waste Beauty Routine
"7.6 billion pounds of makeup wipes are sent to landfills every year—and that's just makeup wipes."
There are perks to being a beauty editor, and one of them is free beauty products. So many free beauty products. More free beauty products than one person could want or need or even use. When the product-filled packages first appeared on my doorstep—about a year and a half ago, just after "Beauty Editor" appeared in my email signature—I felt like I had it all: I had found my passion, was being paid to write about it, and was getting dozens (upon dozens) of mists, masks, and more to test on a weekly basis.
But that perk soon presented a problem. The boxes and bubble wrap and bottles piled up, first on my bathroom counter, then in a hallway closet, then in a permanent donation bin by the front door.  I had it all, sure—but it was all too much.
As that pile grew, it changed the way I saw the beauty industry. Every article I read ("17 Amazon Beauty Products You Need Right Now!") or Instagram shelfie I "liked" made me wonder: How much waste came from this piece of content? And not just from the editors and influencers creating said content, either—but from those consuming it?
I had found a new passion.
Over the past year, I've stopped focusing so much on beauty products and started focusing on the beauty industry—particularly its impact on the planet, which is very big, to say the least. Did you know that beauty brands produce about 77 billion units of plastic packaging per year, and over 70 percent of that ends up in landfills? Or that packaging accounts for 40 percent of the world's plastic waste? In major cities, it's estimated that 38 percent of the VOC emissions in air pollution comes from the spritzing and slathering of hairspray and serum and perfume. 7.6 billion pounds of makeup wipes are sent to landfills every year—and that's just makeup wipes. I mean, imagine the environmental impact of our collective skincare, haircare, body care, and makeup routines!
I couldn't justify adding to that garbage patch of products anymore, so I made a conscious effort to reduce my own environmental impact: I gave all those gently used lipsticks and lotions to friends and family who would use them, donated the unopened boxes to my local women's shelter, and pared-back my daily regimen to just the basics. (Oh, and I stopped accepting free press samples—which has been the most freeing experience of my adult life.)
This year, I'm resolving to take it one step further by adopting a zero-waste beauty routine. For me, zero-waste means producing zero trash. Nothing gets tossed in the garbage can, nothing goes to a landfill. Everything gets recycled or composted. That's a pretty tough standard to meet, especially in the world of plastic palettes and squeezy shampoo bottles.
"Beauty was and continues to be one of the hardest areas for me," Lauren Singer, the founder and CEO of Package Free and blogger behind Trash Is For Tossers, tells HelloGiggles of starting her zero waste journey. "My personal care products—toothpaste, face wash, moisturizer—were packaged in and then sold in huge amounts of plastic. Not only that, their ingredients were composed of synthetic materials of petrochemical origin. I was swimming in plastic."
That said, Singer's doing pretty well these days: All of the trash she's generated over the past five years fits inside one 16-ounce mason jar. Yup, seriously. This is why I hit her up for advice on the whole not-contributing-to-the-demise-of-the-planet thing.
How to create a zero-waste beauty routine:
Step #1: Use less.
You're probably familiar with the motto "reduce, reuse, recycle"—but there's another "R" word that belongs at the top of that list, and it's "refuse." In other words: Don't buy things you don't need.
"I think marketing does a really good job at making us feel ugly—like we need a million products to look and feel our best," Singer says. "I realized, I don't need a million products to look and feel my best—I found two that actually work really well." Her zero-waste skincare routine consists of a Tea Tree Charcoal Facial Bar Soap ("I use a washcloth with that instead of an exfoliant") and Juniper Carrot Seed Face Oil, both from sustainable beauty brand Meow Meow Tweet.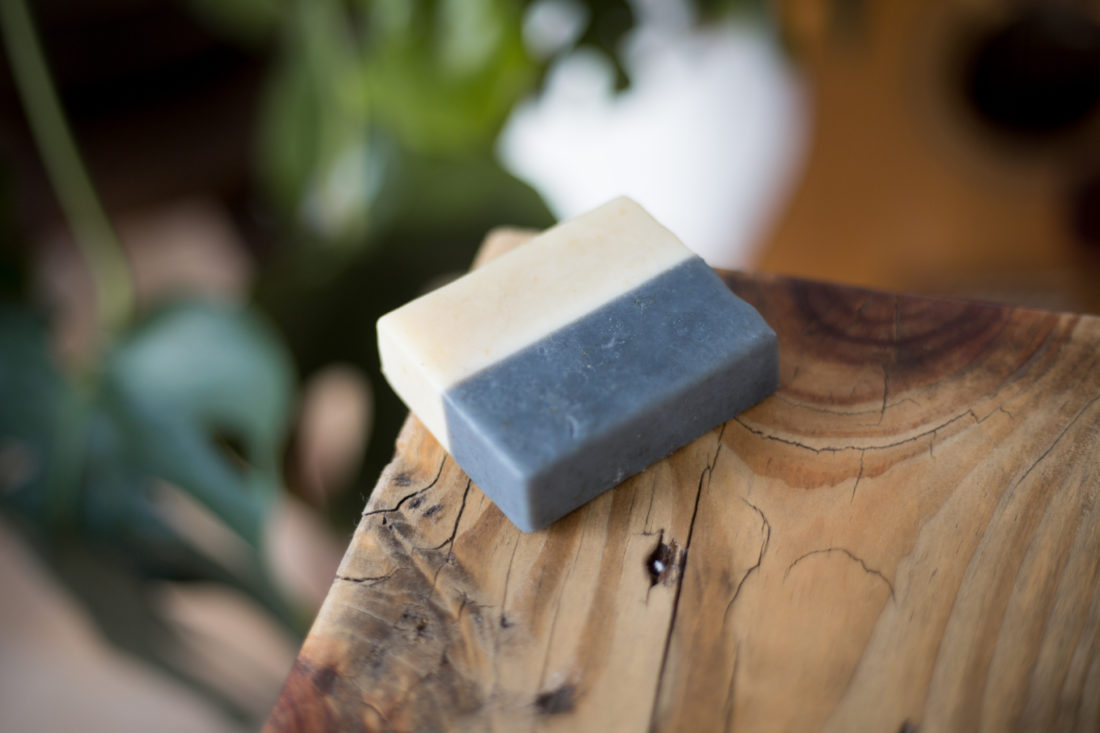 Unexpected bonus: Fewer products mean less stress for your skin barrier and healthier skin. Singer's almost-unreal radiance can attest to that, but so can some of the year's biggest skincare trends: "skin fasting," "skip-care," and the fall of exfoliation.
Multitasking makeup products fit into this less-is-more model, too. "Rose-Marie Swift's RMS Beauty was the first brand to tackle multi-use with its Lip2Cheek," Singer says. "She was pioneering in that, I'd say." RMS Beauty still stands out in the space thanks to its glass (read: not plastic!) packaging, but today, there are plenty of other two-in-ones to choose from, including versions from Tata Harper, Alleyoop, and (M)anasi7.
Step #2: Swap out single-use products to make a major impact.
The easiest way to lower your environmental impact is to replace your single-use beauty products—things you use once and throw away, like makeup wipes, exfoliating pads, sheets masks, and cotton swabs—with sustainable alternatives. Like, you know, a washcloth (the OG makeup wipe).
I love Silvon's face towels, which are threaded with antimicrobial silver to keep bacteria from building up. Face masks that come in glass jars, like OSEA's White Algae Mask, are considerably more eco-friendly than one-and-done sheet masks; and Singer even sells reusable "cotton swabs" at Package Free. (They come in cases made from biodegradable corn, naturally.)
Step #3: Opt for plastic-free packaging.
Remember those 77 billion units of plastic packaging per year, which help make up 40 percent of the world's total waste? Yeah, the goal of zero waste beauty is to avoid them completely.
"The best thing is no packaging," Singer says, which sounds obvious and also impossible. There are ways to side-step all that pesky plastic, though. Package Free's physical locations in New York City offer bulk "fill stations" for oils, deodorants, dry shampoo, and toothpaste, among other things. Customers simply bring their own containers to fill and voila! Package-free beauty. Clean beauty brand Follain, Los Angeles' Wild Terra, and Savannah's Salacia Salts all offer similar BYOMJ (Bring Your Own Mason Jar) stations.
"After that, the best option would be paper packaging—but making sure the paper is 100 percent recyclable," Singer says. "Even a post-consumer recycled paper would be talking that once step further." Check out Meow Meow Tweet's shampoo and conditioner bars to get in on that paper-packaged goodness.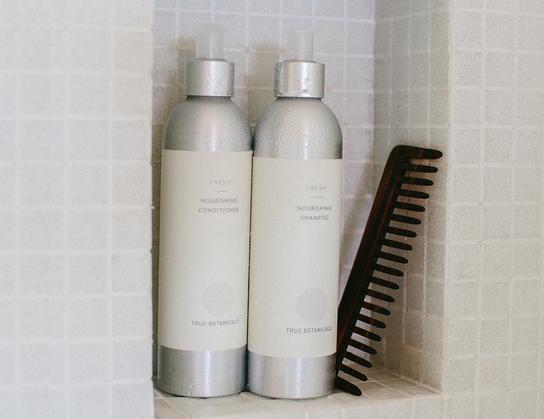 "Then there's aluminum or steel, which would be the next best option," according to Singer.  Glass falls into this category as well. These materials are infinitely recyclable, so "they usually contain a huge percentage of recycled material already." (Recycled plastic degrades in quality over time, and eventually can't be recycled anymore, which is partly why it's so darn damaging to the earth.) Plaine Products and True Botanicals have your hair care needs covered; both sell shampoo and conditioner in aluminum bottles. For body care, look no further than C & The Moon and Bathing Culture, which package their products in good-for-the-environment glass.
Refillable packaging is another eco-option. "I wear a bronzer and blush from Kjaer Weis," shares Singer, since the (gorgeous) metal cases are refillable—although, at $58 and $56 apiece, they're also pretty costly. Over time, however, "it's actually cheaper to refill because you're not paying a premium for packaging every time," explains the zero-waste advocate. Each Kjaer Weiss refill costs $32. Alas, refillable options, including Singer's go-to concealer from Alma Pure, don't quite count as "zero-waste" yet because the product refills themselves are typically housed in plastic. "This is the one area I think there's so much room for improvement," she says. "I haven't found one brand that seems perfect."
"If there's anything to be reiterated over and over and over again, it's this: Don't send anything that can break down or is biodegradable to a landfill," Singer says. Many, many studies have shown that biodegradable materials very rarely biodegrade in landfills; they don't offer enough oxygen, light, or soil to break down plant-based fibers. Instead, these materials should be composted. And if you don't compost? "Don't consume biodegradable products," states Singer. (Sadly, this means Almay's well-intentioned Biodegradable Longwear Makeup Remover Cleansing Towelettes are a no-go. The directions inexplicably instruct users to "dispose of wipes in trash bin" after use, negating that buzzy "biodegradable" label.
Are your ingredients eco-friendly?
A lot of focus is (rightfully) placed on packaging, but flip that package over and you'll spy the sneakiest waste products of all: petrochemicals.
To name a few: paraffin wax, mineral oil, toluene, benzene, and any ingredient preceded by butyl-, PEG-, or propyl- (like propylene glycol).
These are typically low-cost byproducts of the petroleum industry, so while they don't actively generate waste, zero-waste proponents like Singer avoid them on principle. Most are associated with health risks as well and reports suggest they may be contaminated with carcinogens like 1,4 dioxane in the production process, so there's that.
A true zero-waste beauty routine would also eliminate "bioaccumulative" ingredients—substances that build up in the environment and never break down. Examples are triclosan, triclocarban, and silicone. Silicone is the most widely used; it could be hiding out in ingredient lists under the names dimethicone, cyclomethicone, cyclohexasiloxane, cetearyl methicone, and cyclopentasiloxane.
Singer prefers 100 percent natural and organic ingredients, which can be hard to find in conventional beauty products. So why not buy organic herbs and oils in bulk and DIY? I personally make most of my zero-waste skincare products—including cleansers, toners, moisturizers, and masks—this way, using my own (reusable!) glass jars and bottles.
"A box of baking soda and a jar of coconut oil can pretty much cover your beauty routine," Singer adds. She combines the two to make toothpaste and uses baking soda "as my deodorant, facial exfoliant, and spot treatment." And coconut oil, as everyone knows by now, is the ultimate multitasker: Use it as a makeup remover, oil cleanser, body moisturizer, and shaving cream.
But have you thought about shipping?
Overwhelmed yet? No? Then consider the environmental cost of packing and shipping your online purchases: the boxes, the bubble wrap, the paper inserts, and the stickers. Ahhh!
It's always preferable to shop in-person, but if you can't, look for online retailers who ship in recyclable containers without excess packaging. Package Free, Saie Beauty, and LOLI Beauty are safe bets.
If the thought of your plastic- and petrochemical-filled bathroom cabinet makes you want to get rid of it all and start fresh… don't.
"If you want to reduce your waste, don't just throw away all your shit and buy new stuff," Singer says. "I always suggest using up what you already have before getting something new." This makes for a smoother transition, anyway. Once you finish your current tube of toothpaste, try sustainable Tooth Powder. After that, who knows? Maybe you'll feel more comfortable trading in your silicone-soaked shampoo for a package-free shampoo bar.
Now, recycle those empties.
Don't forget the first rule of zero waste: Nothing gets thrown away. If your products come in recyclable paper, compost it. For plastic, aluminum, steel, or glass options, it's all about recycling.
Here's the catch: Recycling can be confusing. Some say it's a scam. Most municipal services provide very limited recycling, or sometimes no recycling at all. Thankfully, there are plenty of programs that will take your empty beauty products and properly recycle them for you.
Package Free and Beauty Heroes have TerraCycle bins in-store, where they accept almost any packaging material you can imagine. You can also order your own TerraCycle box and ship your recyclables to the company directly. More and more eco-minded beauty brands now offer similar mail-in programs. At lilah b., for instance, customers can send back used products (even if they're not originally from lilah b.) and the company will process them for recycling. Credo Beauty and Ayond do the same.
Yes, I know, it's a lot.
But you know what else is a lot? The money I used to spend on skincare I didn't need. The effort I put into breaking down the boxes that appeared on my porch. The sheer amount of bubble wrap I hoarded in the hopes of reusing it; enough to cover my California King. Twice. The climate change anxiety would tighten in my chest at night. The guilt I felt for not doing anything about it.
I used to think the biggest perk of being a beauty editor was the free products—now, I realize it's the platform. If every single person who reads this article commits to just one low-waste product swap this month, we can make a difference. "You don't have to change your habits all at once," Singer acknowledges. "You can make one different choice now, and gradually, over time, it adds up."
Who's with me?