Zendaya got real about auditioning for roles intended for "white girls," and we hope Hollywood is listening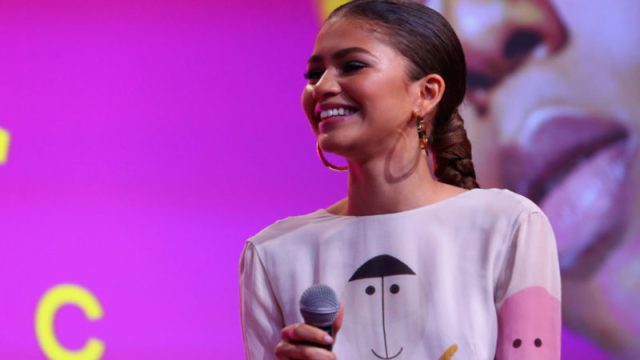 On August 6th, Marie Claire published an interview with its September issue cover star, Zendaya, written by Janet Mock. The profile story touches on how the actor has used her platform and privilege as a light-skinned black woman to advocate for more inclusivity in media, and to celebrate different kinds of blackness and black women. Zendaya's heartfelt speech at this year's BeautyCon in New York City also touched upon colorism, with the actress stating, "I am Hollywood's, I guess you could say, acceptable version of a black girl, and that needs to change." While many consider Zendaya a fashion muse, her choice to frequently speak up about her experiences with race, representation, and social responsibility underlines the fact that she is so much more than her sartorial choices.
While the actor does fit the mold for a version of blackness that is "palatable," in the media, she still deals with being passed over for roles that aren't written for black women—and she has found her own way to deal with it.
"I always tell my theatrical manager, anytime it says they're looking for white girls, send me out. Let me get in the room. Maybe they'll change their minds," she told Mock in the Marie Claire interview.
And for Zendaya, race isn't just an issue she comes up against at casting calls. It is also a determining factor in how she and other black actors and celebrities are scrutinized when they make a mistake.
In her interview, she says, "The one thing I struggle with is I sometimes get so afraid to make a mistake." (And if you think about it, the only "controversy" involving Zendaya that comes to mind relates to how black women are treated in Hollywood. Remember the locs debacle that took place at the 2015 Oscars?)
There is a major difference in the amount of public grace extended to her white peers when they screw up versus black celebrities—especially young ones. As a result, there is more pressure to appear perfect, which doesn't leave room to make public mistakes and grow from it.
"What my peers would be able to get away with at this point in their career is not something that I would be able to do...I don't want to jeopardize it any point because I am not allowed the room to mess up," she said.
And that needs to change.