You can buy Rue's iconic hoodie from Euphoria, and fans have so many feelings about its true meaning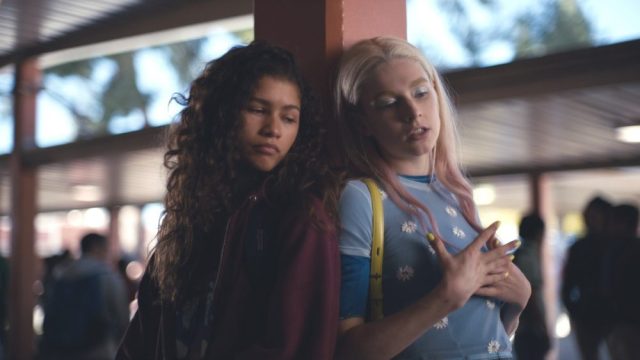 Spoiler alert: This post contains plot details for the Euphoria Season 1 finale.
HBO's Euphoria has only been on air for one season, but the dark teen drama has already captivated viewers. Zendaya's performance as Rue Bennett has been particularly affecting—especially given the major cliffhanger in the Season 1 finale. Now, you can officially buy Rue's hoodie to tide you over during the wait for Season 2.
HBO is currently selling a zip-up maroon hoodie that's nearly identical to the one that Zendaya's character wears in the series (with an added Euphoria logo for good measure). The sweatshirt retails for $44.95 and is sure to have fans feeling emotional.
As fans of the series know, the iconic zip-up is a crucial part of Rue's identity. She wears it almost constantly, to the point where it seems like part of her character. Zendaya herself seems to have grown attached to the hoodie: On August 4th, the actress tweeted a picture of herself wearing the sweatshirt for the first time since filming wrapped.
"Safe to say I'm deep in my feels lol," she wrote.
It turns out that the hoodie has an even greater significance for Rue. In an emotional reveal during the Season 1 finale, viewers realize that it belonged to her father, who died of cancer. To make the moment even more heartbreaking, BuzzFeed notes that Rue's crush, Jules, teased her for always wearing the hoodie earlier in the episode, saying, "The fact that you usually dress like Seth Rogen, although you make it cute sometimes, crushes my soul."
Fans couldn't handle the poignant twist.
https://twitter.com/udfredirect/status/1158211734017994752
false
Some wanted the hoodie for themselves. false
Others objected to its commodification. false
false
We can't wait to see how Euphoria Season 2 will unfold. But for now, we're still trying to emotionally process the backstory of Rue's hoodie.