Zendaya posted a makeup tutorial of her New Year's Eve look, and her smoky eye is ~slaying~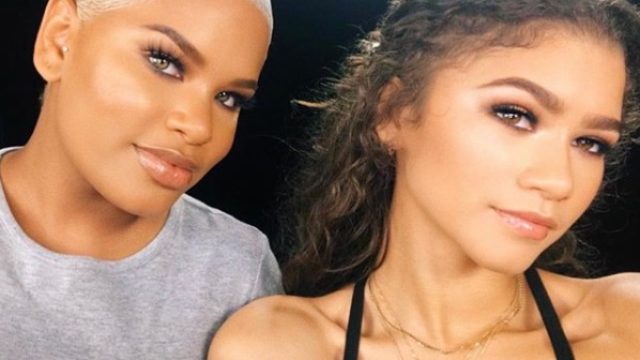 On New Year's Eve, a million questions run through our heads.What should we wear? How should we do our hair? Should we go all out with sparkly makeup? Well, if you need some ideas for a super glam ~lewk~, Zendaya just posted a smoky eye makeup tutorial that's perfect for New Year's Eve. Whether you're throwing a New Year's Eve party or spending New Year's Eve on the couch, you can still experiment with Zendaya's look! Because, why not?
Of course, we're always fangirling over what the model/actress/singer is up to, especially when it comes to her style. Zendaya always delivers, even when she does her mom's makeup. We also love Zendaya's no-makeup look, because she's a true natural beauty. But in the spirit of NYE, we're obsessing over her smoky eye makeup tutorial right now. If you're wanting to achieve a dark eye look and glossy lips — not to mention flawless skin — look no further than Zendaya's new video. She created the tutorial with beauty influencer Alissa Ashley. Girl power in numbers, right?
Of course, a lot of CoverGirl products are involved, since Zendaya's a CoverGirl herself. She uses the CoverGirl Tru Naked Eyeshadow Palette and the CoverGirl Perfect Point Plus Eyeliner, to name a few products. So you know what that means: It's a gorgeous look, AND it's affordable. That's an NYE win-win.
Here's a preview of  Zendaya's smoky eye tutorial.
https://www.instagram.com/p/BdTT4krhTVG
You can watch the full tutorial on Zendaya's website. Happy 2018!