28 of Zendaya's best red carpet fashion moments, from oversized suits to elegant armor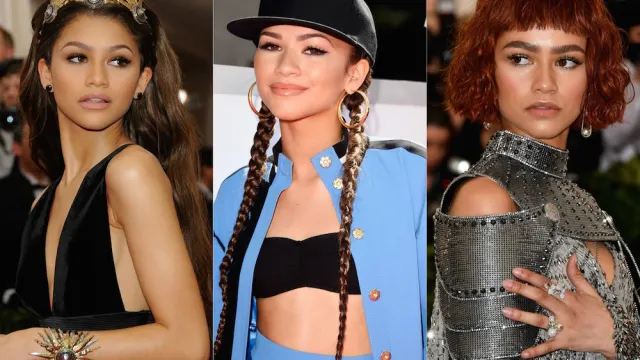 It goes without saying that Zendaya is one of our favorite style icons. The former Disney Channel star, body confidence advocate, and red carpet queen has provided us with many looks over the years we can't stop swooning over. The 22-year-old entertainer knows no limits when it comes to fashion.
Alongside her amazing stylist Law Roach, Zendaya is continuously breaking boundaries and fashion rules to the point where we question if these rules actually exist. Choosing Zendaya's best looks over the years is quite a difficult task, but someone had to do it. From elegant gowns to color-blocked suits, here are some of our favorite looks that Zendaya has provided us over the years.
1July 2012
Zendaya is fresh on the music scene and starting her Swag It Out Tour. At the time, Zendaya was still a sweet teenage girl with a slightly boyish flare, and her style reflected that.
2 September 2012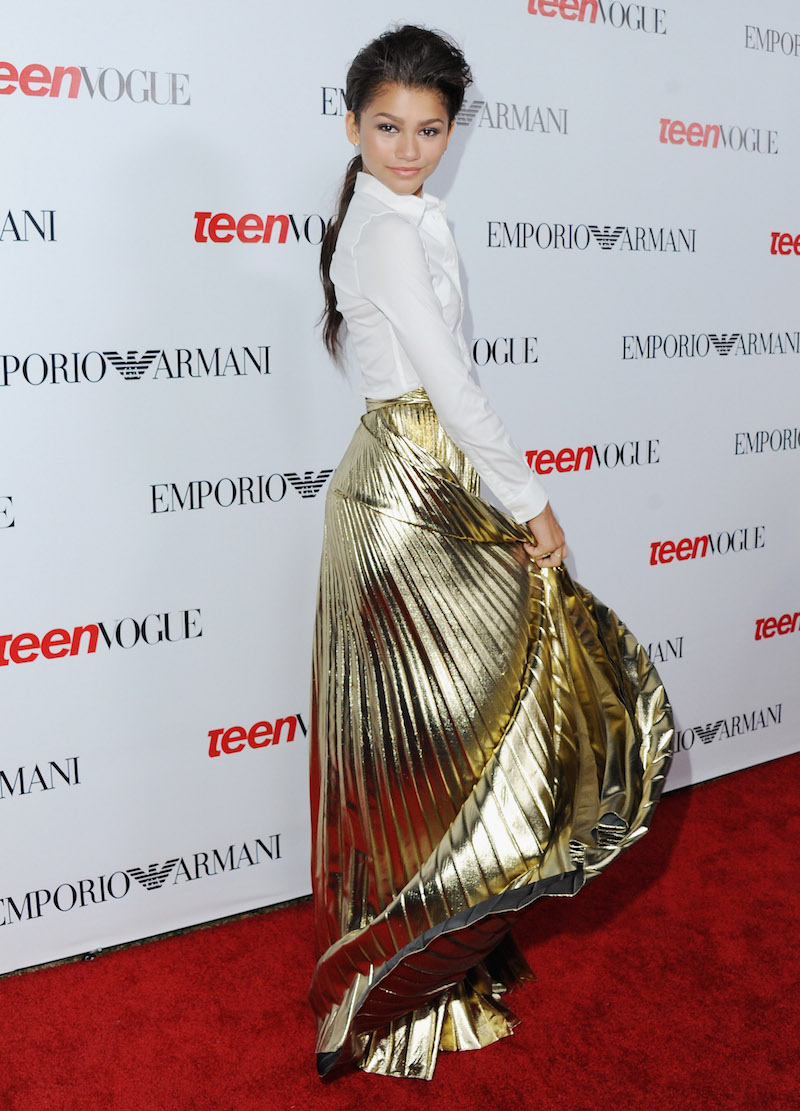 Zendaya hits the red carpet for Teen Vogue Young Hollywood and practically looks like she grew up overnight. The messy but cute updo and exaggerated metallic skirt was just the beginning of many red carpet slays for Zendaya.
3November 2012
For the 2012 American Music Awards, Zendaya spiced up her red carpet look up a notch with this black and nude number. This look was a bit flirty, but still age-appropriate glam at its best.
4April 2013
At the Radio Disney Music Awards, we see Zendaya stepping a little bit out of her comfort zone, sporting a matchy short-suit and heels.
5October 2013
Zendaya gave us Babygirl vibes on the Dream Halloween red carpet, shortly before the release of the late singer Aaliyah's biopic on Lifetime. She did not play Aaliyah, but we'll take an homage to her anytime.
6November 2013
Law and Zendaya do it again at the 2013 American Music Awards with this all-white number. The silver accessories and shoes paired with her long, bone-straight hair made Zendaya look absolutely heavenly walking the red carpet.
7February 2014
During the Winter 2014 New York Fashion Week, Zendaya striked a pose for photographers sporting a chic color-blocked overcoat and Louboutin heels. The New York winter was no match for this super-hot look.
8February 2014
Another day, another New York Fashion Week slay. Zendaya pulled a 180 with this Jeremy Scott two-piece  and bobbed hair.
9June 2014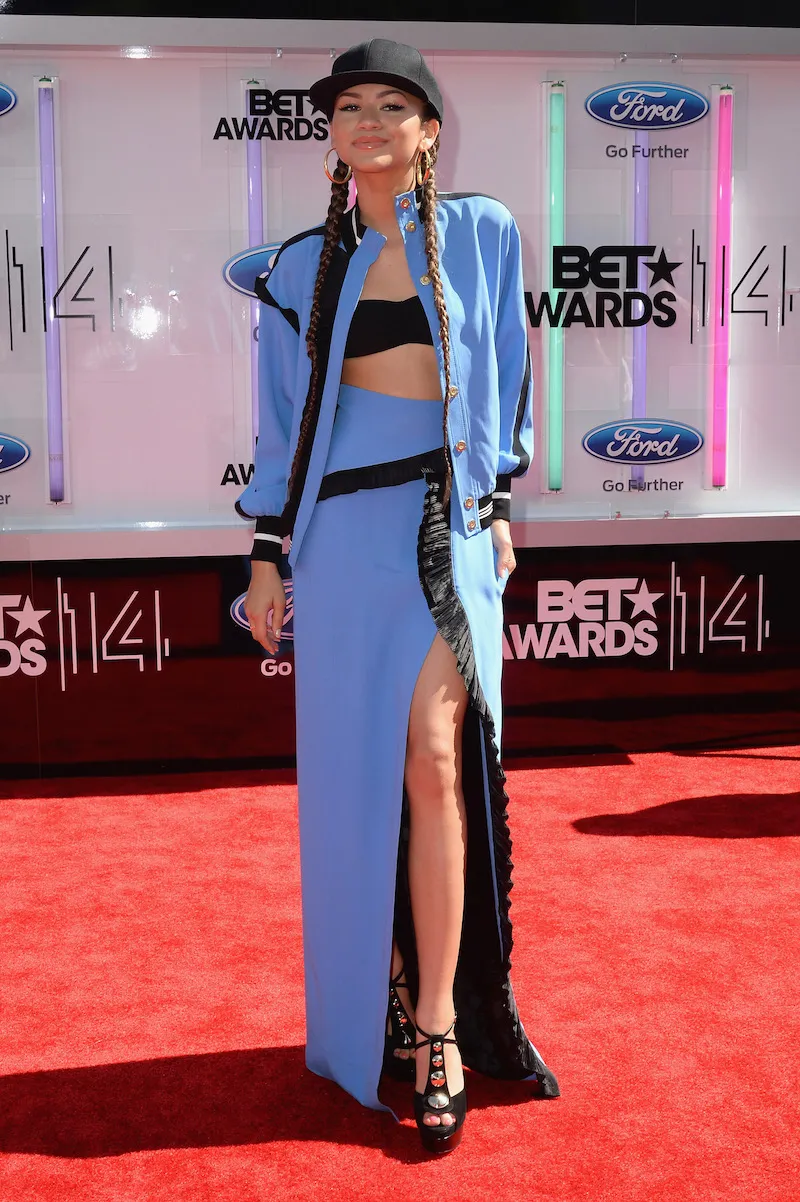 Early on, Zendaya mastered the tomboyish yet girly look, and at the 2014 BET Awards she gets back to her ways. Only she can pull off a jersey-inspired outfit with a fitted cap and heels, and make it fashion.
10January 2015
Zendaya hit the 2015 Grammys red carpet looking all grown up in this vertical striped, high-split number.  The hair alone deserves a post on its own.
11May 2015
Zendaya came through to her first Met Gala (the theme was "China: Through The Looking Glass"), and shut the place down. Her royal red, high-low number was easily one of the most memorable gowns of the night.
12March 2017
It takes a special kind of person to pair a satin slip dress with teal thigh-high boots and a diamond choker. At the 2017 Kid's Choice Awards, Zendaya showed the world how it's done. The best thing about this look was that the dress, from her clothing line Daya by Zendaya, was only $38.
13March 2017
In March of 2017, Zendaya attended the Dolce & Gabanna Millennials Cocktail Party, and gave us total spring vacation vibes. The black bustier paired with the bright full skirt, and beachy hair and makeup, screamed tropical vacation.
14May 2017
The 2017 Met Gala's Commes des Garcons Rei Kawakubo theme may have been the trickiest dress code yet, but Zendaya knocked it out of the park covered in parrots and sporting big voluptuous hair. Only Zendaya can make birds look this fashionable and do it so effortlessly.
15May 2017
Zendaya is no stranger to breaking rules when it comes to fashion and beauty, and her 2017 MTV Movie & TV Awards red carpet look is proof of that. She paired this lovely green gown with spot-on green eyeshadow from Covergirl, and the "don't match your makeup to your outfit" rule was never spoken of again.
16June 2017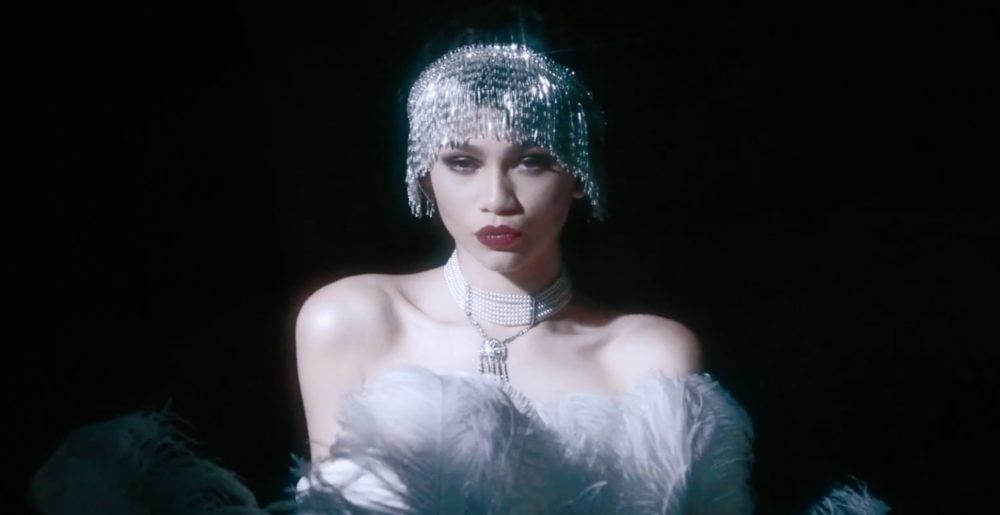 For this video with Vogue, Zendaya stepped in a beauty time machine and transformed through nine decades worth of beauty trends. From 1920s flapper to 1980s Diana Ross, she proved how much of a style chameleon she truly is.
17June 2017
Zendaya made us fall even more in love with the denim-on-denim trend when she rocked this head to toe look. This was put together with pieces from her fashion line, which we hope will be be back sooner rather than later.
18June 2017
Zendaya once again broke a "fashion don't" by making exposed bra straps stylish at a Spiderman: Homecoming event. The horizontal striped Altuzarrashirt-dress paired with contrasting ruffle bra straps made us consider this bra strap trend ourselves.
19June 2017
At the premiere of the Spiderman Homecoming movie, she came dressed in a Barbie-pink Ralph & Russo dress.
20July 2017
Zendaya debuted this very simple outfit and looked ready to star as a leading lady in a '90s R&B video. We love glam, but when one of our favorite celebs makes simplicity trendy, we are all here for it.
21 August 2017
https://www.instagram.com/p/BXkpyUNjnMX
This ombré sequined Vivetta suit that Zendaya wore to the Variety's Power of Young Hollywood event may have been one of our favorite looks to date. The best part of this look is that it gave old-school disco and futuristic vibes at the same time.
22October 2017
Obviously we can't get enough of Zendaya's throwback looks, and this 1600s Salem witch-vibe was definitely one of our favorites. While attending the Volez, Voguez, Voyagez Louis Vuitton exhibit event in New York, she rocked this ensemble from the LV collection showing just how much style transcends eras.
23December 2017
https://www.instagram.com/p/BckIznCnFhT
Coincidently on the day of the Golden Globe nomination, Zendaya dressed as a Golden Globe personified. While she kept her hair and makeup pretty simple, this gold Giuseppe di Morabito coat had her looking ready to hit up the most glamorous holiday party known to man.
24December 2017
For The Greatest Showman Australian premiere, Zendaya arrived in this Jeremy Scott for Moschino number literally dressed as a butterfly.
25Febraury 2018
We can always count on Zendaya to make something that is "unfashionable" the most fashionable thing that we've ever seen. This red tracksuit paired with white pumps and a trench vest was a prime example of how much she could care less about the rules of fashion.
26February 2018
At the British Vogue's London Fashion Week party, Zendaya rocked pinstripes like she had invented them herself. The bold, black-and-white Fatima Danielsson suit definitely made a statement.
27March 2018
Once again, Zendaya gave us a nice dose of nostalgia when she rocked this Marc Jacobs 1980s-inspired suit to a Vanity Fair party in LA. She kept her makeup minimal and topped off the look with a black fedora. Zendaya, is there anything that you can't pull off?
28May 2018
When Zendaya arrived in this beautifully fitted fashion armor paying homage to the French heroine and Roman Catholic saint Joan of Arc, heads turned. The custom-made Versace dress, designed by Law Roach, truly embodied the Met Gala's 2018 theme, "Heavenly Bodies: Fashion and the Catholic Imagination."