Check Out Zendaya's Perfect Looks During the 2020 Emmys
She served retro-glam brilliance when accepting her award.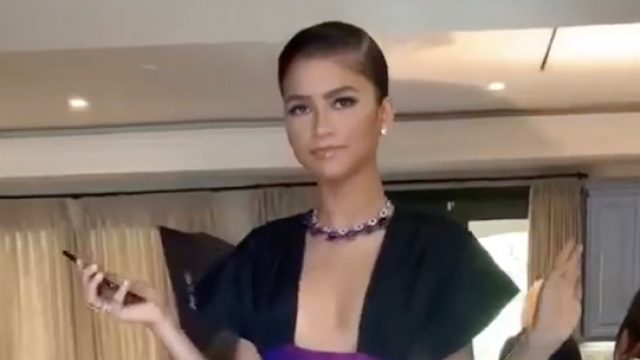 Zendaya is known for her mastery of the red carpet, always topping best dressed lists for every award show and event, so it's no surprise that she's at it again for the 2020 Emmys—even though the red carpet is non-existent. The Euphoria star, who snagged her first Emmy nomination for Outstanding Lead Actress in a Drama Series, shared a peak at her first look for the virtual awards show via Instagram Stories and teased more to come. Unsurprisingly, she started out with a showstopper.
In the video on her story, Zendaya twirls for the camera in a plunge-neck Christopher John Rogers gown with a silk taffeta bottom—and the look is a piece of art. The gown is topped with "@bulgari jewels for good measure" the designer shared on his Instagram.
As for that confident glow she's wearing? That was probably courtesy of her potential to be one of the youngest winners in Emmys history at age 24 (and the fact that her makeup is next level perfection).
In the Instagram Story she shared, Zendaya made sure to let us know that her night of fashion was only just getting started, writing, "And so it begins…Look 1." In the next slide, Zendaya shared a "sneak peak" close-up of something jewel-encrusted to keep us wanting more—and the payoff was so good.
The big reveal of Zendaya's second look came when she did, in fact, accept her award and make Emmy history.
In the look, the jewel-encrusted piece that was previously teased is part of a bandeau top that's connected to a large, polka-dot skirt—a design by Giorgio Armani. Her hair is piled on top of her head in a deconstructed bee-hive style that gives off a glam retro vibe.
Like Zendaya, the finale look is a total winner.