Zendaya Just Got Her First Emmy Nom, and Everyone Is Losing It
Just give her the trophy already.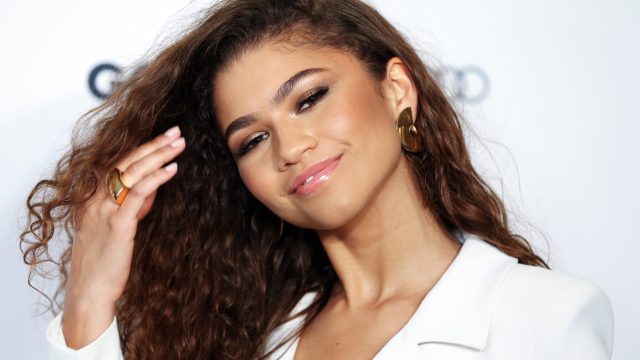 Finally, our collective dream has come true. Zendaya has been nominated for her first Emmy for her work on Euphoria, and the entire internet can agree that it's about dang time she got some acting appreciation.
Earlier this morning, July 28th, the 2020 Emmy Awards nominations, hosted by Leslie Jones, were broadcasted live. Presenters Laverne Cox, Josh Gad, and Tatiana Maslany listed off a plethora of deserving names, including our girl wonder, Zendaya. The singer-actress and star of Euphoria has been nominated for Outstanding Lead Actress in a Drama Series, alongside esteemed actresses Jennifer Aniston (The Morning Show), Olivia Coleman (The Crown), Jodie Comer (Killing Eve), Laura Linney (Ozark), and Sandra Oh (Killing Eve).
It appears Zendaya is already a frontrunning fave among her counterparts. As Cox announced the Emmys category, she literally yelled "Zendaya!"
When Cox finishing reciting the category (and the category afterward), host Jones followed suit screaming, "Oh my god! Zendaya! So proud of you!"
The nominations for Outstanding Lead Actress in a Drama Series are read at the 18:15 mark.
Euphoria and HBO, where the series airs, sent congratulations to their Emmy-nominated star.
But really, this was a celebration all across Twitter because fans seem to have manifested this (well-deserved) nom for Zendaya.
Not only is this a huge moment for Zendaya and her fans (raising our hands), but it's big for the type of programming Euphoria is; it's rare for teen roles to be nominated at the Emmys. Zendaya has been nominated for a 2020 BET Award for Best Actress and a Critics Choice Award for her role as Rue in Euphoria, plus she's snagged noms for Kids' Choice, Teen Choice, and People's Choice Awards for her work on the Disney Channel and in films such as The Greatest Showman and the new Spider-Man franchise. But this Emmy recognition is her biggest awards spotlight yet.
Needless to say, we're ready to see Zendaya accept her award at the 72nd Emmy Awards on September 20th. Go, girl. Go!