Zayn Malik doesn't want you to call him and Gigi Hadid a "power couple"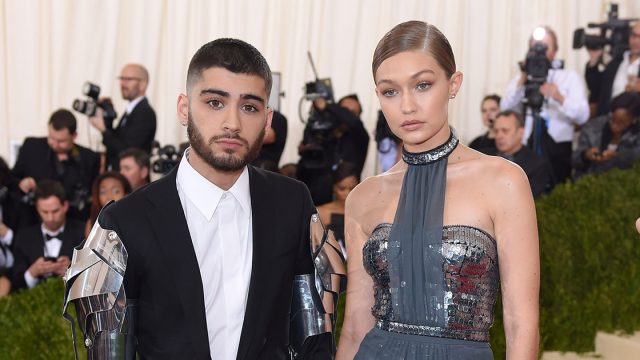 If there's one thing Zayn Malik wants you to know about his relationship with Gigi Hadid, it's that he hates being called a "power couple."
The former One Direction singer spoke to the Evening Standard before the launch of his own Versus Versace collection, the ads for which star Bella Hadid, Gigi's sister, and he got real about his relationship with the 22-year-old supermodel. Yes, we know them as one of the most adorable couples around. But Malik shared that though he and Hadid share the commonality of being super famous, that isn't the reason they're together.
https://www.instagram.com/p/BTQTtgDFhd0
"I can understand how it can look, that you've got these two people in a 'power couple,'" he explained. "[But] that's not something I want to be a part of. I'm with her because I like her and I hope she's with me because she likes me. When we come home, we don't really talk about that shit. We just spend time together as a normal couple, cook food, watch TV, have a laugh." 
Zayn has previously talked about how he finds fame a difficult thing to manage, especially when coupled with his anxiety. And in this interview, the "Pillowtalk" singer again discussed how he copes with the loss of anonymity.
"I don't think there's anywhere I could be anonymous now," he shared. "In New York [where Gigi is based], you can sometimes get out in the early hours of the morning for a walk. But there's no underground parking here [in London], no escape routes. So they're going to get pictures, they're going to find you. In LA [his own usual US base], it's more catered to these things — you've got back entrances and that."
https://www.instagram.com/p/BO0eAGMg9SX
Luckily for Zayn, it seems that Gigi doesn't mind staying in and relaxing. In fact, the model has taken on some of his Britishism, including a love of pies.
"I've got into a thing of cooking pies recently," he revealed. "I cook a mean chicken and sweetcorn pie, with Alfredo sauce. I make my own pastry, roll it out and everything."
While we're glad that Zayn and Gigi's romance is totally genuine, we're more than a little jealous that the singer bakes pies for her. Perhaps we could convince him to start selling his pies if he ever goes back on tour?