Zayn Malik REALLY misses being friends with 'One Direction'
It's been nine months since Zayn Malik shocked the music world by announcing that he was leaving One Direction. Yes, it was totally surprising and we may or may not still be a little sad about 1D going from five guys down to four, but Zayn isn't giving up hope about remaining friends with his former bandmates. Well, not entirely at least.
Although there were some very harsh things said (like Zayn's Twitter war with Louis Tomlinson) after Zayn left the British boy band in late March 2015, he's recently revealed that he does in fact miss his mates. In an interview with Billboard, for their January 16, 2016 issue, the 22-year-old singer opened up about his 1D departure and explained that a friend reunion isn't totally out of the question.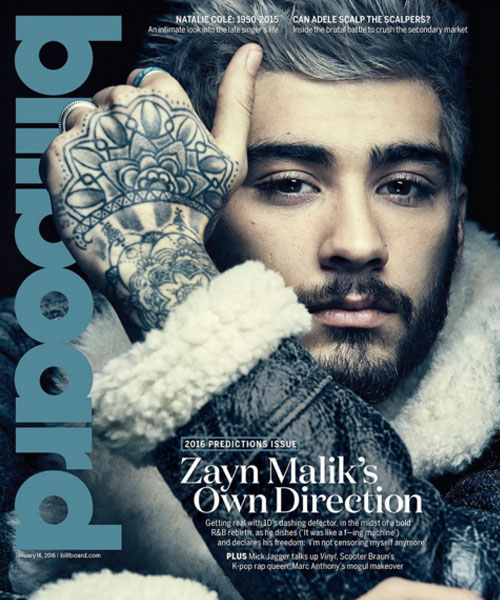 "The truth of it is, you can think one thing about a situation and the total opposite can happen. I had every intention of remaining friends with everybody, but I guess certain phone numbers have changed and I haven't received calls from a lot of people," Zayn told Billboard during his cover shoot.
"I've reached out to a few of them and not got a reply. Certain people have pride issues, but it's stuff you overcome in time," he added. Okay, One Direction fans, don't panic. There is still hope that all five boys will mend their friendship… in time. So be patient.
That being said, the Brit also explained that he did like being a part of the pop group, but when it came to musical preferences, there was a bit of a clash. "I genuinely enjoyed [the band] and did whatever I could to be myself within that, but it's just not where I sit as a musician," he told the publication. "The other boys' taste was generally indie rock. It's good music, but I don't f**k with it. That was never cool where I was from."
It definitely doesn't sound like everything is fixed between Zayn and the rest of the One Direction crew, but that's okay, at least they are all still pursuing music. Technically, 1D is taking a hiatus, but they won't be done with music forever… or at least we hope not! Luckily, until the hiatus is over you can focus on Zayn's first solo album, which is set to be released early this Spring. Fingers crossed that his solo success leads to a 1D reunion. Okay, maybe just a friendly reconciliation. That's not too much to ask for, right?
(Images via Shutterstock, Billboard.)