The teen who famously defended his two moms in front of anti-gay legislators just won the Iowa primaries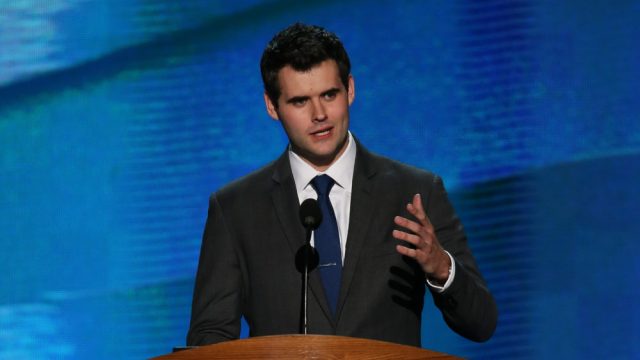 Many Americans might remember Zach Wahls, the teen who famously defended his two moms in front of anti-marriage equality politicians in 2011. His powerful speech went viral at the time, with many noting that Wahls should run for office some day. And that day has arrived: Wahls just won the Democratic primary in the June 5th Iowa Senate District 37 race last night.
After earning 60% of the vote, he'll now face Libertarian Carl Krambeck for the seat come November. According to Iowa newspaper The Gazette, District 37 is reliably Democratic, so there's a good chance the 26-year-old will win, becoming one of Iowa's youngest legislators.
If Wahls wins, he'll be working within the same hall he once delivered a now-famous speech.
"My family really isn't so different from yours," Wahls told the assembled state legislators at the time.
https://www.youtube.com/watch?v=FSQQK2Vuf9Q?feature=oembed
After his primary victory, Wahls shared his thoughts in a statement posted to Twitter.
"I am incredibly grateful to all the people who pitched in to make my victory possible, and I am honored to be the Democratic nominee," his statement read. "When I delivered my speech defending same-sex marriage back in 2011, I had no idea it would one day lead me back to the Iowa legislature. Our campaign marks a new generation in Iowa politics, and I am proud to have worked alongside so many young people in breaking primary turnout records in our district and across the state."
Wahl's has an expansive record of activism for someone still so young. He founded the organization Scouts for Equality in order to fight for the inclusion of gay and transgender Boy Scouts, and he also wrote a bestselling book called, My Two Moms: Lessons of Love, Strength, and What Makes a Family. Along with his sister, Zebby, he went on to create a set of playing cards called "The Women Card[s]" to celebrate women after Donald Trump's presidential campaign.
Wahls' campaign fills us with excitement for the future of politics. We wish him the best of luck in November and are sure that, no matter what, he'll continue to fight for equality.