Meet Zach Miko, the plus-size male model changing the fashion industry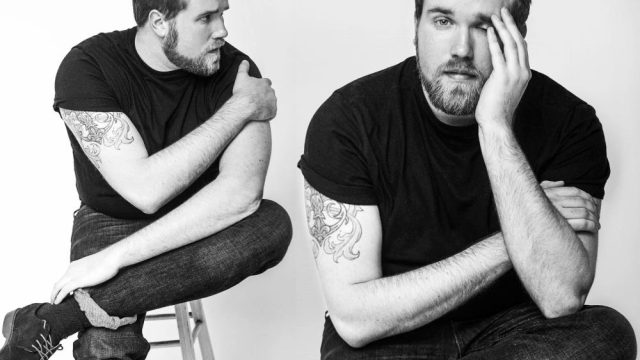 It's been over a year since Tess Holliday crashed into the world of high fashion — becoming the first plus-size model of her height and size to land a major modeling contract — and we're still totally cheering about Ashley Graham becoming the first-ever size 16 model on the cover of Sports Illustrated. We love the way that retailers are constantly coming up with adorable and all-inclusive clothing lines, and that the glossy magazines we grew up reading with size 0 models on the covers are starting to realize the same thing, which is that beauty is not limited by size. We're loving the diversity and progress being made for curvy women, but there's one major group missing: the guys.
One of my guy friends recently said something that hit me like a bomb, and it was to the effect of, "what about the plus size guys? Do you know how hard it is for us to find clothes that fit, and that are fashionable?" I had nothing to offer him. It's true — bigger guys tend to get the cold shoulder when it comes to fashionable menswear, and exposure in general. I couldn't think of any. My friend's comment resonated with me this week when I heard the news that IMG Models was finally adding a plus-size men's division to their lineup. The first model they chose to represent the new division? Zach Miko.
On Tuesday, IMG Models announced on their Instagram that they'd chosen Miko as the poster boy for "Brawn," their counter offer for the outdated "big and tall" term that the industry has been using since . . . forever. "Brawn has a body positive message," said Ivan Bart, the president of IMG Models, to WWD, "Brawn is physical strength." Bart commented that size diversity is a conversation that it is relevant, important, and should include men — and Zach Miko is just the guy to keep the conversation going. At 6'6 and a 40″ waist, model/actor/comedian Zach Miko made the news when he appeared as Target's only plus-size male model back in October, perhaps triggering IMG's decision to add him (wisely) to their ranks. "I don't think designers feel like big guys want to look good," Miko told WWD. "The average male waist size in America is 39 inches. A lot of stores don't carry a waist size bigger than 36. You are eliminating a whole customer."
Not only is he tall, dark, and handsome (with tattoos! Heck yeah!), he seems like the nice guy next door that would probably help us schlep bulky furniture up five flights of stairs and then drink beer with us. "I want every man in America to say, 'I can do that' when they see Zach," Bart told WWD. And it's true — men don't usually have as many options to try on different looks that will fit their own fashion senses. Have you ever seen a multitude of appealing outfit choices in the "big and tall" section at the department store? Not so much. "In 2016 everybody has some vanity. Everyone wants to wear great clothes and everyone wants to look fashionable," Bart said. "We have to start asking for more options."
Miko is also a fan of our gal Ashley Graham — in fact, he noticed that a few articles that coined him the male version of Ashley Graham. His response? Elation. "Ashley is a superstar . . . thank you for even putting me in the same paragraph as her," he told WWD. "She changed the conversation of what beauty is. If I can do only a fraction of what she does I will be so honored."
We're eager to see more steps made towards diversity in menswear — it's about time they catch up to the ladies. We're all in this together.