You might want to sit down for this — here's your first look at Zac Efron as a serial killer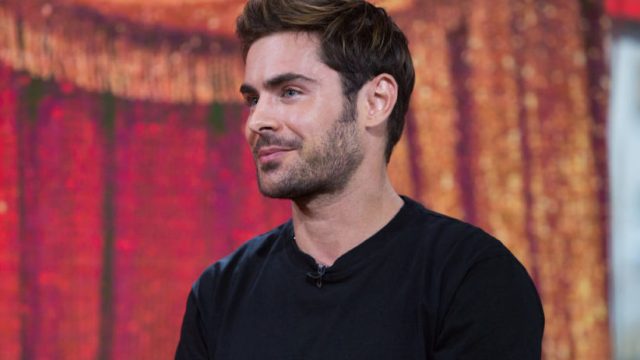 Look, Zac Efron is a babe. You can argue that he's too pretty or too muscular or too talented, but I don't really see the flaws in those complaints. So, let's just all agree that Efron is gorgeous, and if he asked you to help him cover up a murder…okay, okay, obviously that isn't the best argument. But, the first look at Zac Efron as a serial killer is here, and even though his character was obviously an awful man, Efron still manages to look totally charming. Which, considering the fact that he's playing Ted Bundy, makes perfect sense.
Efron is set to star as Bundy in the film, Extremely Wicked, Shockingly Evil and Vile, alongside Lily Collins who will play Bundy's girlfriend, Elizabeth Kloepfer. The biopic is already so highly anticipated that fans have been commenting and talking about Efron's role as Bundy, even though they just started filming this week.
Now, in case you aren't aware of who Ted Bundy was (and count yourself lucky if you don't), then you might want to sit down. Not only was he a serial killer, Bundy was also a rapist and necrophile who admitted to killing 36 women. So if you're used to watching Efron on screen playing another hunk, then this new movie will definitely change your perspective.
Efron simply captioned the photo of him as Bundy taking a mug shot as "Meet Ted," in matching Twitter and Instagram posts on Wednesday, but the excitement of seeing him dress up as such a notorious killer is already growing. Oh, and basically everyone was making the exact same joke.
https://twitter.com/udfredirect/status/953771098595880961
Seriously, Efron with Collins in a true crime movie? Basically, every Dateline watcher's dream come true, am I right? The story of Ted Bundy is certainly a gruesome one. Bundy raped and killed women, and also managed to evade arrest and conviction for years. He was known to be charming, and even found a wife in the midst of his killings.
So buckle up, ladies. Because Efron's latest role isn't the kind to sneak wine into the theater to watch. Or, actually, maybe it is.