Olympic ice dancer Yura Min smiled her way through a crazy wardrobe malfunction, and just give her the gold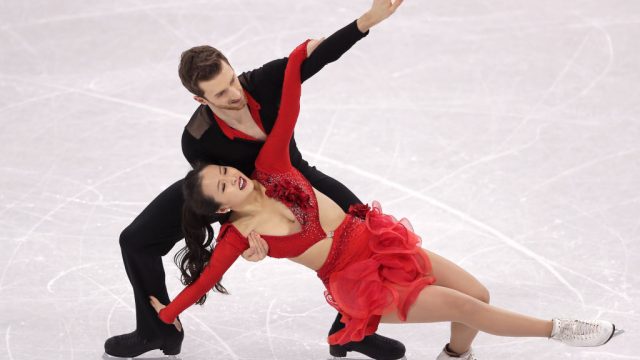 We're just a few days into the 2018 Olympics and have already witnessed so many incredible moments. Mirai Nagasu landed a triple axel like it was no big deal — the first in Olympic competition. 17-year-old Red Gerard won the first medal of the Winter Games for Team USA — a gold one! And Chris Mazdzer made Olympic history for the U.S. by taking home a silver medal in singles luge. But one of the most buzzed-about moments happened on the ice on Saturday, February 10th. Yura Min suffered a potentially terrible wardrobe malfunction, but she and her partner Alex Gamelin handled it like total pros.
Here's what happened. Just seconds into their routine, one of the hooks on Yura Min's sparkly red costume came undone. The one that held everything together. For the remainder of their performance, her entire back was exposed, as was most of her midriff. During the twizzle portion of their routine, it came off her shoulder completely, and she paused to pull it back up.
"I was like, 'Oh no!'" Min told The Detroit Free Press. "If that comes undone, the whole thing could just pop off. I was terrified the entire program." But if Min was terrified, it certainly didn't show. She nailed every move and smiled through the whole thing.
Leslie Jones, Olympic commentator extraordinaire, called out the moment on Twitter.
After Yura Min and Alex Gamelin skated, they took to Twitter to thank everyone for the support.
Yura Min even posted a GIF of herself covering up after the routine.
Min and Gamelin ended up coming in second to last in the team event — ninth out of 10 with 51.97 points. Points were deducted from their score when Min made the outfit adjustment so she wouldn't lose it entirely. (Can you blame her?) But they'll get another chance during the regular ice dancing competition later in the Winter Games. Still, it sounds like they're just happy to be part of the Olympics.
"We're not going for a medal or anything, so there's not that much pressure on us," Min told the Boston Globe. "We just want to have fun."
A wardrobe malfunction would have easily deterred many skaters, but Min and Gamelin handled it with grace and poise. Still, triple check those stitches for the next round!