YouTube launches two amazing programs for women filmmakers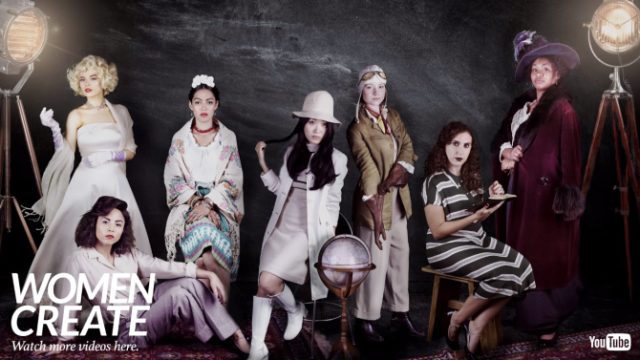 YouTube has just officially launched two new programs that fund and promote digital content from women—just in time for Women's History Month!
According to an official YouTube blog post, the first of the two programs is a year-long partnership with the United Nations' Sustainable Development Action campaign. Under the U.N. partnership, the seven appointed international Change Ambassadors will create content surrounding gender equality. The recruits for this program are Ingrid Nilsen (U.S.), Jackie Aina (U.S.), Yuya (Mexico), Taty Ferreira (Brazil), Hayla Ghazal (United Arab Emirates), Louise Pentland (U.K.) and Chika Yoshida (Japan).
"We hope to work with these millennial role models to turn influence into action that is both measurable and building capacity at the U.N.," said Mitchell Toomey, director of the U.N.'s Sustainable Development Goals Action Campaign.
The second is a global Youtube Spaces production program that puts women both in front of and behind the camera to produce videos that spotlight the female perspective. Over the last several months, YouTube invited creators in Los Angeles, London, Tokyo, New York, Sao Paulo, and Berlin, to attend workshops and film over 50 videos, spanning over a wide variety of content from lifestyle tutorials to scripted narratives. As part of the program, YouTube also appointed six Creative Directors to help mentor other creators in the global video shoots—Anna Akana (U.S.), Alexys Fleming (U.S.), Julia Tolezano (Brazil), Em Ford (U.K.), Nilam Farooq (Germany) and Kuma Miki (Japan).
"YouTube has always been a platform where women of all ages and backgrounds can find their voice and tell their stories," YouTube CEO Susan Wojcicki said. "Through our global YouTube Spaces program and new partnership with the U.N., we'll strengthen female voices on YouTube and around the world."
Videos roll out starting Wednesday on the YouTube Spaces channel, as well as the creators' own channels. Watch YouTube's "100 Years of Incredible Women" video tribute to historical female figures below: