12 YouTube tutorials you need to watch if you're new to the whole makeup thing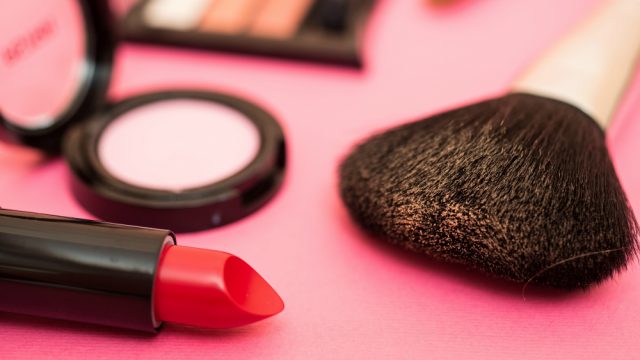 Do you ever wonder what the fuss about Kylie Jenner's Lip Kit is because you never graduated from Bonne Bell Lip Smackers (RIP)? For makeup newbies, it can feel overwhelming to enter the makeup game when the trends seem to change every five minutes and you feel so far behind. We get it. Luckily, there are some easy YouTube makeup tutorial videos to help you get started. And then you can help us figure out if we're still clown contouring or whatever the next new eyeliner craze is. These tutorials are simple, to-the-point, and help you get started on making your face beat (that's RuPaul speak for 'fiercely made-up).
If you're just getting started with the basics, here are some YouTube videos to help you dip your feet into the concealer and start getting used to the whole makeup thing from eye-lining to color-correcting.
1 Michelle Phan's simple 5 minute routine
https://www.youtube.com/watch?v=shpZ47Mvxfg?feature=oembed
Michelle Phan is a YouTube tutorial OG. She's amazing at using makeup to transform her face into any look, but Michelle also has simple routines like this one. In just 5 minutes, you can create an easy and natural appearance which is a great starting point.
2 Andrea's Choice: everyday foundation
https://www.youtube.com/watch?v=cYX3nskVPLc?feature=oembed
AndreasChoice has amazing videos for makeup-lovers of all levels, but this video gives a detailed guide to applying foundation. Turns out, beauty experts don't just slather on whatever shade matches the back of their hand and call it a day! Who would've thunk it?
3 Matte VS. Dewy
https://www.youtube.com/watch?v=I-U8E1SdFXU?feature=oembed
Once you enter the wonderful world of Sephora, you will start hearing words like 'matte' and 'dewy' and not know what people are talking about. This video by YouTube user Hey ShannonAshley shows a great side-by-side example of the finishes, and explains their differences perfectly for beginners. For an added bonus, she uses Maybelline products that can be found in any drugstore!
4 Cat-eye 101
https://www.youtube.com/watch?v=DBVxiXCyRKo?feature=oembed
This video by Adriana Braje gives a simplified and up-close look at how to create a simple cat-eye line that looks good on literally everyone.
5Everything you've ever wanted to know about concealing under-eye circles
https://www.youtube.com/watch?v=WlvvakcLDuk?feature=oembed
This video is great because you are introduced to color-correcting (what is this, Photoshop?, you might ask) and contouring on a smaller scale. Also, Nicole Guerriero uses NYX concealer which is totally affordable! Yay!
6 Let's talk about brows, baby
https://www.youtube.com/watch?v=emM04Ud0Xck?feature=oembed
Brows are big right now — literally. If you've ever wondered how people get totally sharp brows that look like they were painted on, use this video by Nicole Guerriero as your guide. (Spoiler alert: they look painted on because they are. Welcome to makeup, people.)
7 How to contour
https://www.youtube.com/watch?v=PbZK8hjx-5c?feature=oembed
This video perfectly explains how and WHY to contour using highlighting and bronzing techniques. JustJazzXOXO does a wonderful job of breaking down the funny-looking routine, and if you're interested in contouring your own face, you can do it along with her.
8 In case you want to get scientific
https://www.youtube.com/watch?v=4TGbMeC8XIQ?feature=oembed
In this video Carli Babel explains color correcting, which makeup beginners might not even know is a thing. This is kind of advanced-makeup technique, but in case anyone wants to get really into it, this video is a great explainer.
9 How to achieve the infamous smokey eye
https://www.youtube.com/watch?v=R3BFX-WvQlY?feature=oembed
Smokey eye is notoriously glamorous, and it doesn't necessarily have to be difficult to achieve. Tina Young's tutorial breaks it down step-by-step so even people who have never messed with eyeshadow before can get the look. Say hello to the new, smoldering, you.
10 Jaclyn Hill's daily DRUGSTORE product routine
https://www.youtube.com/watch?v=Khwwml8xY_M?feature=oembed
This video, by uber popular YouTuber Jaclyn Hill proves that you don't have to spend a fortune to get into makeup. Yes, she uses two non-drugstore products in the video, but it's still a useful example of how to look like a million bucks without spending that much.
11 Lipstick (because even that can be hard)
https://www.youtube.com/watch?v=TImxlxwY0kA?feature=oembed
Awesome makeup master, Raye Raye breaks down everything you need to know about getting luscious lips with liquid lipstick. Never again will you merely swipe on a gloss without a liner… Or maybe you will, that's fine too!
12. Fixing your (inevitable) mistakes
https://www.youtube.com/watch?v=B9lsK9QX80s?feature=oembed
Anyone both new and old to makeup is bound to make mistakes when playing around with it. Samantha Ravndahl is here to help you with your make up mishaps from eyeliner marks to uneven lipstick lines.
Part of the fun of learning these new techniques is being able to experiment and change your look to match any vibe you might be feeling. It really is like being a kid playing with your mom's makeup, and as long as it's something you enjoy doing for yourself, there's nothing wrong with caking it on! (While still avoiding the 'cakey' look, of course.)