This YouTube chef made the breakfast spaghetti from "Elf," and, yum?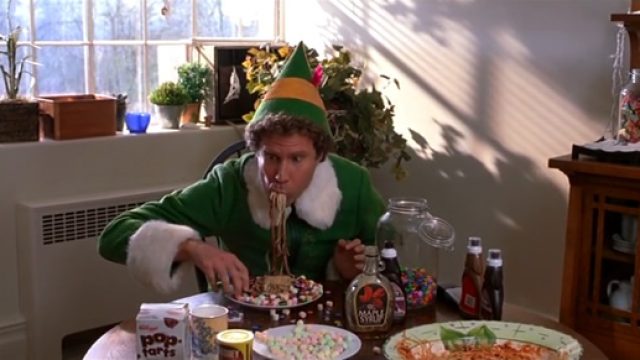 We never thought that food vlogger Andrew Rea would do this. But he just did. Rea is known for bringing our fave movie meals to life on his YouTube series Binging with Babish. And for his latest episode, the chef made breakfast spaghetti from the holiday classic Elf.
The YouTube star calls his latest video "a special gross-out holiday episode," and we agree. Usually, he's good for filling viewers with food-porn envy, but this recipe just totally turned our stomachs.
Because, if you'll remember, Will Ferrell's famous character was full of two things: holiday cheer and SUGAR. Like gobs and gobs of syrup, candy, and chocolate. Often over pasta. Ughhhh. But, don't just take our word for it. Check out the YouTube episode for yourself.
https://www.youtube.com/watch?v=PsuoXi2D6tM?feature=oembed
"This was far and away the most disgusting thing, not only have I made for this show but I've ever made in my entire life, Rea told Entertainment Weekly.
Just the sight of chocolate chips, M&Ms, and crushed PopTarts on top of a mound of spaghetti alone makes us want to go on a juice cleanse. We can only imagine how Rea felt after having a taste of this movie creation (or um, how Will Ferrell felt after a few takes).
We're obviously not planning on giving this one a go in our own kitchens, but if you're curious, you should totally try it out. Just make sure to keep a bottle of Pepto handy. We can sense that you're going to need it.