You're going to want to add Lipstick Queen's Frog Prince Story set to your beauty wishlist
Do you remember the fairytales of your childhood that told stories of a frog who just needed to be kissed in order to unlock his true form of handsome princeliness?! You can now rewrite these childhood stories thanks to Lipstick Queen's Frog Prince Story set, which contains three different magical green potions that adjust shades according to skin tone, providing an actual happy ending!
While the narrative of your childhood frog prince stories may seem a bit manipulative and bizarre in retrospect (kissing frogs will likely leave you with diseases and won't lead to happy marriage), dabbling with the gorgeous cosmetic science behind the Lipstick Queen Frog Prince Story set will make you fall in love with something real!
https://www.instagram.com/p/BG5rxaQSAL8
The new set includes a Frog Prince Cream Blush, a Frog Prince Lip Gloss, and the original Frog Prince Lipstick! While they appear bright green, each of the three products is activated by your individual PH balance and changes shade accordingly!
https://www.instagram.com/p/BLImBEcjSC1
It works like a cosmetic mood ring for your lips and cheeks!
https://www.instagram.com/p/BLJfiqxgjKH
If you still feel confused by how these fairytale cosmetics work on your face, plenty of people have shown their results, and loved it.
You can buy the Frog Prince Story set online from Ulta for only $45!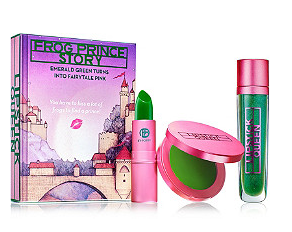 Your fairytale awaits.