"Younger" star Nico Tortorella opened up about being in a 11-year-long polyamorous relationship with a queer woman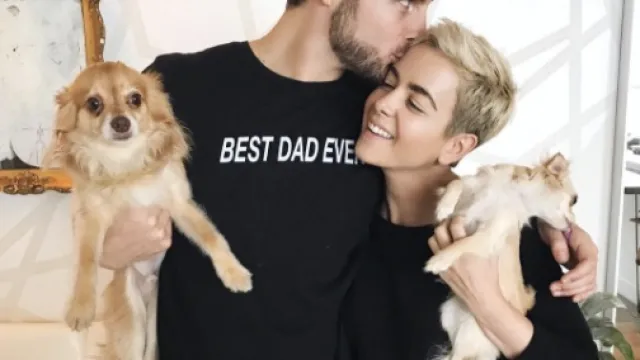 Ever since coming out as "sexually fluid" and later "bisexual" last year, Nico Tortorella, who plays the boyfriend of star Sutton Foster on the Lifetime series Younger, has gotten more and more open about his sexual identity and his relationship with partner Bethany Meyers. First of all, he and Meyers are polyamorous, meaning they openly see other people. Okay, got it. Second of all, his girlfriend identifies as gay. Fascinating. Love is love, so we dig it.
The two recently sat down with The Advocate to discuss their eleven-year poly relationship. Like all other relationships, it all boils down to love and respect.
https://www.instagram.com/p/BSHw9kjlUaP
From The Advocate:
"Tortorella and Meyers have been in love for over a decade, and their relationship seemingly has but one rule: to love each other. Boundaries are more or less nonexistent when it comes to having additional relationships outside their own. It's an idea founded on trust, and a notion that has yet to be fully understood across the cultural mindset. Even they don't have a word to describe it, except for possibly being 'witnesses' to each other."
Love it.
Tortorella openly admits that the polyamory element of their relationship is a work in progress. They are still developing some ground rules. For example, the would like to have a child together, and they are also okay with each other having children outside of their relationship, but neither are okay with the other having a child with someone of the opposite sex outside of the relationship.
"We're still figuring out the best way we can bring other people into our relationship," he says. "I think we're in the best place now [that] we've ever been, but we're definitely still on an amateur level."
They say they take it "day by day." Cool.
Meyers personally thinks that it's not possible for one person to fulfill all of another person's needs. "So many people have this idea that if you can love this, you cannot love this," she says. "And I don't understand, because I do. I can have feelings for two people. There are different kinds of feelings, they fulfill different needs. I don't find it very realistic to think that I'm going to get everything I need out of Nico."
We can understand that.
https://www.instagram.com/p/BWLcszvFwpd
Tortorella also talked about how, while he personally doesn't find a strong need to label his sexuality, he acknowledges why labels are so important:
"I believe in the spectrum, the full universe of gender and sexuality, and probably I fall more into the pansexual fluid terms which fall into the umbrella of bisexual in LGBTQ-plus. I think when I was first having this conversation, I didn't like the term bisexual because I think it was a little dated for this generation; people weren't using it. It kind of puts people into this box. [But] I respect the term bisexual. I use it because I respect it."
For more from Nico, you can check out his awesome podcast about gender and sexual fluidity, The Love Bomb.
We're loving your honesty Nico and Bethany! Glad you guys have found a relationship that works for you!