The Season 5 trailer for Younger shows Liza kissing *so* many people — and gasp, not just Charles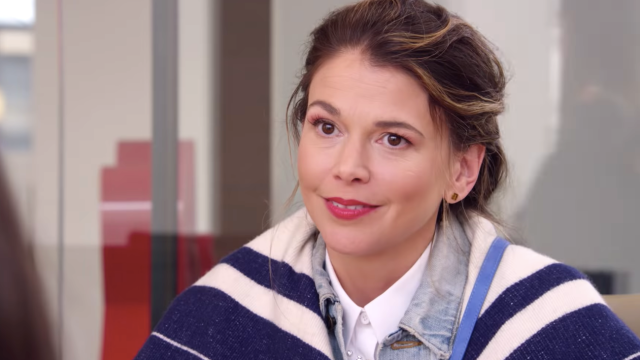 This summer is about to get *pretty* steamy, according to the new trailer for Younger. Love triangles — or squares? — are abound when the TVLand hit series returns for a wild Season 5, as both Liza (Sutton Foster) and Kelsey (Hilary Duff) find themselves juggling multiple men.
Just when we thought the timing might finally be right for Liza and Charles, it seems the forces around them aren't going to make things easy. Pauline is still looking to reconcile with Charles — but confides in Liza, no less, that she thinks he's seeing someone else. Meanwhile, it appears Josh and Claire's green card marriage is already in tatters and as always, the chemistry between he and Liza is palpable. And the trailer finds Liza kissing a man who neither Josh nor Charles…so what does this mean for our favorite fake 20-something publishing assistant? Is Liza taking a break from *both* guys this season?
But Liza isn't the *only* one juggling multiple suitors as Kelsey admits that she's seeing multiple men — including Zane! Kelsey is unapologetically just living her best life and doesn't have time for any of Liza's judgement, telling her, "You have been gaslighting an entire company since I met you! Can I have one secret?"
Check out the official Season 5 trailer for Younger:
https://www.youtube.com/watch?v=lRqmAwaz12o?feature=oembed
Creator Darren Star has already promised a major game-changer in the final moments of the premiere — could this mean Liza secret will finally be revealed?
Star recently told Entertainment Tonight, "I think the end of this first episode just changes the equation for the entire series going forward, and it doesn't happen until the very, very final moment of the episode. You have to keep watching — even past the point where you think the episode is over, because it happens in the very last moment."
Season 5 of Younger premieres on June 5th on TVLand.