You Season 2 has officially arrived to Netflix, so be merry and binge watch
This post contains spoilers for You Season 1.
Update, December 26th, 10:41 a.m. ET: Time to kick your family and friends off the couch because You Season 2 is here and ready to be binge-watched. We're excited yet utterly terrified at the same time.
The official You Twitter account announced at 3 a.m. ET this morning that Joe Goldberg is back on his b.s. and pondered, "Has he finally met his match?" Well, there's only one way to find out.
Please, no one dare bother us for the rest of the day. We'll be very busy.
https://twitter.com/udfredirect/status/1210112682570858496
false
Happy holidays, indeed.
Update, December 16th, 10:35 a.m. ET: The official trailer for Season 2 of Netflix's You has hit the internet, and we're feeling more creeped out than ever.
Penn Badgley's Joe Goldberg announces that he's established a "new me" since moving to Los Angeles before introducing himself to his new landlord with his completely new name…Will Biddleheim.
What are Joe's intentions with Love? Who the heck is lying in that pool of blood? Whether we want to or not, we'll find out on December 26th. The chills are real.
Update, December 5th, 11:10 a.m. ET: Netflix has given us a gift! The streaming service released the first full trailer for You Season 2, and our bodies are ready for this. In the trailer, Joe Goldberg does his classic voiceover, narrating his move to Los Angeles—and he has some thoughts.
"You know, love has taken me to some pretty dark places," Joe begins the trailer. (You don't say.) "But Los Angeles has got to be as dark as it gets."
Check out the trailer below, and be sure to watch until the end for a kicker.
Joe Goldberg living under an assumed name? Watch out, Los Angeles.
Update, December 3rd, 9:05 a.m. ET: Watch your back, Joe, because it looks like the tables are turning. Usually, the creep-tastic Joe Goldberg is the one doing the stalking, but in new photos from Netflix's You Season 2, someone has their eyes on him for a change.
Sure, this picture may look like another woman who needs to get far, far away from Penn Bagdley's character. But according to E! Online, this is Delilah, played by Carmela Zumbado, who lives in his building. Delilah? She's an investigative journalist who has her eye on the super suspicious Joe. (Hopefully just her investigative eye. Get him, girl!)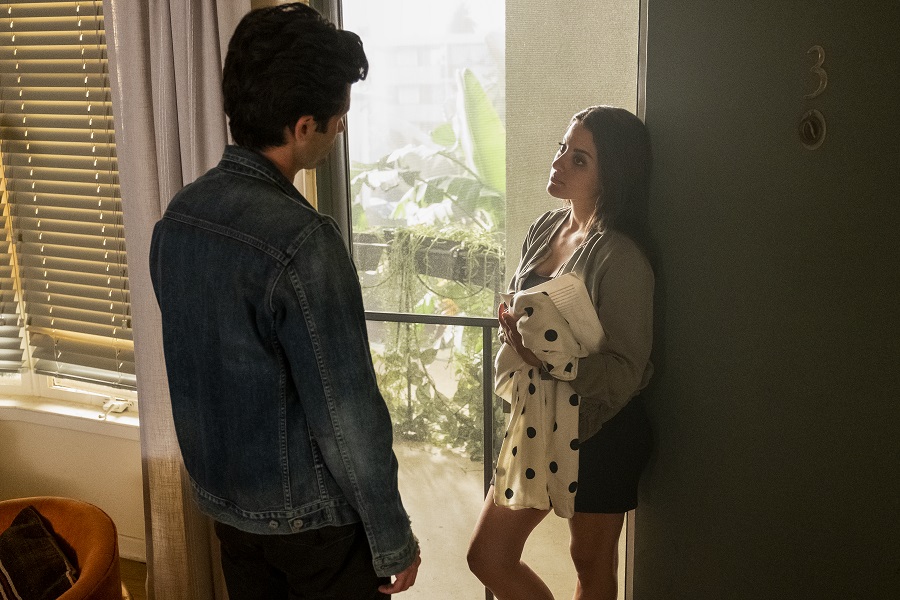 In other new photos from You Season 2, we spot the friends of Joe's new "love interest," Love. According to E! here's the whole crew: "Melanie Field plays Sunrise, a stay-at-home lifestyle blogger, while Marielle Scott plays Lucy, a literary agent. Charlie Barnett plays Gabe, Love's oldest and closest friend and confidant who's an acupuncturist and psychedelics aficionado." Gabe, we have hopes of you keeping a protective watch on Love!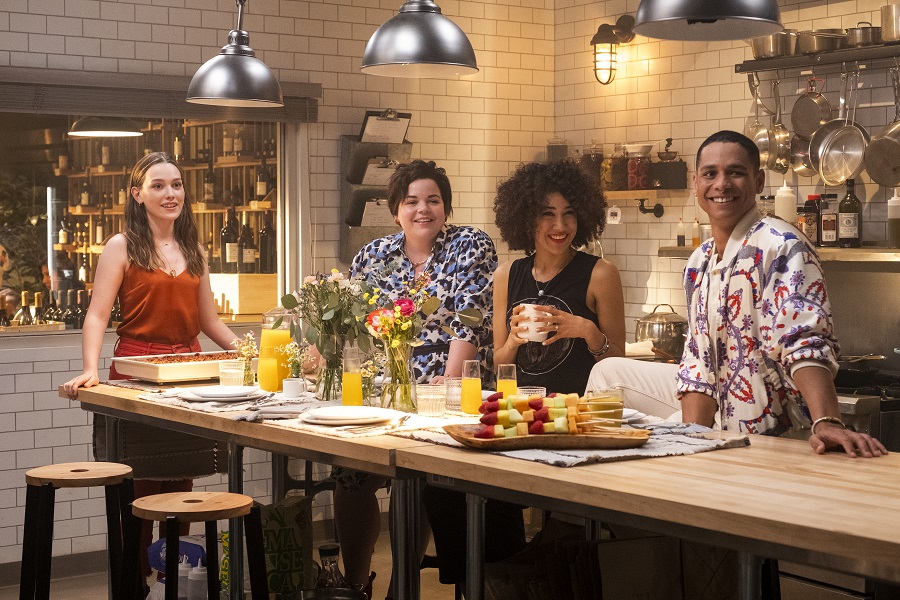 Will these friends fare better than Beck's BFF, Peach Salinger? And finally, it looks like Joe's back in a bookstore. This time, hopefully, castmember Adwin Brown is on high alert.
Don't forget to close the curtains because Joe's back so soon, on December 26th.
Update, November 28th, 10:05 a.m. ET: First we were worried about Beck, then Candace, and then the new character Love. Now, these new photos from You Season 2 have another woman that we're going to be yelling at from our couches to watch her back.
Jenna Ortega, whom you may know as young Jane from Jane the Virgin, appears in the latest looks at You Season 2. And in the photo, she looks pretty interested in one Mr. Joe Goldberg. (Run, girl, run!)
Plus, we also get glimpses of Joe in full stalker mode and an all-blue getup. Just camouflaging into that wall, right?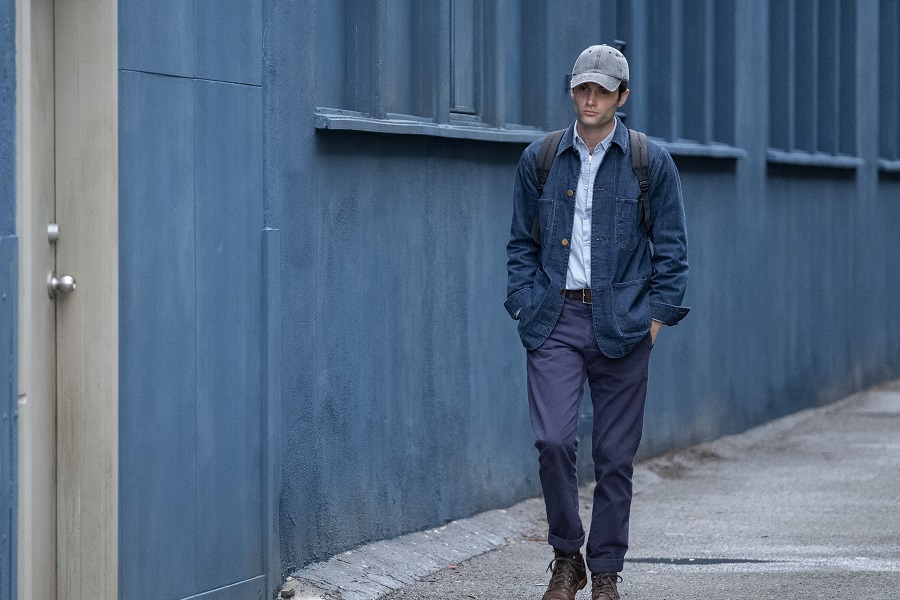 It's not just more women we have to worry about in Season 2. Chris D'Elia is also joining in on the chaos in the next round of episodes.
Um, sorry Netflix, but a party Joe's attending is one party we're skipping this holiday season.
Update, November 21st, 2:35 p.m. ET: It looks like Joe Goldberg has someone else in his sights. Netflix released the first photos from You Season 2, and we seriously wish we could jump into them and warn the fictional woman who appears in them. (Sure, maybe we're a little hooked on this show.)
Entertainment Weekly confirms that Penn Badgley's stalker character has a new obsession for the second season, played by The Haunting of Hill House's Victoria Pedretti. And, funnily enough, the character's name is Love, though Joe definitely doesn't know what actual love really is.
As in Hidden Bodies, Caroline Kepnes's sequel to the book the series is based on, Joe will take his stalking tendencies from New York to Los Angeles, where hopefully more women have curtains on their windows. In the first image, he seems to be following Love at the grocery store.
When he meets Love, Gamble says, she considers him a "kindred spirit" as she has also suffered a great loss. (Though Love doesn't know that Joe, you know, caused that loss.) "The circumstances of his encounter with Love are very informed by what he went through with Beck," she adds.
What does differ from the books is that in a shocking twist, Joe's other ex, Candace, whom we assumed he had killed, is alive, and she's back!
"She is a survivor," Gamble tells EW. "And now she's faced with some really difficult decisions about how she's going to move forward."
See her reconnecting with Joe in the other new image from You Season 2.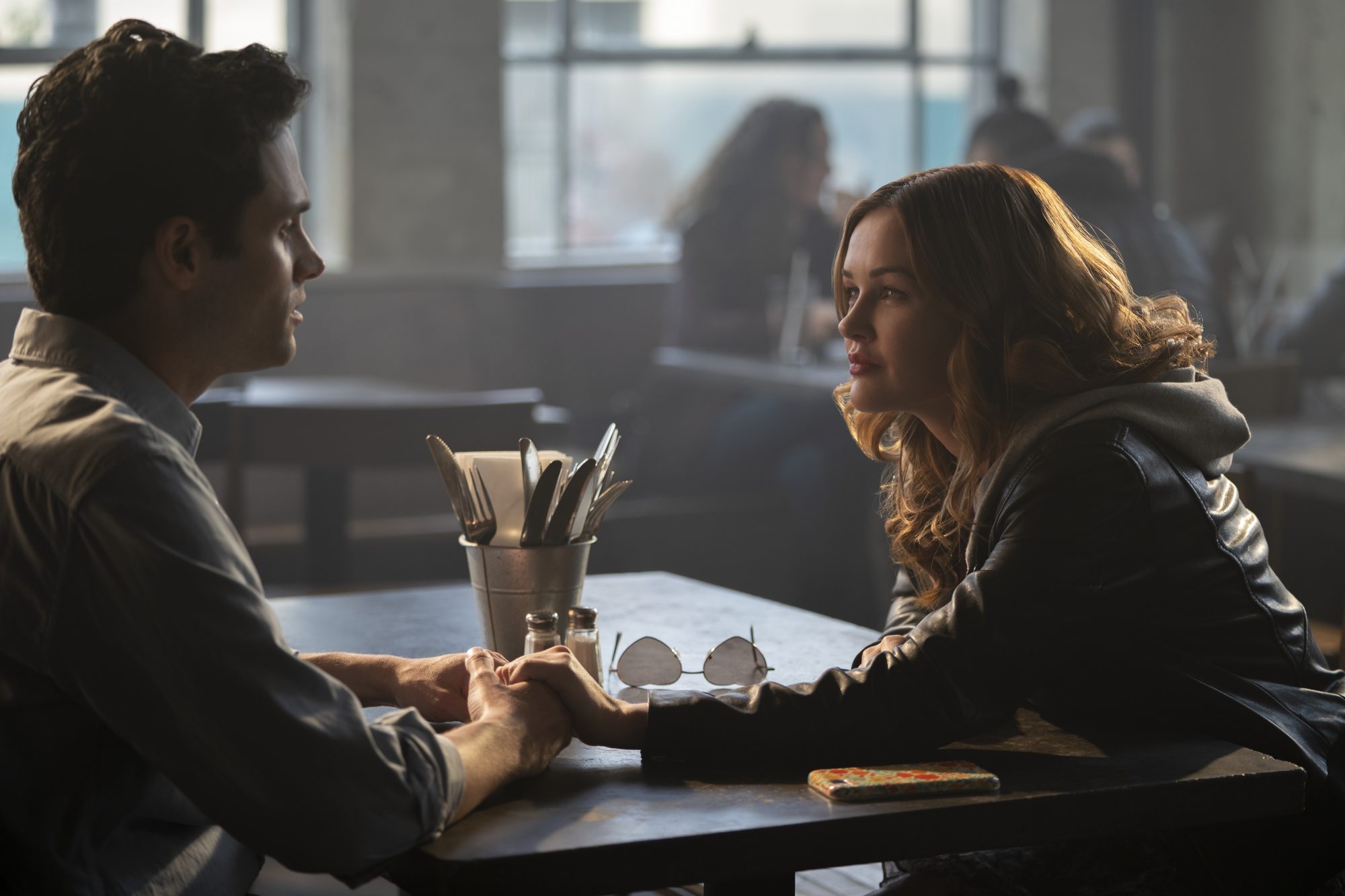 You, too, can yell at your screen for these women to run far away when You Season 2 premieres on Netflix December 26th.
Original post, November 12th: Oh hey, You fans, we've got the best news ever for, ahem, you. The Netflix series that sent chills down our collective spines last fall is returning for a second season, and it's happening so much sooner than we thought.
The show's star, Penn Badgley, whom you'll know as the terrifying Joe Goldberg, tweeted the release date for You Season 2, and he also blessed us with a teaser trailer, though it doesn't answer any of our pressing questions, to be totally honest.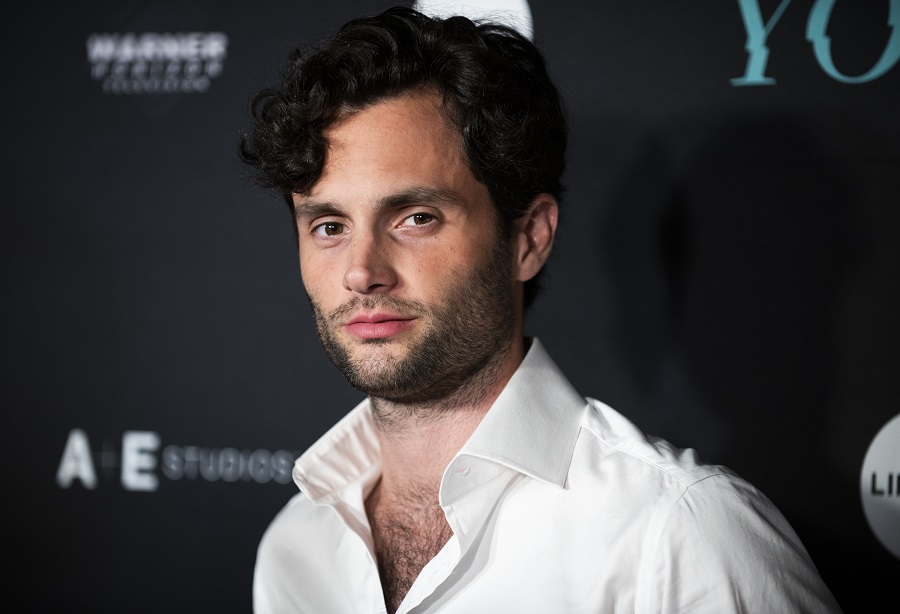 Season 2 drops on December 26th on Netflix, so you can take a break from all your holiday plans, park it on the couch, and get ready for more moments of pure terror—at least if Season 2 is anywhere near as spine-tingling as the first season was.
The 15-second teaser trailer doesn't reveal much about what we can expect this time around, but we do know there's the potential for a new, erm, love interest for Joe on the horizon, appropriately named Love Quinn. She'll be played by The Haunting of Hill House star Victoria Pedretti, and it seems like we'll meet her when Joe flees NYC for the sunny shores of Los Angeles.
We already have our snacks and blankets at the ready, because we have a feeling You Season 2 is going to be good.
Fans are already eager to jump back into Beck and Joe's world, joking about how the new season is surely the best Christmas gift they could have ever asked for. And if we're being honest, we fully agree.
https://twitter.com/udfredirect/status/1193930603537846272
false
Happy holidays, You fans!