You can see a space show when you fill this mug with coffee
Getting out of bed and ready for work can be a struggle, especially before a strong dose of caffeine. For those days when a cup of joe isn't enough, what about caffeine plus a light show? ThinkGeek created an Aurora Borealis thermal coffee mug that displays a mesmerizing visual as you fill it up!
ThinkGeek explained, "Much as caffeine particles pass into our bloodstream and make us bounce off walls, so, too, the particles from solar winds pass through the Earth's magnetosphere near the poles and share energy, causing a spectacular display in the upper atmosphere." That spectacular display is the Aurora Borealis.
As for why the Aurora Borealis is often green, the answer might surprise you. ThinkGeek stated, "When these particles collide with oxygen in particular at lower altitudes (up to 150 miles), the photon released appears green or yellow, giving a similar light show as to the one captured on this mug when you fill it with warm liquid." Basically, ThinkGeek recreated space science in a MUG, so yeah that's pretty cool.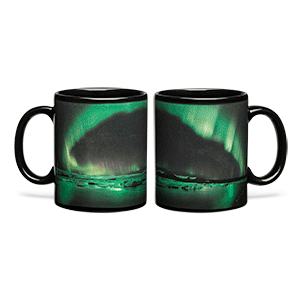 If fancy science talk makes your head spin, let us simplify. As you pour your coffee, thermal technology will allow you to see the Northern Lights cascade across your mug. That's way cooler than your co-worker's trendy mug with a mustache on it, right?
With the holidays coming up and a price point under $15, this Aurora Borealis mug is prime stocking-stuffer material. You can even gift yourself this nifty novelty and pretend like you're actually going to become a morning person. (Yeah, we're laughing too.) And although this is branded as a ceramic coffee mug, the Aurora Borealis will appear with any hot liquid. Tea drinkers: No need to be jealous.