You can get frozen hot chocolate topped with 24-karat gold, and what else do you really need?
When we heard that Compartés was offering a new Frozen Hot Chocolate treat, served exclusively in their new Los Angeles Flagship boutique in Century City, we made time for a much-needed field trip. This epic dessert is made from only two ingredients: Compartés signature dark chocolate and milk (I like to think this means I'm "clean eating").
You can truly taste the 67% dark chocolate in the thick, decadent, velvety frozen treat. The drink is a perfect way to enjoy all the deliciousness of hot chocolate in the forever-summer weather of Los Angeles. But that's not even the best part. The frozen hot chocolate is available topped with homemade whipped cream and a variety of special seasonal toppings. You can add marshmallow cereal, raspberries, strawberries, and blueberries to your frozen hot chocolate for an incredibly Instagram-worthy beverage.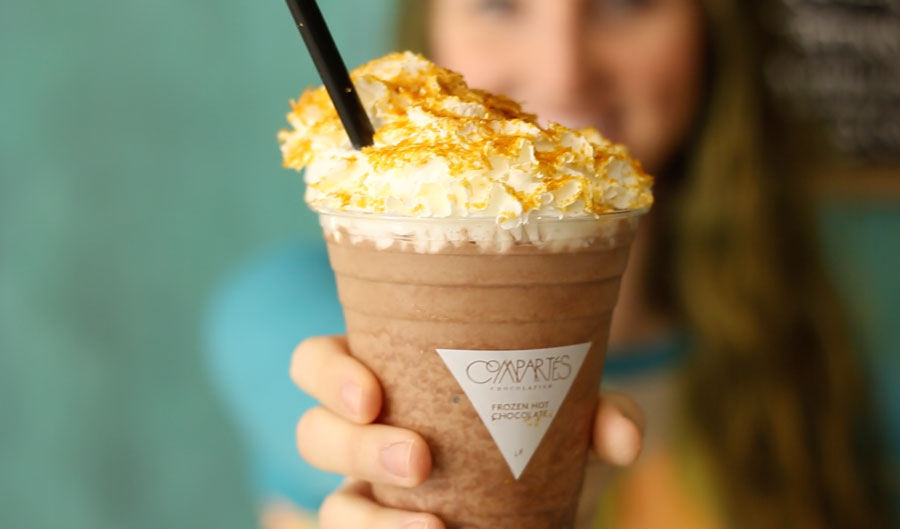 Or you can take it to the next level and give your drink the Midas touch: Compartés offers 24-karat edible gold dust for a rich refreshment that glitters with every sip.
The gorgeous flagship store is brainchild of chocolatier Jonathan Grahm and acclaimed interior designer Kelly Wearstler — who have collaborated for years on delectable confections and created an Emerald City-inspired chocolate wonderland. If you find yourself in the City of Angels, you absolutely must swing by Compartés and try this gilded chocolatey treat.