You can actually apply to be Kate Middleton's assistant — here are the job requirements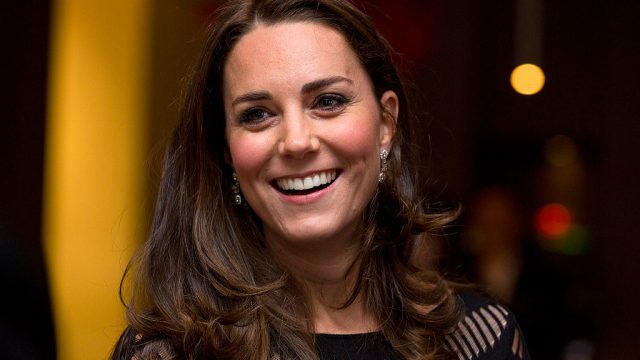 Recently news broke that the Duchess of Cambridge's long-time assistant has resigned and will be leaving her job in the royal household later this summer. Rebecca Deacon, whose official job title is Kate's "private secretary," has worked for the royal family for ten years. She's been Kate's right-hand woman since 2012.
So far, the palace hasn't commented on who might be taking Deacon's place. Someone who already works for The Firm (as the royal family sometimes calls itself) could be promoted to the position, but it's also possible that the palace will publicly post the job opening. For real, that's a thing that actually happens, like last December when Prince Harry announced he was looking for interns and just last month when the Queen took applications for a social media manager. The royal family even has an online job board, which you can find here.
Obviously, working as Princess Kate's assistant seems like a total dream job. But before we get our resumés in order, we're kind of wondering what exactly the job entails. What does her private secretary actually do? Does it involve taking her tiara out for a test run? (Please say yes.)
We decided to do a little digging. In case you're wondering (you know you are), here are some of thing you'll be responsible for as Kate's assistant:
Flower gathering.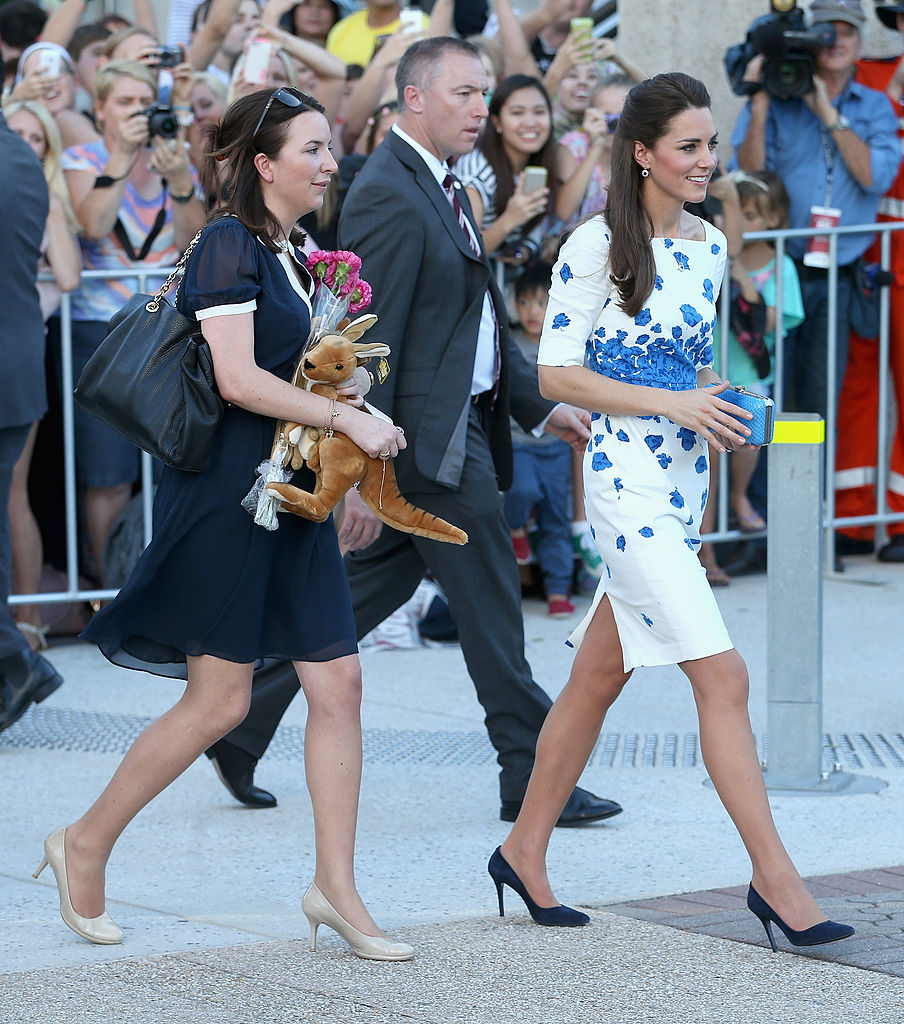 Everywhere Princess Kate goes, she's showered with bouquets and gifts. As Rebecca Deacon demonstrates above (and many times, according to Getty), someone has to carry those things around and that someone is not Kate. As her assistant, you'll need to follow in her footsteps while toting an armful of flowers and stuffed animals. Side note: those shoes on Deacon's feet look an awful lot like Kate's favorite L.K. Bennett nude pumps, so we have high hopes that the job also involves royal hand-me-downs.
Traveling the world.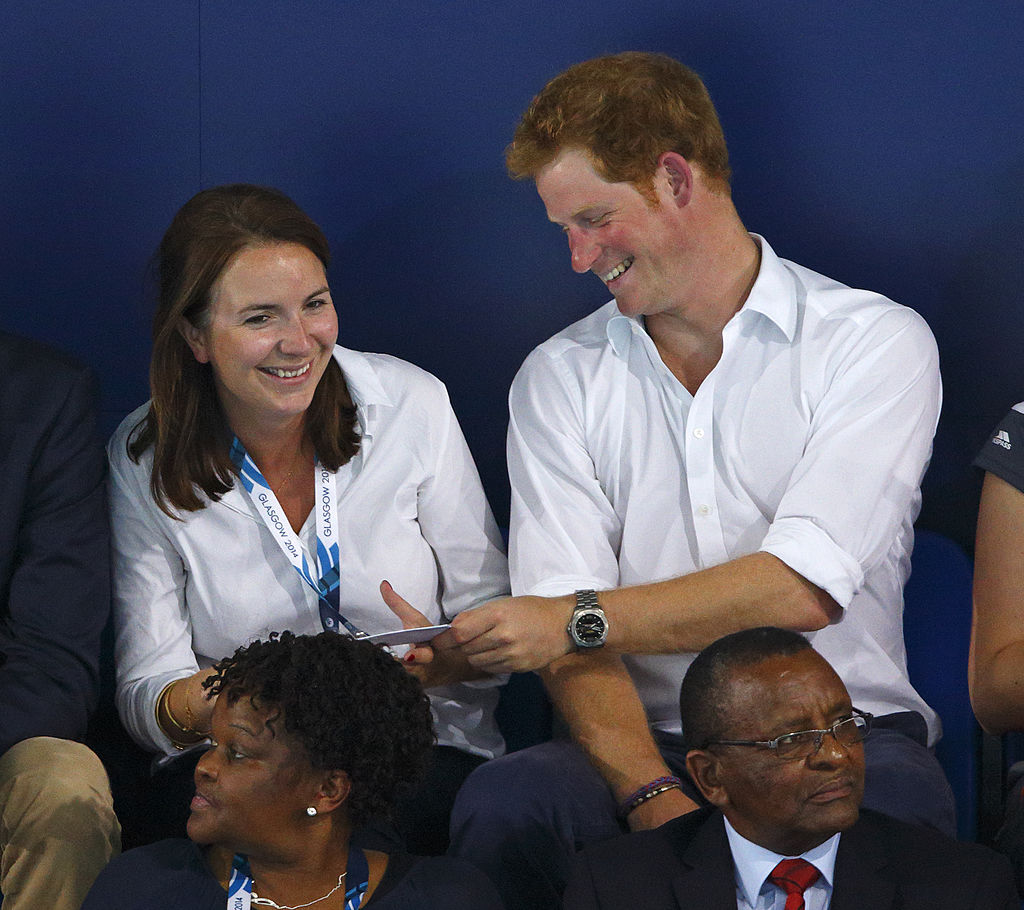 Here's Kate's assistant chilling with Prince Harry at the Commonwealth Games in Scotland. Because as Kate's private secretary, you'll accompany her on all official engagements, including royal visits to other countries. Rebecca Deacon was right beside Kate on her recent trips to India, Bhutan and Canada. And do we really need to point out the obvious perk of hanging out with Prince Harry???
Telling Kate who she's talking to.
Remember that moment in The Devil Wears Prada when Anne Hathaway's character saves the day by telling her boss, Miranda Priestly (played by Meryl Streep, who's royalty in her own right), the name and background of the person she's about to chat with at a party? Kate's assistant would totally do the same thing. As her secretary, you'd need to keep track of her busy schedule and fully brief her on everyone she meets. Lucky for you, Kate meets people like Justin Trudeau on the daily.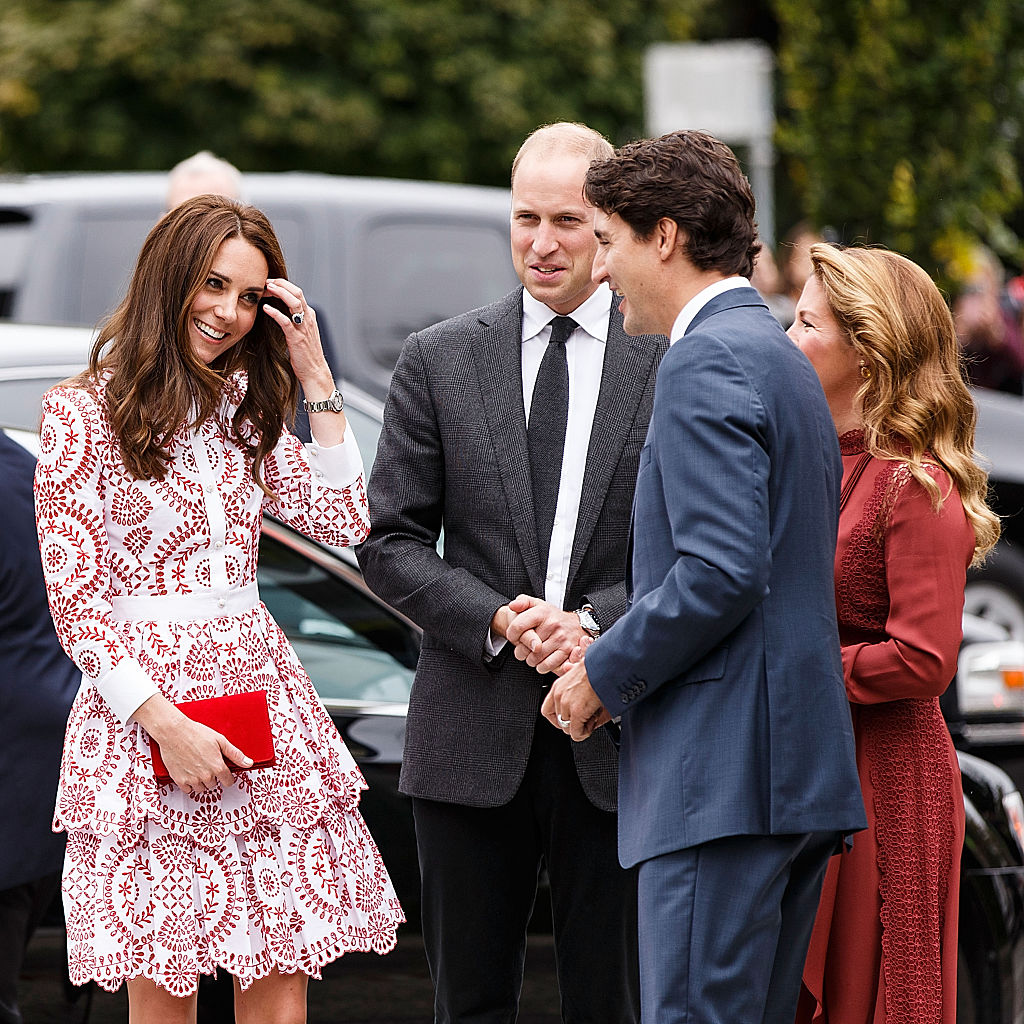 Brushing Kate's royally gorgeous mane…sort of.
According to this article, Kate's assistant always carries an extra lipstick and hairbrush for the busy princess. So you will be personally involved in maintaining the most perfect head of hair on the planet.
All in all, it sounds like a pretty good* gig!
*massive understatement