This popular yogi used Instagram to address period shaming, and it is spot on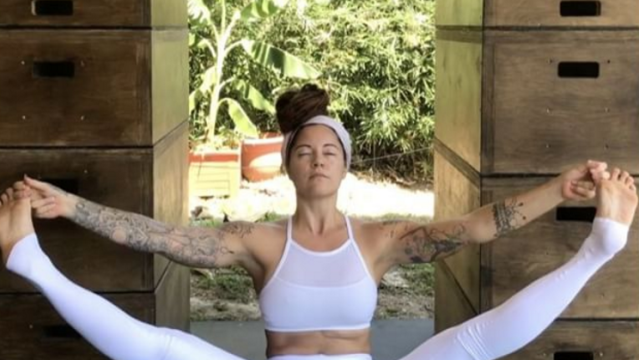 Like it or not, as women, we get periods, and now this popular yogi used Instagram to address period shaming, reported Refinery29, and it is spot on. (Yes, pun intended!) You may recall other times when periods have been in the news, like when the internet applauded this college student regarding period shaming. There was also the time when famous women talked openly about periods. (Insert applause here.) But, we get it — it's a sensitive topic, and some people even keep their periods a secret.
Well, not the ever-popular yogi Stephanie (Steph) Góngora, aka @casa_colibri on Instagram.
About a week ago, she posted an Insta video. But, this time, she had her period — and it was visible through her pants for all to see.
Here, you can see the Insta video for yourself, and the ~amazing~ message Góngora writes for all to see, as well. All the while in the video, she does yoga like nbd — she's not going to let her period (or its visibility!) get in the way!
(Insert standing ovation here.)
Góngora posted the above video to make a statement, she told Cosmopolitan.
"I knew a bright red blood spot on pristine white pants would make a statement in a society that rarely takes the time to actually read — that catching people's eye with something a little more shocking might be necessary to snap them out of their social media scrolling," she said to Cosmopolitan. "Leaks are SUCH a typical occurrence for me, and something, I believe, women shouldn't have to be ashamed of."
Hear, hear!
And, as you can see above in Góngora's IG post, she certainly got people talking — and viewing. As of this writing, it's been viewed nearly 230,000 times.
"I've been successful in getting people to talk about period shame," she told Cosmopolitan, "something that was shrouded in such silence for far too long…I do hope that this cycle of shame and intolerance around the very thing that gives our species continuity can, one day soon, stop."
We could have not said that better ourselves, and only hope that the conversation keeps going, and going, and going…#nomoreperiodshaming.