Yoga teacher and body positive activist Jessamyn Stanley's new book is Wellness 101 — with a twist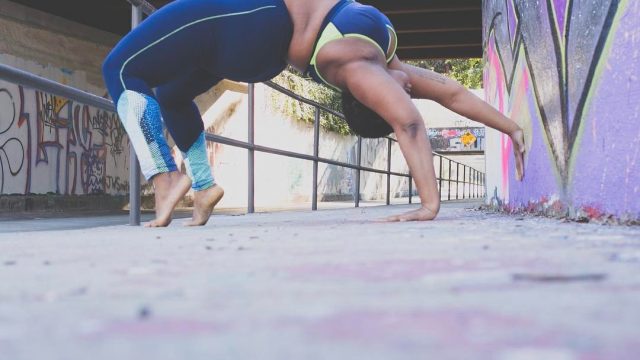 If you flip through all the yoga pictures on Instagram, it won't take long to see that the majority of popular yoga personalities look the same — white, slim-bodied, and oh-so happy. Jessamyn Stanley is the kind of yoga teacher who has always brought a level of realness to the yoga world that we've been all been secretly looking for. She's an award-winning body positivity activist and a self-proclaimed fat femme who is internationally renowned for her motivating yoga classes and singular message — that every single body can do yoga, no matter the size or color.
If you've never had the chance to hear her story or witness her in action, now's your chance. Jessamyn has just released a brand new book called Every Body Yoga: Let Go of Fear, Get On the Mat, Love Your Body.
In short, it's Wellness 101 — with a twist. Jessamyn doesn't only lay the groundwork of the physical asanas of yoga and give advice on how to start up a sustainable practice, but she also writes honestly about her experience with body discrimination, racism, and the mistakes she's made in her life. It's the kind of book that will make you feel less alone.
HelloGiggles spoke to Jessamyn about what inspired her to write this book, and what sets it apart from the other basic yoga books that currently live on bookshelves. She notes that many people have approached her in the last couple years with questions of how to start yoga, admitting that they haven't previously felt comfortable enough to step into the yoga world since they never saw their own bodies represented.
"I had to get the book out," Jessamyn tells HelloGiggles. "A lot of people don't know how to start because there isn't anyone who looks like them in the yoga world."
Representation is more important than ever in our society. Every small victory counts — Moonlight winning Best Picture at the Academy Awards, the diverse women of color on the cover of Allure's April 2017 edition, etc. — and each has a tremendous impact on people of color who feel ostracized in their everyday life. Jessamyn is trailblazing this kind of representation in the yoga community, which means there will be women from many different backgrounds who are inspired to improve their health.
She asked herself, "'What book would be helpful for me? What book would give me the clarification, remind me that I'm worthwhile, I'm not alone?' There are so many of us that think, 'Am I the odd one out?'"
Jessamyn grew up in a suburban Southern town that was predominantly white. In Every Body Yoga, she shares what it was like to be nicknamed "oreo" by her peers, who teased her for looking black yet enjoying "white people shit." As a result, she fell into an identity crisis and became extremely self-conscious about displaying her natural black hair, a discomfort that lasted well into her adult years.
In addition to living with both the macro- and microaggressions of racism, she was discriminated against for being fat. She sought reassurance that she was beautiful (even entering a beauty pageant at one point), only to be met with more rejection and a growing sense of self-disgust.
Yoga helped Jessamyn find a sense of peace and self-love that she never discovered anywhere else. Which is why she wrote Every Body Yoga. She wanted be honest about her own story and encourage other people to open up about their own lives and take control of their wellbeing.
Jessamyn tells HG there's a misconception that yoga instructors are perfect. "People see these teachers who have solved all their problems, so it feels hard for them to connect," she says. "'You're untouchable, you don't do anything wrong.' That is so inaccurate."
In a refreshing turn of events, Jessamyn writes an entire chapter about the DUI she was charged with one night after she fell asleep at the wheel of her car at an intersection at 2 a.m. Not her finest hour, but Jessamyn talks about it with grace, humor, and self-forgiveness, because, let's face it, we all do stupid stuff we're not exactly proud of. However, that experience was the catalyst she needed to reexamine some of the choices she was making in terms of alcohol consumption, so she chose to use it as a life lesson.
"The [yoga] teachers who really impacted me and made a difference — it's not because they have the most beautiful handstand practice. It's because they're really authentic and genuine. They don't pretend they're anyone that they're not," Jessamyn tells HG.
She admits that "it's shitty to look back on" moments like her DUI, when she had to spend a night in county jail, but Jessamyn knows it's better to be open about who you are and what you've been through, rather than hide behind a facade and try to convince people you're living your most Beyoncé life.
Speaking of being real, Jessamyn chatted with us about the popularity of yoga on Instagram these days. She tells HG that seeing all that "perfect" yoga online can add to our worries and make us feel like we're not good enough.
"It really pulls into the ego in a way that yoga should be moving away from. A lot of it isn't even yoga — it's just marketing," Jessamyn says. "'This is the body type. This is the way I'm supposed to look.' We end up aiming for this ideal that's not real."
If you really think about it, all those yogis on Instagram who seem to have their life in perfect order aren't even like that in real life. It's best not to get caught up in all that.
"Yoga is a lot bigger than body positivity," Jessamyn continues. We need to do more to get rid of the body negativity. Some people think just doing yoga will make you love your body, but Jessamyn notes that an obsessive asana practice "can really breathe body negativity." It can make you hyperfocused on your appearance.
She says it's up to yoga teachers out there to teach that there's a balance — you have to temper your quest for strong yoga postures with an internal search for love and acceptance.
In Every Body Yoga, Jessamyn gives some practical advice to people who are starting yoga for the first time. She urges everyone to realize that you don't need expensive yoga things — yoga mat, leggings, straps and blocks — to get your practice up and running.
"The yoga industrial complex makes you feel like you don't deserve to be there if you're not wearing the right kind of leggings or the right kind of top," Jessamyn tells HG. She insists that this is their insecurity, though, and you shouldn't take it on for yourself.
"The whole practice is to be pulling into yourself. It's the pursuit of self, within the self, with the self," Jessamyn says.
If you're doing that, Jessamyn says, "Who cares what you wear!"
Jessamyn has made it her life's work to positively motivate people through her yoga classes, which you can stream online through Cody. If you feel inspired to do yoga for the first time or you just need an extra boost of yoga inspiration, pick up a copy of Every Body Yoga, available everywhere today. Jessamyn will help you find all the lady power you need.