Yes, actually it does matter how much the Trump family spends when they travel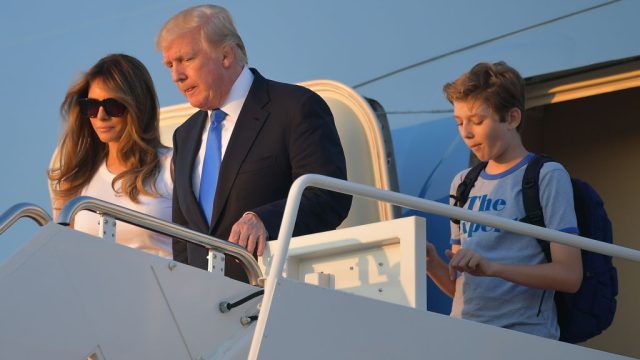 There are so many things that the public should be concerned about when it comes to the Trump administration: the president's nuclear tweets, the rise of white supremacist violence in his base, or the FBI investigation into Russian involvement with his campaign during the 2016 election. At this point, it might seem unfair to start tallying the president's family's travel expenses, which a new report from Judicial Watch, using data obtained through a Freedom of Information Act request from the Justice Department, claims is hitting the $13.5 million mark. But it's not petty to think that it matters how much money the Trump family spends when they travel, since it's coming out of the federal budget which means that taxpayers, on some level, are footing the bill.
Although Trump's travel is over $13 million, a large part of that was the $675,000 that Melania and Barron Trump spent going back and forth between Washington D.C., New York City (where they lived for the first few months of Trump's time in office), and their Florida resort. For comparison's sake, the Obama's travels are estimated to have cost $114,691,322.17 for their entire eight-year tenure, according to the same organization.
This is not to say that the First Lady's travel was in any way "improper," according to the Wall Street Journal, but it does seem excessive, especially when you consider that there were 27 Air Force One jets that traveled, at a cost, without any Trump family member on board, just to facilitate the pickups. A spokesperson for Melania Trump told the Journal, "The trips mentioned in this story are examples of Mrs. Trump juggling dual roles — putting her son first while also fulfilling some of her duties as First Lady."
But how much a government official spends on travel is most definitely noteworthy and something that Trump supporters should consider when they listen to the president talk about how hard he works and his dedication to saving American taxpayers money.
A president and his family have to travel, no doubt. But according to the Washington Post, the presidential travel detail costs $206,000 an hour. And $13 million total isn't all official presidential business. Judicial Watch estimates that Trump's travel to rallies and vacations cost taxpayers about $3.2 million since June 2017. Take, for example, a trip he and the first lady took to his Bedminster golf club, which cost a total of $44,784 just for the use of Air Force One. According to previous Judicial Watch reports, Trump's trips to Alabama, Arizona, and Missouri for rallies were pretty expensive, too. The one he took to Arizona to hold a rally cost $1.5 million. Two trips to Mar-a-Lago, including one where he met with the Chinese president and therefore could have easily been hosted at the White House, cost $1 million.
That's a lot of money, and it's the sort of thing that Trump himself complained about during the Obama administration.
https://twitter.com/udfredirect/status/195957597407412225
https://twitter.com/udfredirect/status/522108442514038784
Of course, there was always a tweet from Trump complaining about Obama when did the same thing. And White House officials previously released a statement saying that when Trump travels to Bedminster or Mar-a-Lago, he is not vacation. "He's working all the time," they said, according to The Hill.
We can't qualify what counts as "work" or know exactly what Trump is accomplishing on the golf course. But we do know that his family's travels between golf resorts, Manhattan, and the White House are frequent, and they really don't have to be. While Melania's choice to stay in New York City to be with her son is understandable in some ways, it also cost the New York — just the city, not Secret Service — a total of $24 million that the city is still petitioning to get reimbursed. When he is in Florida, local governments are also picking up a portion of the security bill. The Coast Guard, which funds part of security for the family, spent almost $18 million just between October 2016 and March 2017 to protect the president and his family as they move up and down the East coast. That was $5.1 million more than what it spent between October 2015 and March 2016 on presidential security.
Trump prides himself on being a "new" kind of president and has even dubbed Mar-a-Lago the "Winter White House," but…there is no such thing. America is not England and the Trump's aren't the Royal Family with various castles and residencies in which they can reside. There's the White House, and every single president's family has sacrificed living in their homes to serve the country. Of course, the Obamas went to Hawaii and Martha's Vineyard for vacation. Ronald Reagan used to visit his ranch in Santa Barbara, and George W. Bush would head to a Texas ranch on holidays. But they still lived at the White House.
If Obama had spent every weekend in Hawaii or Reagan in California, people would be just as perplexed as to why that was happening. They didn't though — they took time during the holiday season and on normal summer trips. Trump's family isn't being singled out, and maybe we should have a conversation as a country about how a government official's personal trips are funded. That's a conversation anyone who can't afford a vacation or their tax bills would love to have with whoever makes these rules. And it would be a welcome change of tune from a presidential candidate or a Congress member that didn't consider their job as a public servant such drudgery that they need to take advantage of "free" travel to their summer home as a "perk." The perk of being the president is that you get to be the president and make policies that could change the world for the better— even if you love your condos elsewhere.
Given Trump's public attitude about being president and his insistence on running the government like a private corporation, it's likely that he believes all of those trips to his resorts are justified or somehow deserved. A price of being the president, as it were. But he's draining resources from the federal government and local municipalities every time he alleges that he's working over dinner with a guest at Mar-a-Lago. And $13.5 million in one year is a lot of money that the Coast Guard and the Department of Defense could have allocated, especially since his administration has slashed its budgets. Aren't business people supposed to be better delivering results on time and under budget? If his administration were able to do anything that way, maybe people wouldn't mind how much his trips to Florida cost them.