The Yellow Ranger in the new "Power Rangers" movie is LGBTQ, and that's dope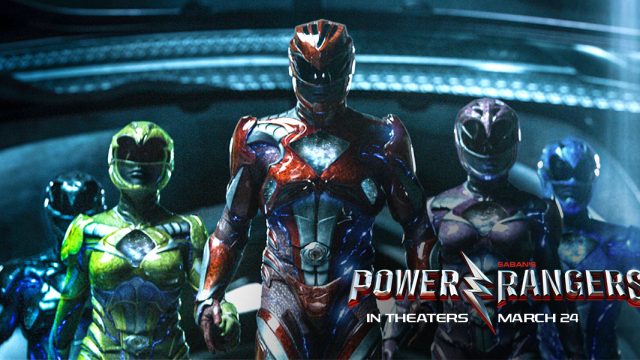 Big news, Power Rangers fans: the sure-to-be-a-smash-hit flick is also smashing barriers by bringing to life the first openly LGBTQ superhero. In an interview today, the film's director, Dean Israelite, revealed that Trini, the Yellow Ranger (played by Becky G) questions her sexuality in the movie during a small but "pivotal" moment. And let us be the ones to confirm this for 'ya: this is huge news and a great boost for the LGBTQ community, and we're so thrilled!
"For Trini, really she's questioning a lot about who she is," Israelite told The Hollywood Reporter.
"She hasn't fully figured it out yet. I think what's great about that scene and what that scene propels for the rest of the movie is, 'That's OK.' The movie is saying, 'That's OK,' and all of the kids have to own who they are and find their tribe."
According to THR, the small but mighty scene occurs when Trini's fellow rangers learn that her boyfriend issues may actually be girlfriend issues as she struggles to identify her sexual orientation.
News of this LGBTQ plot point in the upcoming '90s reboot no doubt struck a chord with the original Blue Ranger, played by David Yost, who left the Power Rangers series after facing sexual harassment for being openly gay.
"They really stepped up to the plate," Yost told The Hollywood Reporter. " I think so many people in the LGBTQI community are going to be excited to see that representation."
https://www.youtube.com/watch?v=5kIe6UZHSXw?feature=oembed
It seems that the good example Beauty and the Beast set by creating Disney's first openly gay character is catching on, and we couldn't be more stoked. You'll recall that the Disney flick's director Bill Condon spoke up about his decision to mold Le Fou into a character that better resonates with the world as it is in 2017. Condon eloquently explained his bold and inclusive move, saying: "We are including everybody. I think this is for everybody, and on the screen, we'll see everybody. And that was important to me."
Clearly, we think the same principle is true for any movie!