This under-$20 gift-wrap lingerie alone made Yandy $1 million
The countdown clock is ticking as Valentine's Day approaches. These days, you can celebrate with your romantic partner, your BFFs, your siblings, or anyone you care for and not feel like you're missing out — it's a great day to celebrate all kinds of love, no matter what it looks like.
If you're expecting a romantic, sexy evening, chances are you've already been scoping out your lingerie options. Luckily, there's something out there for every aesthetic and personality, and at a variety of different price points, but we have to admit to being currently floored by Yandy's Unwrap Me Red Satin Bow Teddy.
This ultra-revealing number isn't for everyone, but if you're feeling particularly sexy, you won't want to miss it. This insanely popular teddy is super affordable, comes in multiple sizes and colors, and instantly became a bestseller. The brand has sold 60,000 units, ranking in $1 million. At just $19.99 per piece, that's super impressive.
Red is Yandy's most popular color, and it's the most fitting for this sultry day of the year. It features adjustable halter straps, a slim center strap, and an adjustable thong back. Aside from the cheeky bow design, that's about it! This teddy is definitely not for the faint of heart.
The Yandy Unwrap Me Red Satin Bow Teddy is available for $19.99.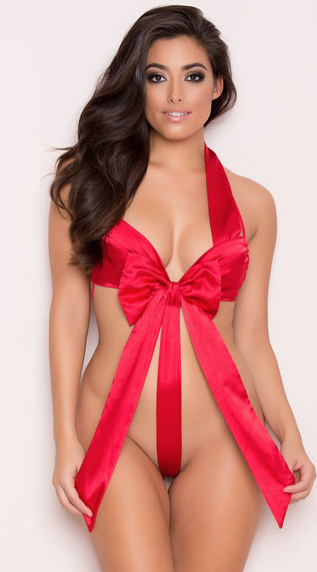 It's certainly a jaw dropper.
Would you dare? It's definitely guaranteed to be a successful way to work your way into your partner's heart (and pants.) Who doesn't love a little naughty fun on Valentine's Day?
If you're ready to throw on this internet sensation, pick one up for yourself here.