A male student is accusing Yale of anti-male discrimination, and here's why that's total BS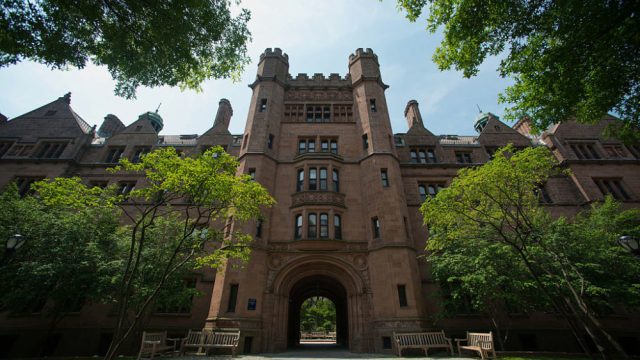 Even in 2018, sexism continues to be a hot-button topic in the U.S., and some men have argued that they are now victims of gender-based oppression. Most recently, Yale University has come under investigation for what one man claims is anti-male discrimination.
According to the Yale Daily News, the Department of Education's Office of Civil Rights (OCR) opened the investigation after a February complaint was made against seven women's organizations at Yale. The complainant, Kursat Christoff Pekgoz, is a graduate student at the University of Southern California and has no affiliation with Yale. He has also made similar complaints against two other universities.
In his letter to the OCR, Pekgoz argued that, since the majority of college students are women, programs and scholarships exclusively benefiting women are a violation of Title IX. He cited the slight majority of women on the Yale campus (52 percent) as a reason that female college students should not have women-only programs.
Pekgoz told the conservative news site Campus Reform that he considers filing Title IX complaints against universities a "political hobby." He also told the outlet that he once considered himself a feminist but changed his mind because he felt women are at an advantage in the American education system.
When it comes to programs for people of color, however, Pekgoz told Refinery29 that he  felt they made sense given that people of color are underrepresented on college campuses. (He did not discuss how to address programs for women of color.)
"I oppose feminism in colleges because women often have special privileges in academia that men do not have," he told Refinery29. "That's probably why male enrollment is so low."
Pekgoz is right that most college students are now female. According to the National Center for Education Statistics, in 2015, 56 percent of college students were women. But  sexism is still an issue for female students on college campuses, even if more do get admitted. For instance, a 2015 study found that 1 in 4 women will be sexually assaulted while in college. And, according to a 2018 New York University study, gender discrimination has caused fewer women to opt for STEM majors because they perceive these fields to be hostile toward women.
The investigation against Yale dismisses the fact that gender-based discrimination is still a systemic issue in society. We'll be watching to see if Yale is determined guilty in this investigation, or if the case is dismissed.