WTF: Prosecco-flavored nail polish exists, so you can pretend it's happy hour any time
Raise a glass and toast to the weird, because Prosecco nail polish is a thing now.
Groupon UK is celebrating Mother's Day with the "world's first edible prosecco flavoured nail polish" (British spelling intentionally left intact. It's a beautiful gold "colour" with a delicate "lustre," too.)
Okay, this is bizarre for several reasons. First of all…what the what??? Secondly, Groupon makes nail polish!? And you can taste it?!?!!?
This might not be an ideal product for those struggling with nail nibbling or cuticle gnawing. Theoretically, it'll make your digits more irresistible. It definitely brings new meaning to the concept of "finger food."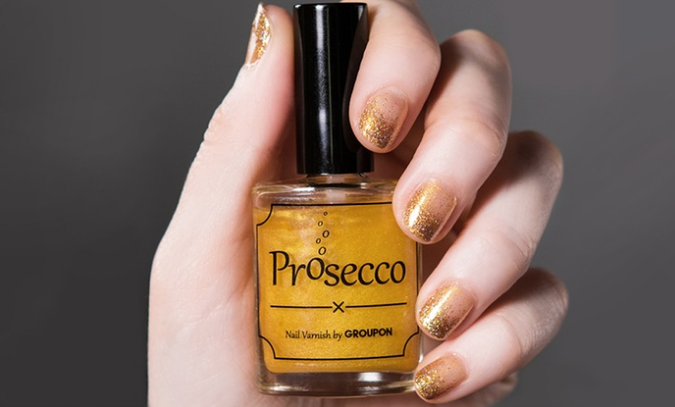 Hey, it's a conversation starter! The gold is very pretty and festive, and since it's only available in the UK and through a contest, you'll definitely be among the lucky few to have this bubbly bottle of polish.
Whether or not you have a strange addiction, Groupon discourages drinking the polish. Once it's dry you can be a lacquer licker, if you dare. It's perfect for nailing your perfect Instagram "finger mouthing" pose. Sexy!
The formula contains a few ingredients that don't sound terribly appetizing, including Shellac E904, E171 Titanium Dioxide, and Propylene Glycol. Cosmetic chemist (cool job alert) Ginger King told Allure, "Propylene glycol is an antifreeze for cars." (We're not sure if it's vegan.)
Cheers!
https://www.youtube.com/watch?v=BHwuMwjNkew?feature=oembed
Prosecco Polish contains real prosecco, so if you're on the wagon, you might opt for the LaCroix version. (That's not a thing yet, but can it please be???) Errbody in the nail salon get tipsy!
The Groupon Prosecco Polish is currently only available in the UK via sweepstakes, enter to win at Groupon UK!