This is what you need to know about Mrs. Whatsit, Reese Witherspoon's celestial character in "A Wrinkle in Time"
In just one week, fans will be dropped into the world of Madeleine L'Engle's beloved novel, A Wrinkle in Time. Helmed by Ava DuVernay, the film adaptation follows teen Meg Murry as she embarks on a journey through time and space, alongside her little brother Charles Wallace and new friend Calvin O'Keefe, to rescue her father from an unknown dark force.
The film boasts a wildly talented cast — including Storm Reid, Chris Pine, Gugu Mbatha-Raw, and Zach Galifianakis — but the three biggest names associated with A Wrinkle in Time also correspond with the three most enigmatic and mysterious characters in the novel. Reese Witherspoon, Mindy Kaling, and Oprah Winfrey star as Mrs. Whatsit, Mrs. Who, and Mrs. Which — the three celestial beings guiding the Murry siblings and Calvin on their adventure through the fifth dimension.
While the three are best known as a collective force — providing Meg, Charles, and Calvin with the tools and support to confront the dark force head-on and rescue Mr. Murry — individually, they each serve an important and distinct purpose, making it crucial that the right person was cast in each role.
That in mind, here's what you need to know about Mrs. Whatsit:
Mrs. Whatsit is the youngest of the three celestial beings guiding Meg, Charles, and Calvin on their journey. In the novel, she's the first of the three Mrs. W's introduced as she stumbles across the Murry house during a storm disguised as an old "tramp," revealing the existence of the tesseract.
Seen as young and naïve by her fellow guides, Mrs. Whatsit's innocent yet commanding demeanor makes her the most relatable to Meg, Calvin, and Charles. She often serves as the intermediary between the elder Mrs. W's and the kids — explaining the more intricate scientific elements of their mission in easier terms and reminding the other Mrs. W's of the basic necessities their human charges need. She was chosen for the mission because of her ability to materialize as a human and communicate with humans, and Mrs. Whatsit also had firsthand experience with the darkness — as a star.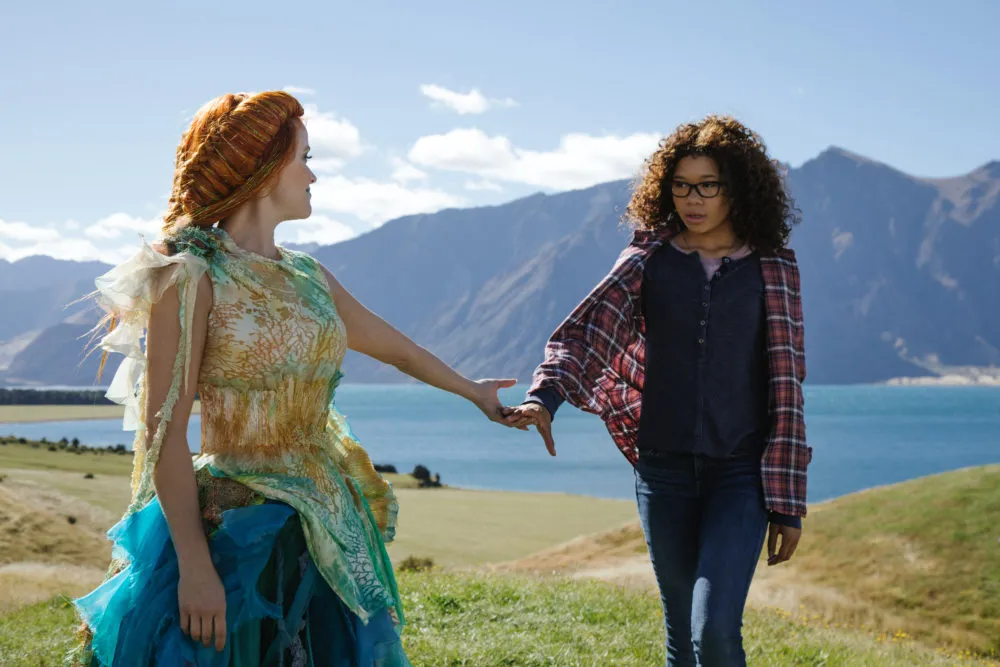 DuVernay told Entertainment Weekly that she felt Witherspoon was the perfect actress to play the innocent but powerful celestial being.
"I was looking for that innocence, that thing Reese plays so well, but also that great power and precision, and funny." DuVernay said. "The character has so much funny going on, you really need someone who's proven and who's done a bit of it all, and that's Reese. It was so lucky that she was a fan of the book and wanted to come play with me.
Reiterating to Time that she was looking for Mrs. W's who were "black, white and someone who wasn't either," DuVernay added that she wanted her celestial beings to be three of the most unabashedly powerful women in Hollywood, citing Witherspoon's extensive work as a producer in addition to being a critically acclaimed actress. "Reese is the hottest producer in town," DuVernay told Time.
She added, during a recent event, "[Reese is] a blond, pretty actress and she could have just been that. In this town, that's enough, but she has a fire in her."
See Witherspoon dazzle as Mrs. Whatsit when A Wrinkle in Time hits theaters on March 9th.